As injuries highlight early results, Golden Knights need Fleury upright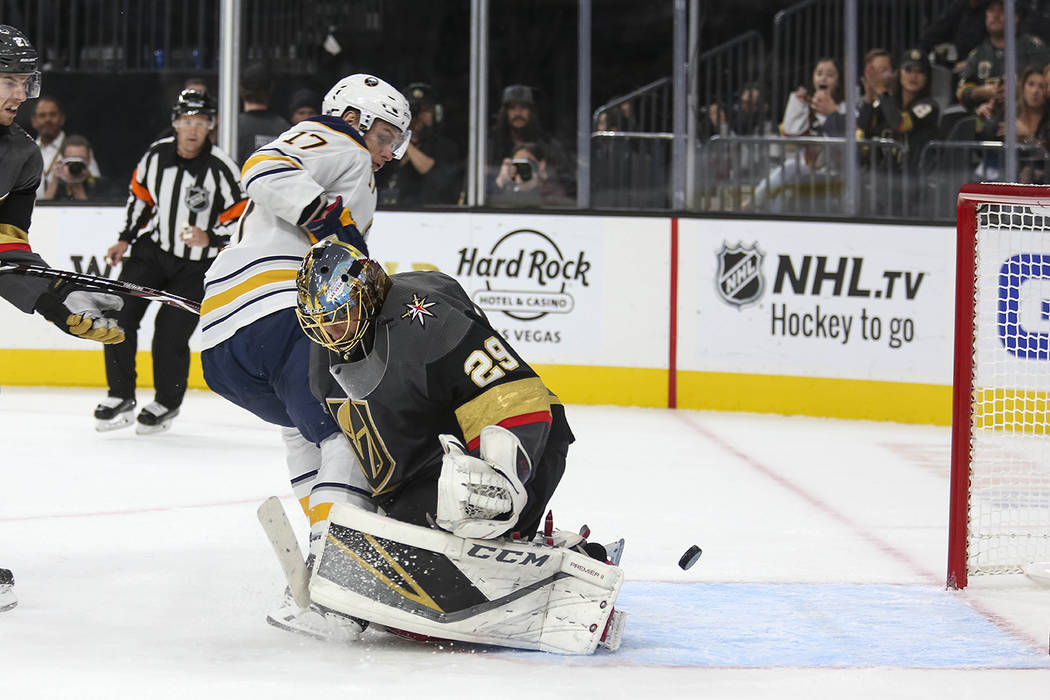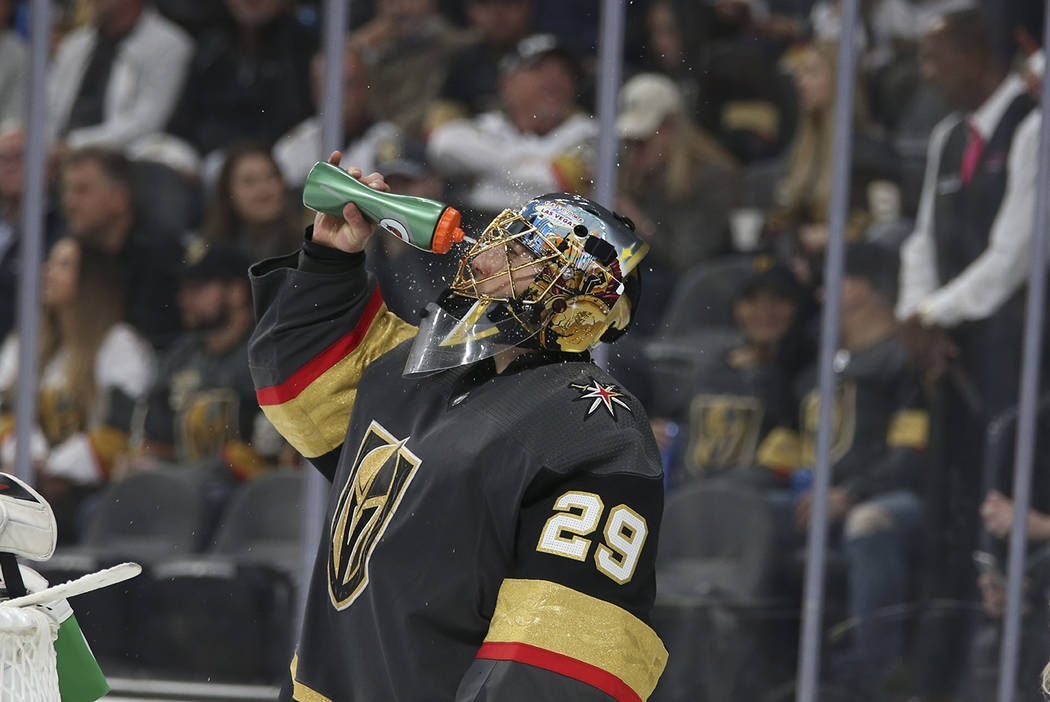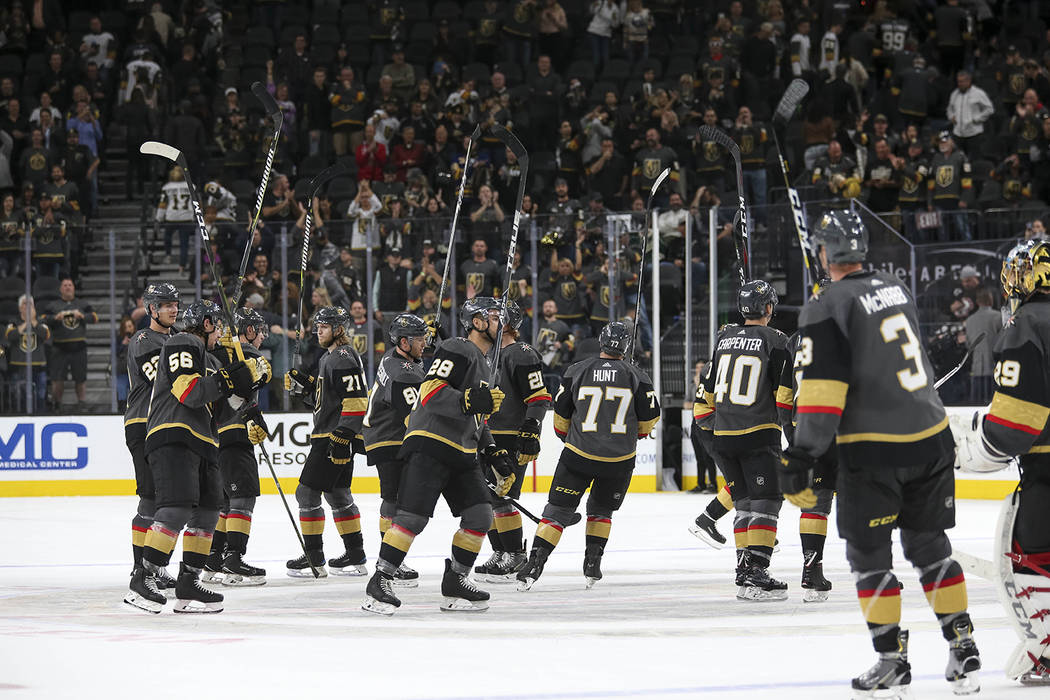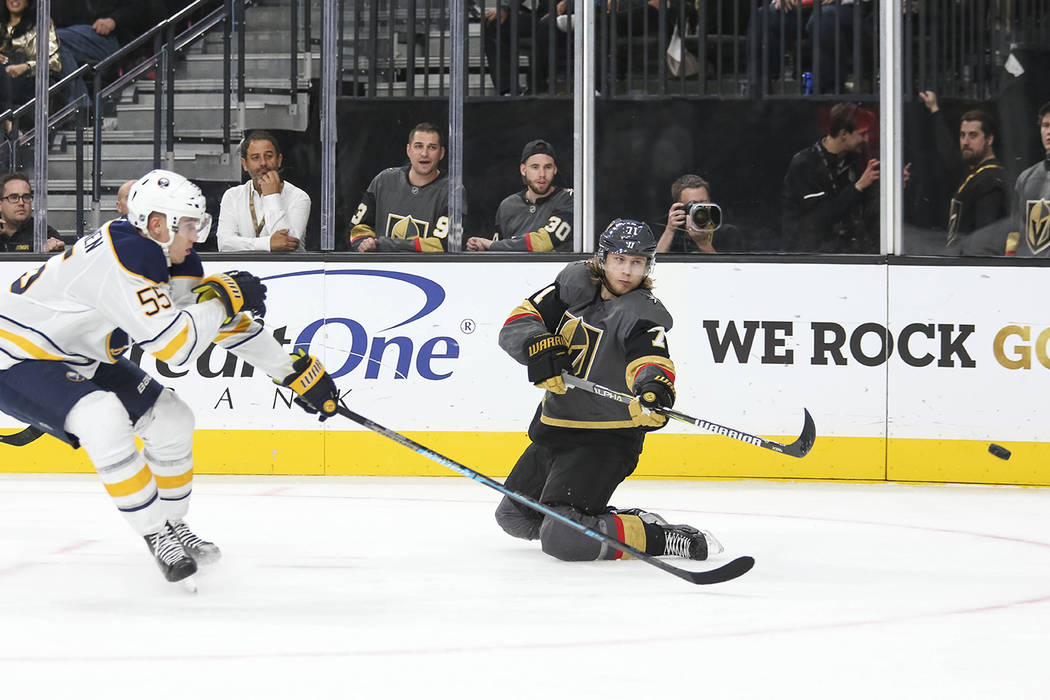 The way Pierre-Edouard Bellemare sees it — and I'm not sure anyone in the Golden Knights locker room gets it more than the fourth-line center — Vegas shouldn't be spending its free time searching for Jeff Probst or any Tiki torches.
Survival is rarely a desired reality of professional athletes, especially early in a season. They're creatures of habit. One guy gets suspended or injured, another steps up.
It doesn't require much depth of thought.
"Last year, that philosophy worked pretty well for us," Bellemare said. "Guys came in and played the system and we were able to get a bunch of points. Now, it's the same thing. Guys have a chance to show what they can do. At the end of the day, if you work harder than the other team, you will win games."
Vegas not only out-worked Buffalo on Tuesday night, but was the better side from the opening drop, returning home to T-Mobile Arena after a five-game road trip and posting a 4-1 victory before an announced gathering of 18,321.
It hasn't been the best of starts to a second season for Vegas, now 3-4 and yet missing key names all over the ice. But the magical expansion run to a Stanley Cup Final also included its share of leading players being sidelined.
It wasn't all rainbows and good health.
It's just that tempting fate in a similar manner a second time wouldn't be a prescribed option.
Which means no matter who is out of the lineup for an extended period, it better not be Marc-Andre Fleury.
He was terrific in goal again Tuesday, stopping Buffalo's first 26 shots before the Sabres finally scored with 36.7 seconds remaining in the third period. It cost Fleury what would have been his second straight shutout after blanking Philadelphia 1-0 on Saturday. It cost everyone else free doughnuts.
Fleury missed two months with a concussion last season and the story of Vegas using four different goalies in his absence became a memorable chapter of the first-year narrative, but to believe a repeat of such an improbable stretch is a tough sell.
Put it this way: If the telephone rings again for Dylan Ferguson while he's eating pizza with his teammates from a junior team about making his way to the Knights, well, Vegas doesn't want to place that call.
"I just try to do my part, do my job stopping the puck," Fleury said. "It doesn't matter if we're getting outplayed or we're playing good like tonight, when it wasn't too busy. It doesn't matter who's out there (for Vegas). I'm the goalie. If I stop (shots), our chance of winning is pretty good."
Don't just survive
So while the Knights continue to play without defenseman Nate Schmidt (suspended for violating the league's performance-enhancing drug policy) and those injured like forward Alex Tuch (yet to play this season) and now center Paul Stastny (out two months) and defenseman Deryk Engelland (missed Tuesday's game), the idea Fleury can keep Vegas on a positive path is more likely than not.
But he shouldn't, in the eyes of teammates, have to feel the onus of playing above even his elite level because the Knights aren't at full strength.
Even though he probably does and, over the last few games, has.
"Regardless of who is out there for us or not, (Fleury) is generally going to make all the saves," said defenseman Colin Miller. "He's pretty good."
Yeah, this just in.
Fleury was hurt some last season. So were names like Jonathan Marchessault and Erik Haula and William Carrier and Reilly Smith, some missing more time than others.
But the Knights always moved forward. Long losing streaks never found them.
It's too soon to know if such fortune will again smile their way should injuries linger or others go down, but don't suggest a strategy of merely trying to hold on and remain competitive until the lineup is again whole with leading characters.
At least not to the guy who gets it as much or more than anyone in the room.
"That way of thinking is disrespectful to the guys playing now, those getting their chance to step up," Bellemare said. "It's unfortunate we're missing some guys, but you never want to say because of that, we're just waiting for them to get back to be better.
"We need to be better now, and when they return, hopefully just keep it going in a good direction."
Creatures of habit, is right.
Contact columnist Ed Graney at egraney@reviewjournal.com or 702-383-4618. He can be heard on "The Press Box," ESPN Radio 100.9 FM and 1100 AM, from 7 a.m. to 10 a.m. Monday through Friday. Follow @edgraney on Twitter.