As Lonzo Ball the player goes, so, too, will his father's brand
Updated July 7, 2017 - 11:33 pm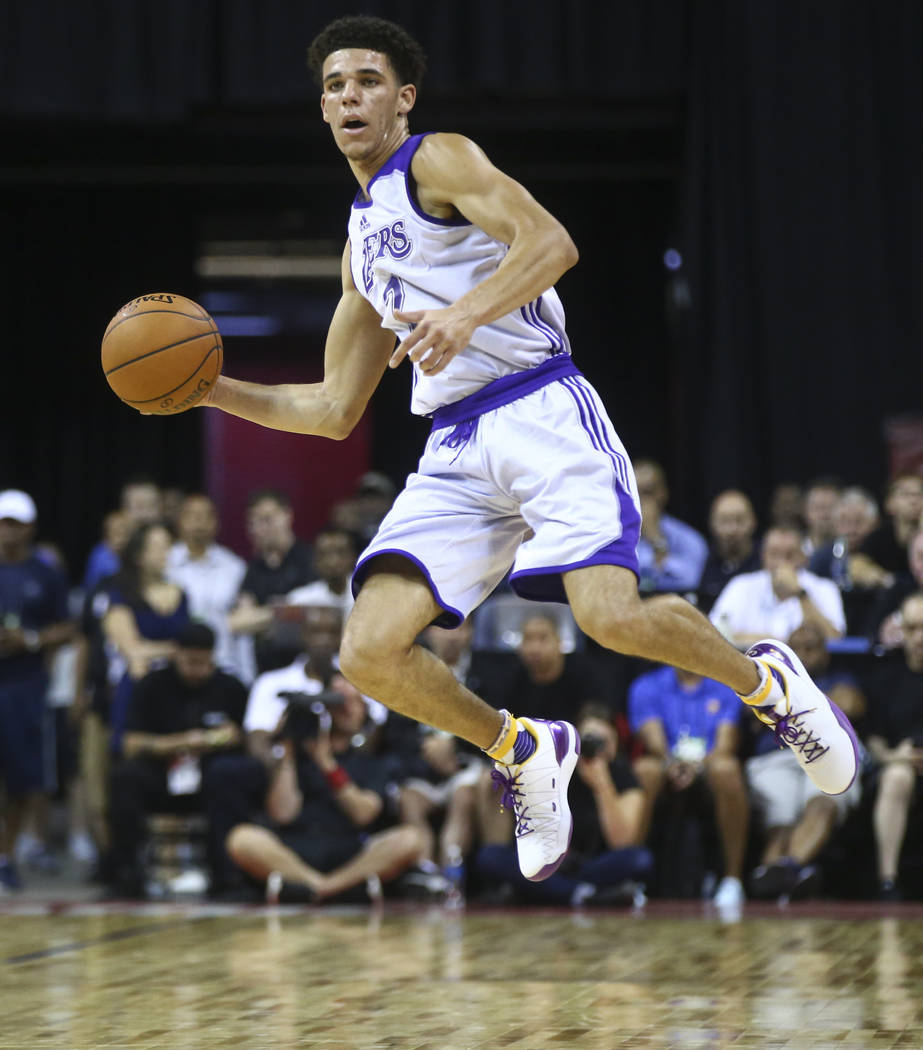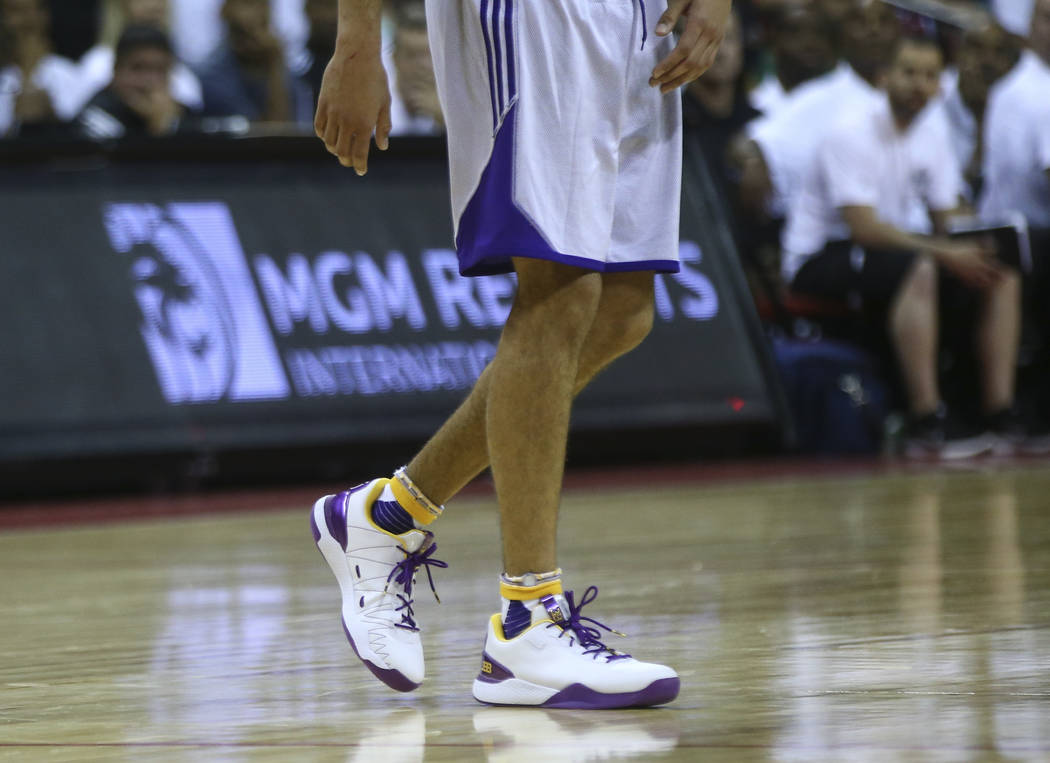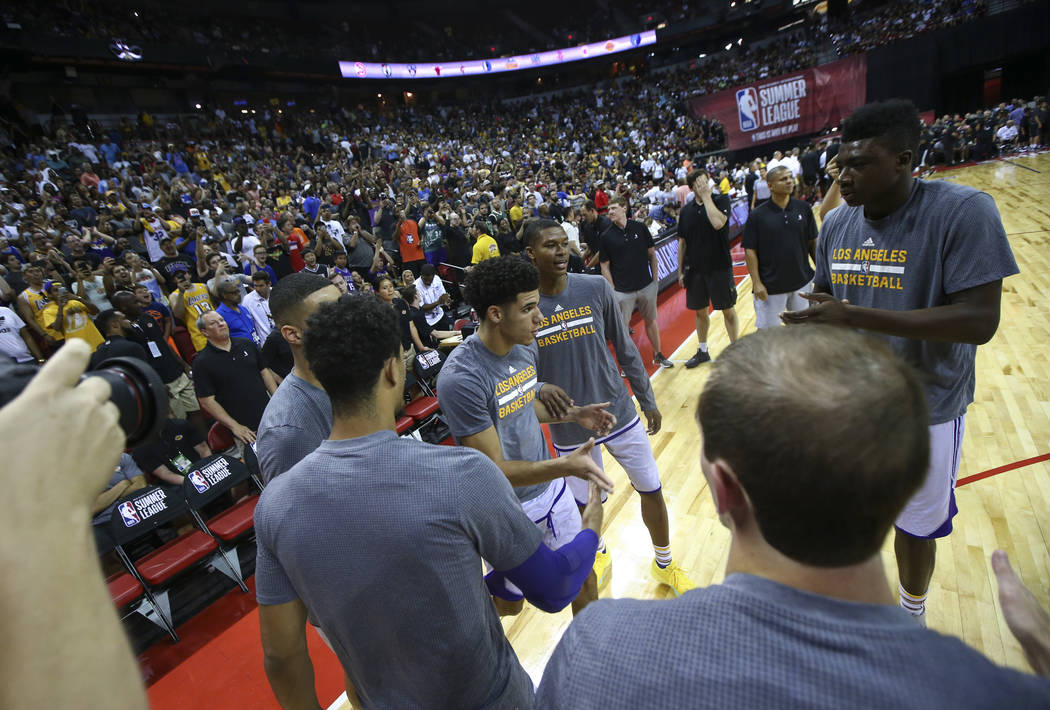 Who would have thought — it took an NBA Summer League appetizer between Cleveland and Milwaukee to actually make the Thomas & Mack Center appear halfway full again for basketball.
By the time a main course of the Lakers and Clippers tipped off Friday, the shock of actual bodies packing the lower bowl had transformed into a level of interest also not seen around the building for some time.
The announced gathering: 14,295.
The crazy part: Unlike the usual bad math presented for games, it appeared as if that many really were in the place.
This is what Ball Madness has created, a larger-than-life curiosity about a family whose eldest son, who hasn't played a regular-season NBA game, owns the designation of one who will ultimately deliver the Lakers back to prominence.
At least Magic Johnson went tame on the ol' purple-and-gold hype meter when it comes to Lonzo Ball's anticipated impact, saying he expects the player's jersey to one day hang in the rafters alongside his and other greats in franchise history.
Magic, the grand master of hyperbole.
The only thing that matters in this entire vessel of lunacy began with the Lakers falling to the Clippers 96-93 in overtime, with Ball making his pro debut and his father enjoying the bright spotlight he has fashioned for himself.
LaVar Ball sat with his family on an elevated platform behind one basket, gave his share of interviews and was his otherwise amusing self when the cameras turned on, all part of a marketing campaign that has been as successful as perhaps many first thought implausible.
But while few believe any of LaVar's over-the-top proclamations and even fewer take him at all seriously, his is mostly a harmless operation in which to build his brand.
He's just nutty enough to give a listen.
What isn't a joke: How well the brand does over time will be directly influenced by the sort of NBA player Lonzo Ball proves to be.
I'm not sure how many pairs of those ridiculously overpriced shoes will sell, but there's no question they have a better chance of being moved if Lonzo is half as good as Magic and others have forecast.
Ball wasn't very good Friday, somewhat expected for a player who hasn't competed much since his first and only college season at UCLA ended in March.
Ball played 32 minutes, shot a forgettable 2 of 15 (including 1 of 11 on 3s) and offered five points, five assists and three turnovers.
A few things were obvious, even against summer league opposition: He is indeed an amazing passer with a feel for the game that few have. His first pro assist was a lob to Brandon Ingram from beyond the 3-point line for a dunk.
I could watch Ball pass all day and then some. He's wonderful that way.
But he also needs to understand that playing NBA defense means seeing and fighting through a heck of a lot more screens than he dealt with in the Pac-12.
Also, while opponents this season might not back up to San Diego from Los Angeles when daring him to shoot — the Clippers pretty much employed this action the entire second half — they might extend to Orange County.
"It was a tough night for him," said Jud Buechler, the Lakers' summer league coach. "I'm sure he's disappointed. He needs to get better. It was a hell of an atmosphere for his first game.
"But you can see what he can do with the ball in his hands. If you're running the lane, you better be paying attention or you'll get hit on the side of the head. It was just a tough night shooting for him."
Ball is the tranquil answer to his father's unrestrained rhetoric, a player who leads on the court and doesn't pass blame off it.
Whether it was at UCLA or after his first professional game, Ball after defeats is one to offer a brutally honest assessment of his performance. It was no different Friday.
"I have nowhere to go but up," he said. "Tough game. I didn't get the job done. I liked the looks. A lot of them were open. I just missed the shots. I hate losing. I always play to win and didn't get the job done. It was nice to have (family) around. I'm sorry for the performance. Just bounce back. I'll be better (Saturday)."
That's when the Lakers play the Celtics at 5:30 p.m. at the Thomas & Mack, where I'm guessing LaVar will say more things no one takes seriously and the crowd will again trump that of a play-in game of the Mountain West tournament.
Contact columnist Ed Graney at egraney@reviewjournal.com or 702-383-4618. He can be heard on ESPN Radio 100.9 FM and 1100 AM from 11 a.m. to 2 p.m. Monday through Friday. Follow @edgraney on Twitter.
Lonzo Ball's debut
Minutes: 32
Field goals: 2 of 15
3-pointers: 1 of 11
Points: 5
Assists: 5
Turnovers: 3
Plus-minus: minus-6.