Bad calls don't dim NFL's popularity
September 25, 2012 - 11:53 pm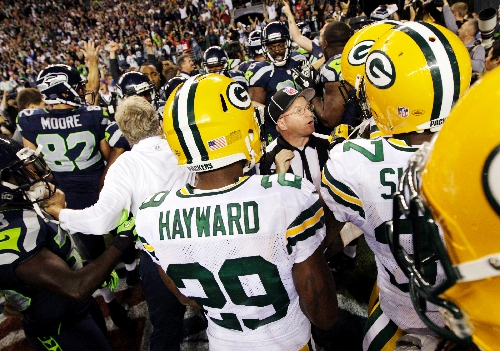 Here's the problem: The NFL has become that 10-car pileup on the freeway, with smoke rising from engines and injured drivers wandering around in a haze as the red and blue lights of emergency vehicles flash.
Rubbernecks, unite.
We can't help but slow down and watch.
Crazy. The NFL never has been so popular.
Not in the traditional, we-can-trust-what-we-see sort of way, not in a manner where integrity defines the game, not in a fashion where the league's shield is respected by anyone outside offices that house the greedy suits refusing to save their product from more shame.
In a way that, the longer this nonsense goes on, the more calls that are blown, the more games that occur with replacement referees bumbling their way through mistake after mistake, the bigger joke professional football becomes, we will follow and focus on it even more than usual.
We're sick this way. It means that much to us.
And, worst of all, NFL owners know it.
I suppose those most benefiting from the disaster that has become the NFL's refusal to end the circus by settling its labor dispute with officials are those Division III teams that no longer are subject to calls from those now throwing yellow flags in what was once the world's best league.
I'm sure they're partying like maniacs at Mount Union and Linfield College.
The rest of us are left with this realization: For many of the same reasons that owners acquired great fame and fortune and power in building their franchises, this labor rift with officials drags on.
No bottom line is more important to an NFL owner than the almighty dollar, no matter how insignificant it might seem when comparing what the officials are seeking to the league's overall worth and of those who run it.
The disagreement could be about anything. Pensions. A deeper pool of officiating candidates. Salaries. What types of shoes the officials should wear.
At day's end, owners are an egotistical, greedy lot who pay their prized puppet of a commissioner (Roger Goodell) $20 million annually to carry out their wishes. They view compromise much like Simon Cowell does a lousy voice.
The regular officials are not without blame here, sticking to demands for the continuation of a pension system most Americans view as a long-lost benefit never to be seen again. The guys we miss calling games need a bit of a reality check, too.
And still, we watch.
We worship on Sundays at the feet of Fox and CBS and of ESPN on Monday nights. We religiously track our fantasy teams' every point. Parlays. Teasers. Money lines. We can't bet enough.
It doesn't matter that a team (Seattle) is awarded a win it didn't deserve, that another (Green Bay) takes a loss it shouldn't have had, that such a result ultimately could impact playoff races.
What happened Monday was a travesty of incredible proportions, a seven-minute stretch of blown calls that rivals any such duration in sports history. The only thing an allowance of a touchdown that clearly was an interception did was overshadow other critical officiating mistakes leading up to that final snap.
Twitter exploded. Reports on how much money changed hands from the result ranged from ridiculous to unfathomable. (No, there was not a billion dollars wagered on a Seattle game.) Politicians tweeted Goodell's office telephone number, and more than 70,000 messages had been left by Tuesday morning, many no doubt from Wisconsin and with an X-rated tone. NFL stars lashed out on social media outlets and radio shows. Fans from Dallas to San Diego to Kansas City to Miami and beyond demanded a settlement.
The league's response?
It issued a statement that, in part, agreed simultaneous possession had occurred on the final play.
In other words, it laughed in our faces.
It played us the part of fools yet again.
And still, we watch.
We won't consider switching channels.
Whether the dispute with officials is decided today or next week or next month or not until the Patriots win a Super Bowl off a blown call made by a guy whose last job was working the Palo Verde-Centennial high school game, one thing is certain: We love the NFL as much today as always.
Despite its flaws and greed and arrogance and refusal to right a horrible wrong such as the replacement officials, the league has become a game of charades in which we gladly participate.
The pileup includes more and more cars each week.
The smoke never has risen this high.
Doesn't matter.
Rubbernecks, unite.
Las Vegas Review-Journal sports columnist Ed Graney can be reached at egraney@reviewjournal.com or 702-383-4618. He can be heard from 11 a.m. to 2 p.m. Monday through Friday on "Gridlock," ESPN 1100 and 98.9 FM. Follow him on Twitter: @edgraney.