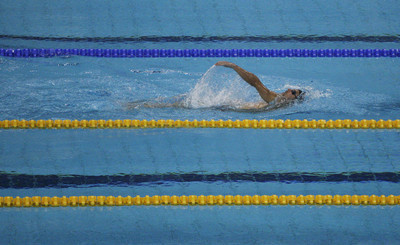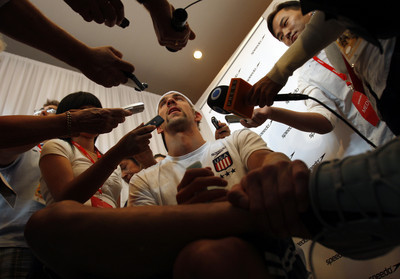 BEIJING — NBC will do its best over the next nine days to lure you in, to make you believe there is more to Michael Phelps than a human fish inside a sleek and speedy racing suit, that you should plan your evenings around prime-time coverage of Olympic swimming because Phelps is much deeper than the pools he dominates.
Suggestion: Don't get fooled by the hype.
Michael Phelps: incredible athlete, boring guy.
It's not a bad thing. It's probably the best reason Phelps could accomplish something no athlete has in the history of the Games. He could win eight gold medals here and officially backstroke Mark Spitz into second place among the best Americans ever to touch a wall and kick-turn into the next lap. Phelps surely will win four golds and break the Olympic career record of nine shared by three athletes.
He's as much of a sure thing as those translucent bubbles that surround the swimming complex and change colors every few minutes. It is called the "Water Cube" and is the largest and most unusual structure of its kind in Olympic history. How ironic that such an interesting and vibrant place will host a swimming champion cut from a vanilla towel.
Phelps tonight begins his pursuit of breaking Spitz's record of seven golds at Munich in 1972 and will do so in the same consistent, rhythmic, robotic fashion that allowed him to win eight medals — six gold — in Athens four years ago.
It is a condition born from repetitiveness. Black line fever. One lap at a time. A lifetime of swinging your arms one way or another and kicking your feet while staring through goggles into the depths of drenched monotony. Phelps is 23 and has a Ph.D. in it, the kind of solitary mindset that makes him so extraordinary in the water and so unexciting out of it.
He is John Stockton in a Speedo and Tom Glavine on a platform, which is why you would be unwise to bet against Phelps getting eight in 2008.
"I live a pretty boring life away from the pool," Phelps said. "I'm kind of lazy."
It's refreshing in a lackluster way.
Admit it: Flashy athletes who flaunt their bank accounts and strut through life pompously playing the jerk's role grew predictable hundreds of childish outbursts ago. It's again time to embrace dull for the excellence it can produce in sports. Phelps is definitely bland enough to do it.
Admit it: Having one of the greatest athletes in Olympic history come off so scripted and predictable isn't terrible. Sometimes, it's good to teach kids that compelling and charismatic could mean merely working hard and whipping the LZR suits off everyone else, and actually offer them proof.
Let's also hear it for swimming. It's the only reason Phelps has this opportunity. You wouldn't see this kind of pursuit in any other Olympic sport. None could offer an athlete as many chances. None own the often singular skill set swimming presents that is necessary to pull this off. There isn't a sprinter or gymnast alive who could win eight golds in one Olympics. Other sports aren't built for it.
"It's a lot of long, boring laps in a swimming pool," said Bob Bowman, Phelps' longtime coach. "It's all necessary for his success, but it is boring. The biggest task is finding a way to keep it interesting."
Swim with his ankles tied together? Swim wearing a parka? Swim carrying Dara Torres on his back?
Any of it would be more exciting than what Phelps has done for all but a few days of his life the past eight years. Follow the black line. Catch the fever. Take a breath. Do it again.
He has goals but doesn't talk about them. He's the guy who sits in an athletes' village cafe here and is hardly noticed while tennis star Roger Federer walks in wearing the colors of Switzerland and is mobbed by other competitors for pictures and autographs.
Phelps is the swimming version of Prince Charles.
Admit it: The concept sort of grows on you.
"You know, it's not easy to get in the cold water every day for two hours," Phelps said. "I'm a creature of habit. I'm sure Tiger Woods and Roger Federer are, too. I'm sure they go about every event like it's the most important in the world. I don't like to lose, and I'm sure they don't either.
"I just get in the water and do what I love to do, and that's compete. … I've had some of the best training I've done. I've been swimming well. I've been feeling good in the water."
There you have it. Mark the date and time.
It's the closest Michael Phelps gets to trash-talking.
Ed Graney can be reached at 383-4618 or egraney@reviewjournal.com.
Read Ed Graney's daily blogRead about the Olympics