Chalk up this win to Rebels' character
November 23, 2014 - 8:13 am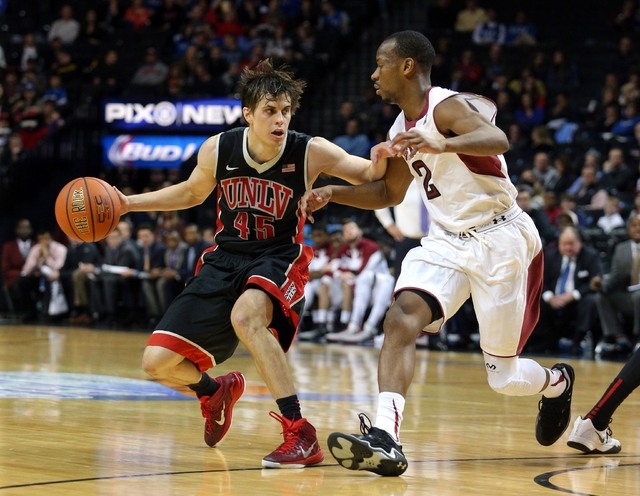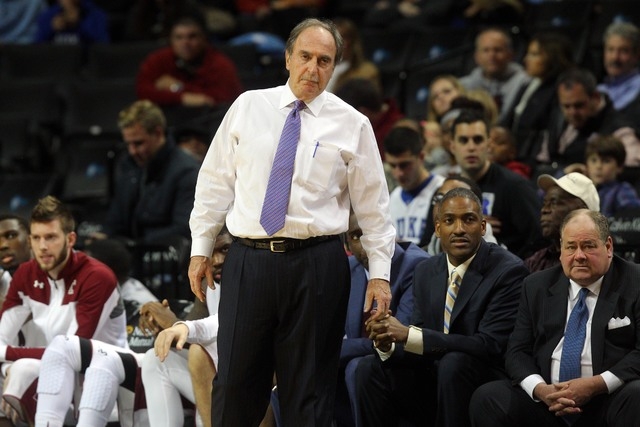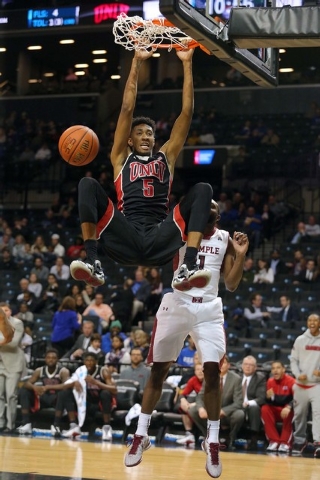 NEW YORK — There are different kinds of wins in sports.
Ones when you outplay an opponent.
Ones when you don't and still succeed.
Ones when you make your owns breaks.
Ones when the other guys break down.
UNLV's basketball team had another kind Saturday.
"This was a character win," Rebels coach Dave Rice said.
Yeah. That one.
The opponent didn't matter, but it says something that Fran Dunphy coaches Temple and that 24 hours after getting drilled by Stanford, UNLV responded with a 57-50 victory over the Owls in the consolation game of the Coaches vs. Cancer Classic at the Barclays Center in Brooklyn.
I'm not sure how good Temple will be this season — it struggles mightily to score — but there is no question Dunphy exists among his profession's best, which makes the short turnaround win, the coaching staff that prepared a game plan and those players who executed it all the more impressive for UNLV.
"You know, we played hard until the end (against Stanford), which is a very good team," senior point guard Cody Doolin said. "We knew there were things we needed to do better. We came out against Temple and were more patient. We looked like a college basketball team. I'm just really proud of the guys. We beat a very well-coached team that controls tempo."
It was important for the Rebels to win, to quickly put the 89-60 debacle from Friday behind them, to erase from the slate such a forgettable result, to prove as Rice said afterward that while UNLV still has some obvious warts, a weak resolve isn't one.
This team plays hard most possessions. It doesn't always play smart, and there are times at both ends when it's obvious players are confused as to where they should be and what they should do, but those are issues that can be resolved during the nonconference schedule. The team that beat Temple in November absolutely can and should be much better against Mountain West opponents come January.
Rice and his staff can build off going 1-1 here. It makes the journey worth it, rallying from down three at halftime Saturday, outrebounding a physical Temple side 43-39, having a player such as sophomore Chris Wood break out for career highs in points (18) and rebounds (13) and putting the Rebels on his back and carrying them to victory, continuing as a group to remain active defensively with eight more blocks.
If anything has been proved early this season, it's that while UNLV will absolutely struggle offensively some nights, its ability to defend the rim with athleticism will keep the Rebels in games until more shots begin to fall.
"We knew they like to block shots," Dunphy said. "Not only do they like to, but they're good at it. We let a couple of their 3-point shooters come up for air, and they made four 3s in the first half. We played well enough to have a bigger lead at halftime. I thought we lost the game in the first half. We needed to put more space between us and them. It would have been an easier game for us to play. Not saying we would have won it.
"I think (Wood) decided he was not going to let his team lose."
This version of Wood can become one of the better Mountain West players, one that embraces the idea of attacking inside and getting points and rebounds strictly off effort. Most chide Wood for his 3-point shooting being a hindrance, and the fact he is 13-of-58 (22 percent) from distance at UNLV confirms such judgment.
The Rebels are a different team (for the worse) when Doolin isn't on the floor and a much better one when Wood works inside. Basketball is funny. UNLV missed its first four shots Saturday, made just 35 percent of its first-half attempts and yet still created more good rhythm shots over those 20 minutes than anything the Rebels offered against Stanford.
Things played out justly here. Duke won the championship and was by far the best team, followed by Stanford, followed significantly further behind by UNLV and Temple. For three of four games this season, the Rebels have beaten those they should. There will be more opportunities to beat people they're behind.
But this win was big for more reasons than UNLV merely feeling good about the trip.
It showed something, certainly not a result that will open any eyes nationally, but one that just might define the sort of team UNLV ultimately becomes.
"We obviously didn't played well against Stanford," Rice said. "I think the stage was pretty big for this group and, quite frankly, we panicked a little bit. We can't get it back, so we move forward. I could tell at the hotel as we watched the game film from it, our guys were focused and ready to go (against Temple). I had a lot of confidence going into this game. They want to be good. That's half the battle."
Not all wins are defined by character. It's actually a pretty difficult quality to interpret.
But the Rebels could have gone either way after the shellacking by Stanford.
It says a lot about which one they chose.
Las Vegas Review-Journal sports columnist Ed Graney can be reached at egraney@reviewjournal.com or 702-383-4618. He can be heard from 11 a.m. to 2 p.m. Monday through Friday on "Gridlock," ESPN 1100 and 100.9 FM. Follow him on Twitter: @edgraney.