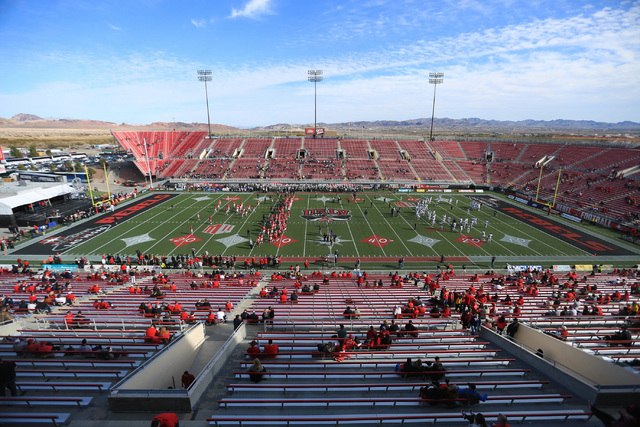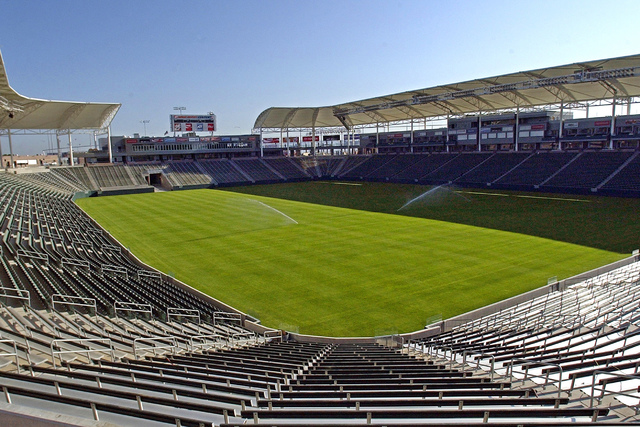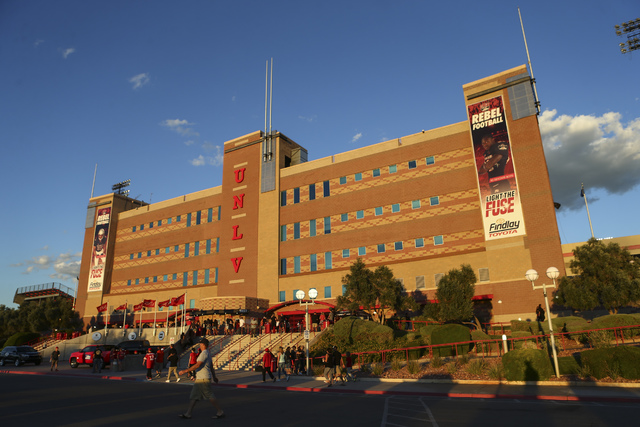 First, let's be real about the numbers:
The Chargers not only bolted San Diego for Los Angeles on Thursday — if you're still doubting that fact, the National Football League team's creepy swindling of the Dodgers' logo should serve as proof — and plan to play the next two seasons at the relatively tiny StubHub Center.
But in announcing their home plans while awaiting fate as a tenant to Rams owner Stan Kroenke's team in a luxurious Inglewood stadium, the Chargers might have opened a door much wider for the potential of Sam Boyd Stadium hosting the Raiders should the NFL owners approve relocation plans and Oakland fans protest with their wallets.
Back to the Stubhub Center, which is a soccer stadium in Carson that has a listed capacity of 27,167 and yet really only seats between 24,000 and 25,000. They do a lot of inflating of attendance numbers at the home of the LA Galaxy, hardly a foreign concept to sports teams, and have for some matches suggested 2,500 can fit on a grass slope behind one end zone.
Which would be true if this were Woodstock in 1969.
Mark Davis is expected to soon file for relocation of his Raiders, and the team owner has said he expects to remain in Oakland while a 65,000-seat domed stadium is built in Las Vegas, perhaps playing some preseason games at Sam Boyd and possibly one during the regular season before things would kick off for real here in 2020.
But what if relocation to Southern Nevada is approved and attendance at Oakland Alameda Coliseum, which seats an NFL-low 53,250, suffers from disenchanted and disappointed and otherwise displeased fans?
What if they are so bitter and angry over again losing their team, they stop showing up?
If the NFL has indeed signed off on the Chargers taking up temporary residence in Carson, you're talking about a venue that would rank smaller than any in Major League Baseball, slightly bigger than most in the NBA and one that could cost the team upwards of $60 million a year.
Think about it. The Chargers could lose about 30,000 in attendance per game at StubHub, and if the average NFL fan spends $200 a game (a modest estimate) for tickets and parking and concessions, that's a whole lot of disappearing zeroes over two seasons.
Sam Boyd Stadium could increase its capacity to 45,000 with expansion in the north end zone, meaning Davis wouldn't lose an exorbitant amount of money (at least not by the standards of an NFL owner) should he choose to arrive in Las Vegas on a full-time basis earlier than planned.
There is precedence for all this, and you only need look to when the Oilers departed Houston for Tennessee and played at 40,550-seat Vanderbilt Stadium in 1998 while Nissan Stadium was being built in Nashville.
It has been done, and Sam Boyd Stadium is a heck of a lot better suited to host football than a place where the game is primarily played with one's feet.
But while certain aspects of Sam Boyd beyond seating — you can begin with the not-to-acceptable Mike Sanford locker rooms — would likely have to be improved to reach NFL standards, another potential impediment could keep Davis and his team in Oakland as the Las Vegas stadium is built: There is absolutely no guarantee that Bay Area fans would turn on their team.
In fact, the opposite might occur.
Fans of the Raiders are as loyal and passionate as the NFL knows, and given they now have a playoff-caliber and potential Super Bowl contender to cheer for over the next several years, even the sting of relocation might not be enough to lessen their love and devotion for all that is silver and black.
It's why Davis seems to prefer continuing to sign one-year leases in Oakland before landing his franchise at McCarran International Airport for good, and maybe that's how he should feel. There is something to be said for loyalty on both sides, a fact San Diego has now discovered in the harshest of ways.
When the Rams, Chargers and Raiders held Town Hall style meetings during the time all three were contemplating a move into the Los Angeles market, those fans from St. Louis and San Diego responded with more boos and negative remarks than a recent presidential campaign generated on both sides.
In Oakland, it was a love-fest for Davis.
They will follow him and the team anywhere.
The Chargers made what most view a desperate and risky move Thursday, and will now apparently spend the next two years losing boatloads of money while playing in a soccer stadium.
But one small and significant piece of that also opened this door: If the relocation vote goes Davis' way, and for some reason his fan base in Oakland responds in a manner that the turnstiles don't turn as much at the Coliseum, a certain stadium off Russell Road could be very much in play in offering the Raiders a temporary full-time home until their bright and shiny new one by the Las Vegas Strip is ready.
It wouldn't be the first time a college stadium acted as home for an NFL team.
And in this case, nobody would have to fudge numbers about how many people could fit on a grass slope.
Contact columnist Ed Graney at egraney@reviewjournal.com or 702-383-4618. He can be a heard on "Seat and Ed" on Fox Sports 1340 from 2 p.m. to 4 p.m. Monday through Friday. Follow @edgraney on Twitter.