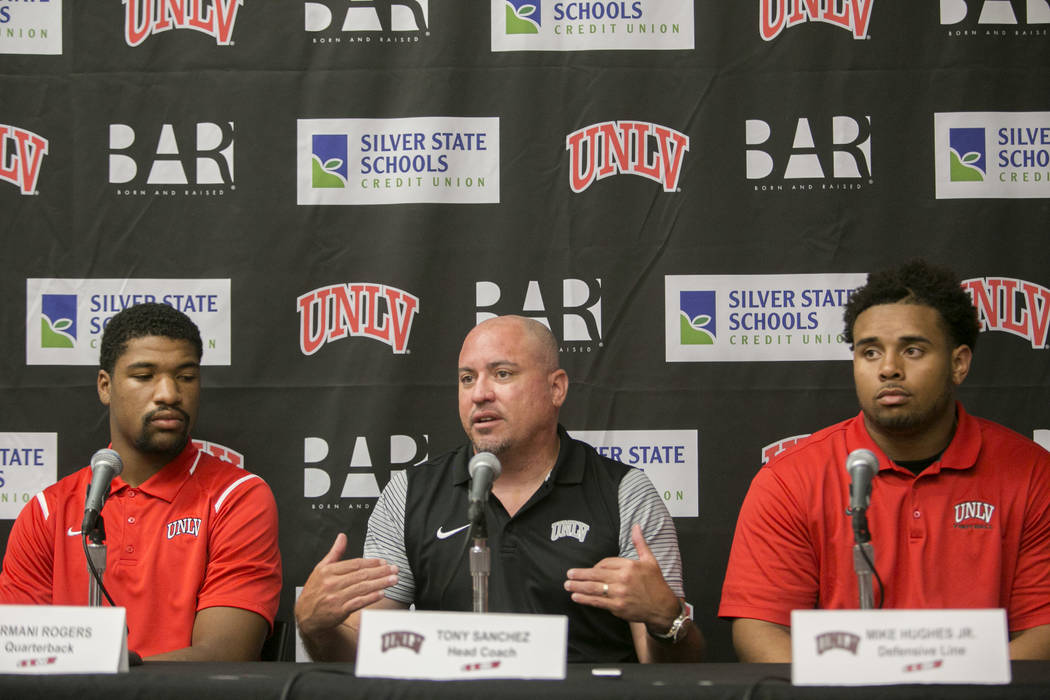 Mike Sanford was always worried about the periphery of things — locker rooms and trying not to trip over television wires and such. Bobby Hauck, a decent fellow with the handshake of a lumberjack, always seemed to have one eye on fly-fishing in Big Timber, Montana.
Neither really bought into the positive vibes cast in their direction from this space.
So it is that third-year UNLV football coach Tony Sanchez should understand there is a path to perfection, because if faith really means seeing light with your heart when all your eyes see is darkness, it also means seeing success in Columbus, Ohio, when everyone else sees a trip to the woodshed.
The journey to 12-0 …
Saturday: vs. Howard
The season-opener has a unique twist in that the Rebels will start a quarterback (Armani Rogers) who one national magazine compared to Cam Newton against a Howard side that will start a quarterback (Caylin Newton) who is the younger brother to the NFL star.
Simple: UNLV has the better Cam.
Sept. 9: at Idaho
The Kibbie Dome can be reconfigured for basketball to seat 7,000, a virtual sellout for UNLV hoops last season. To ensure victory, Sanchez will start 5-star freshman Brandon McCoy, tell the 6-foot-11 center to run a go route to what would be the 3-point line and have Rogers throw him the winning touchdown.
Another positive: Sanchez will be the head coach in charge, meaning McCoy will be made available to media in a timely manner.
Sept. 23: at Ohio State
I know. UNLV could be a 4(0)0-point underdog.
Follow along: Desiree Reed-Francois is UNLV's new athletic director who worked at Cincinnati. She knows Tommy Tuberville, a former head coach of the Bearcats. He is one of a few with a winning record against Ohio State boss Urban Meyer.
Reed-Francois will reach out to Tuberville, secure the magic potion needed to beat Meyer and pass it along to Sanchez.
This way, UNLV has a decided advantage and Reed-Francois doesn't have to spend every waking moment reminding those within her department to never again mention that atrocious new logo.
Sept. 30: vs. San Jose State
Lawrence Fan is the legendary Sports Information Director for the Spartans who makes a mean spice cake. But with all that flour and baking powder and nutmeg, there's no way San Jose State players can stay fit enough to handle UNLV.
Oct. 7: vs. San Diego State
Two years ago, the difference in physicality between the teams rivaled The Hound against Tyrion Lannister. Now, it's more Jon Snow against Bronn. UNLV finally matches up.
Oct. 14: at Air Force
Trust us: Game week won't be the first time this fall the Rebels will have prepared for the option. By the time kickoff arrives, they will know the Falcons better than a fighter pilot does his flight plan.
Oct. 21: vs. Utah State
The week before arriving in Las Vegas, Utah State hosts Wyoming and star Josh Allen, who has also been compared to Newton. Do you honestly believe the Aggies can defeat the greatest single-season quarterback in NCAA history in consecutive games?
Oct. 28: at Fresno State
If not for UNLV's inability to convert late in a driving rainstorm two years ago, the Rebels would be working on a three-game win streak in the series. In the world of UNLV football, that's referred to as utter and complete dominance.
Nov. 4: vs. Hawaii
Same old story. By the time they roll into the ninth island, the poor Magellan kids will have traveled 30,000 miles round trip for away games. Bone tired.
Nov. 10: vs. Brigham Young
All streaks must come to an end and the fact BYU has never lost to UNLV in eight games at Sam Boyd Stadium is a perfect example. I knew this the minute Taysom Hill celebrated his 40th birthday on the eve of his college eligibility expiring.
Nov. 17: at New Mexico
The only chance UNLV stumbles is if Albuquerque resident and UFC star Jon Jones suddenly shows up in the backfield for the Lobos. Which would be impossible, given the NCAA also drug tests its athletes.
Nov. 25: at UNR
UNR 45, UNLV 10 …
If last season's embarrassing home loss doesn't ignite a fire within every Rebel massive enough to burn down the entire state, then this was an exercise in futility and we might as well return to the days of Sanford tripping over wires and screaming like a crazy person.
I actually believe UNLV is going 6-6 and making a bowl, but felt a need to be overly positive in these dark and menacing and forgettable times.
You know, because of the logo and all …
Contact columnist Ed Graney at egraney@reviewjournal.com or 702-383-4618. He can be heard on "The Press Box," ESPN Radio 100.9 FM and 1100 AM from 11 a.m. to 2 p.m. Monday through Friday. Follow @edgraney on Twitter.