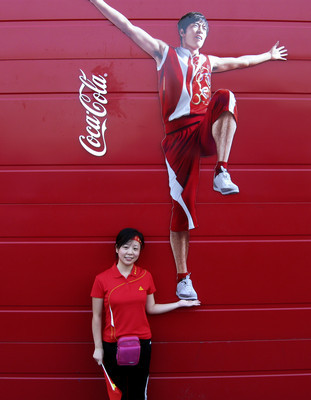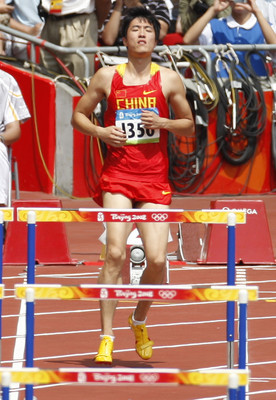 BEIJING — The woman stood below a silhouette that made Liu Xiang appear larger than life. Perhaps even larger than China, and that's saying something around these parts. She managed a smile although her heart ached.
"I forever will love him," Wang Lei said.
The skies over Beijing were clear early Monday, but clouds and drizzle made their way above Bird's Nest Stadium by late afternoon. It seems everyone cried for Liu Xiang.
Liu is a 110-meter hurdler on the track and a national hero off it, and when he walked away injured before competing in his opening preliminary heat, China's spirit was gravely shaken.
Thousands immediately departed the stadium. Fans wept in the stands, as did Chinese journalists in a media mix-zone. At a news conference later, Liu's personal coach tried answering one question and broke down sobbing. The government issued a statement of sympathy. Flags were not flown at half-staff, but it wouldn't have shocked anyone if they had.
We can't understand this as Americans. There is no comparable figure in our athletes, no single person who defines the hopes and dreams of a nation, no individual so intimately connected with how a country views itself.
It takes the critical injury and eventual passing of a horse (Barbaro) or the death of a NASCAR champion (Dale Earnhardt Sr.) to produce large displays of misery, to touch us in an emotional sense beyond a typical degree.
Folks, this is about an injured foot.
But for China, it is about again confirming its worthiness on a world stage.
Yao Ming is China's link to a popular Western sport. Liu Xiang is its heart and soul.
He is China's proof it belongs.
He didn't just win a gold medal in the hurdles four years ago in Athens. He erased the country's belief that while China might always rank superior in such Olympic endeavors as diving and table tennis and badminton, it never would be equal to global powers in the biggest sports such as soccer and track and field.
In 12.91 seconds, Liu Xiang single-handedly cured China's largest inferiority complex.
"I want to prove to the world," he said before those 2004 Games, "that Asians can run fast."
Once he did, China changed forever, and 1.3 billion people began worshipping one man overnight.
"He became the hero of the whole nation," said Yang Ming, a Chinese journalist who has covered track and field for nearly 25 years. "No matter how many gold medals the Chinese win in any Olympics, they always consider this the most valuable. China thinks Liu Xiang is a genius.
"He is also very fast."
It's hard to comprehend such affection.
American sports stars usually are beloved by one group and loathed by others. There are as many who cheer Kobe Bryant as there are those who don't. But the warmth Chinese citizens express for Liu is unfathomable.
His face is everywhere here, and the scene inside the Bird's Nest had he advanced and run the 110-meter hurdles final Thursday would have been considered China's finest moment of these historic Games — its greatest athlete competing for another gold in a universal sport on his soil.
"He is a breakthrough," student Chen Hao said. "When I first heard, I was like, 'Is it true?' I feel sad."
How important was this race at this time in this country? Some months back, a high-ranking government official told Liu's coach that anything less than a gold would deem all previous accomplishments by the athlete meaningless.
It speaks to the pressure Liu felt, a result of carrying the expectations of a billion people on one set of shoulders. The 25-year-old all but disappeared leading up to these Games, last seen being disqualified for a false start at a meet in Oregon in early June.
His hamstring was the issue then, and rumors his injury was more serious than reported were confirmed Monday.
He pulled up a few steps into his heat with what later was described a right foot injury. A false start was called, but Liu never again settled into the blocks. He removed his race stickers and slowly walked toward the tunnel, the wounded symbol of a country's dream vanishing before its tear-filled eyes.
"Liu Xiang will not withdraw unless the pain is unbearable," Chinese national track team coach Feng Shouyong said.
Outside, a nation suffered.
People wept.
Thousands departed the venue early. Others posed for pictures in front of large silhouettes of Liu and then struggled to find words to express their grief.
We can't understand this.
Ed Graney can be reached at 383-4618 or egraney@reviewjournal.com.