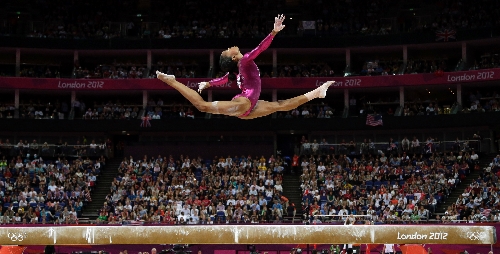 LONDON — The raindrops splattered against the window of the bus on Thursday and Gabby Douglas smiled. When she was little, her mother would say that water from the sky was God's way of telling us it would be a good day. She immediately texted her mother.
It's raining. You know what the means, right? It's going to be a good day.
A few hours later, the first African-American gymnast to win gold in the all-around competition had redefined good to nearly incomparable heights.
She's 16.
Is this her one moment?
The reason many believe an all-around gymnastics title is the single biggest achievement for any female athlete at the Olympics is because of how quickly the window of opportunity closes as young girls mature into women and the skills and bodies that made it so much easier before are no longer reliable.
When you reach the neighborhood of 20, those Amanar vaults with the 2½ twists into a layout back flip become harder to pull off.
This might be Gabby Douglas at her finest.
And she was terrific, consistent, clean, memorable.
Five months ago, she wasn't even assured a spot on the U.S. team, part of a group of hopefuls merely for her potential. Today, she is the first American woman to have won both a team and all-around gold.
The Flying Squirrel flew again Thursday, this time straight into the pages of history.
"We knew she was good, but didn't know about her nerves and endurance and how it would all hold up," said Bela Karolyi, who has coached multiple Olympic champions in Romania and the United States. "But at this age, there is no fear, no second thoughts. No experience, but no hesitation. You just do it. You come and play the game. And she did.
"This is the moment the United States rises above everyone, from the program to the system to the athletes."
Douglas led after the first of four rotations and never relinquished her advantage, finishing with a score of 62.232 to defeat Victoria Komova of Russia by less than three-tenths of a point.
Aliya Mustafina of Russia and Aly Raisman of the United States tied for third, but Mustafina was awarded the bronze medal when scores were combined of each gymnast's top three routines.
Karolyi said Douglas reminded him of a "skinny little Nadia out there."
"Gabby was exceptional," said Nadia Comaneci, coached to the all-around gold by Karolyi in 1976 and in attendance to watch Douglas. "She is very athletic but also has much artistry. That combination makes for a great gymnast."
The sport has become such an international scene at all levels – Douglas is an African-American with a Chinese coach (Liang Chow) on a United States team overseen by a Romanian couple (Karolyi and his wife, Martha). Pressure to perform comes in all sorts of goals and languages, the pinnacle being this one day and title.
It's even more intense elsewhere.
Komova was so disheartened at finishing second, so disgusted with the color silver, she removed her medal once off the podium and slipped it into her warmup jacket while speaking to reporters.
"It is too heavy to wear," she said.
Not literally.
Instead, from the heavy expectations of an entire nation, sitting on such tiny shoulders, having gone unfulfilled.
We're different that way. It isn't life and death, and yet it often produces a wonderful story of a young girl who at 14 asked her mother if she could move from her home in Virginia Beach, Va., to train with Chow full time in Des Moines, Iowa.
Douglas' rise to the top of the gymnastics world has been sudden and startling. At nationals last year, she fell off the beam three times in a 1½-minute routine. She fell again at nationals this year.
But a triumph such as the one here will change her life forever. Madison Avenue will call, and the fame and riches of an all-around gold will find Douglas soon enough.
Hello, Wheaties box.
Her mother said Gabby could inspire a nation. Her coach said she will break down barriers. America's newest darling has some big days ahead.
"Someone mentioned that I was the first black American (to win the all-around gold), and I said, 'Oh yeah, I forgot about that,' " Douglas said. "I feel so honored. I hope that I inspire people. I want to inspire people."
Is this her one moment?
If so, it was magnificent.
It was, as rain fell outside North Greenwich Arena, a good day.
Las Vegas Review-Journal sports columnist Ed Graney can be reached at egraney@reviewjournal.com or 702-383-4618. He can be heard from 11 a.m. to 2 p.m. Monday through Friday on "Gridlock," ESPN 1100 and 98.9 FM. Follow him on Twitter: @edgraney.