Even with new faces, Golden Knights need to be who they are
February 27, 2018 - 11:31 pm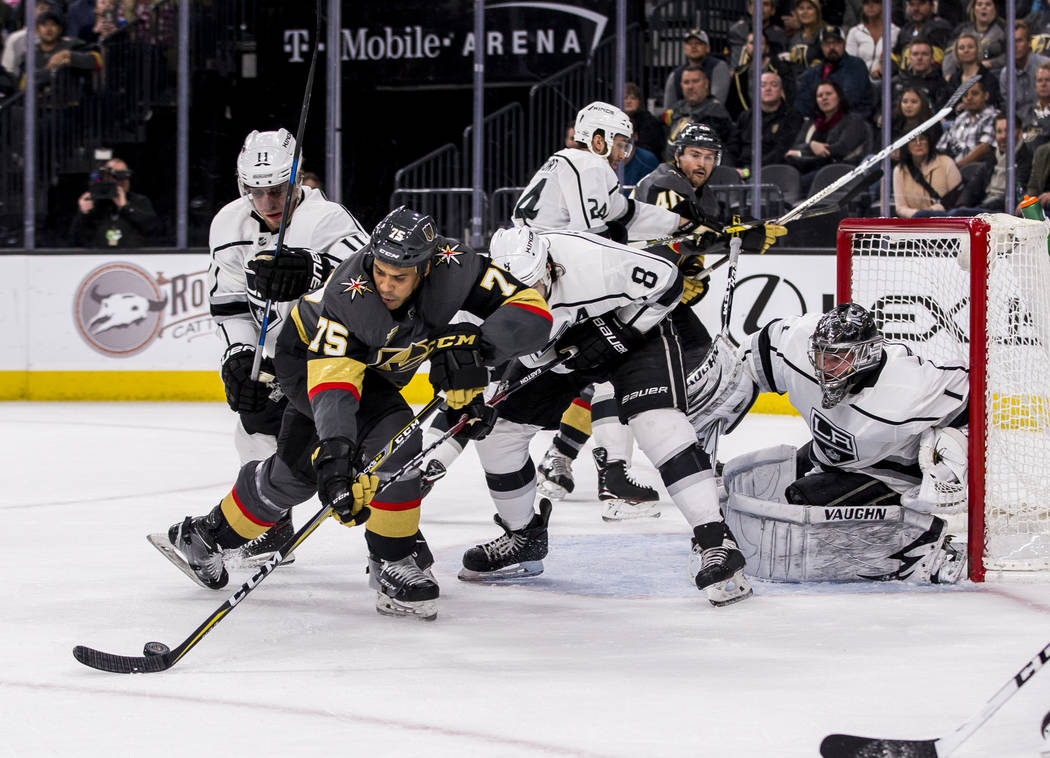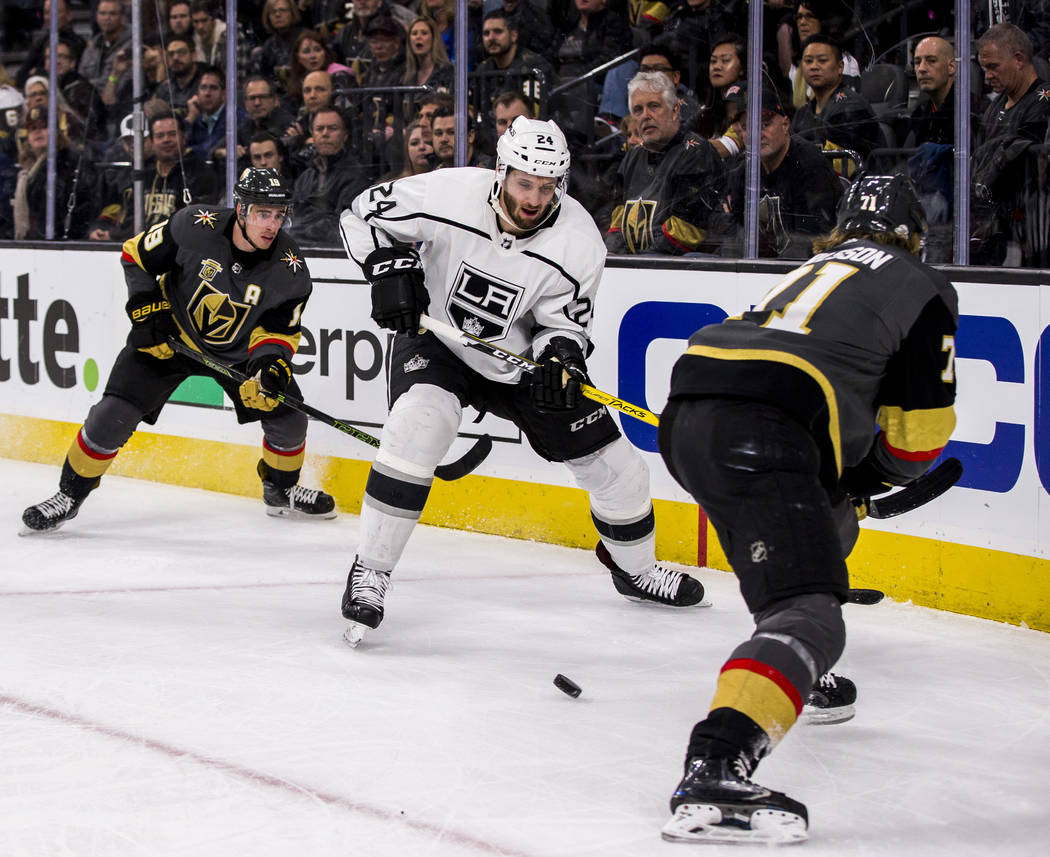 New faces can bring change. In the room. On the ice. Within a structure that has produced, thus far in an NHL season, something pretty special and rare.
The Golden Knights aren't the same team as they were when the week arrived, deeper on the offensive end, more physical overall for a side that really isn't one.
But whether they're better for the additions— and it's pretty impossible to top what Vegas accomplished as an expansion team before Monday's trade deadline — won't be known just yet. New faces and games need time to acclimate.
That, and Ryan Reaves hasn't yet fought every opposing player.
Just almost.
This is certain: The Knights on Tuesday night fell to the Kings for the second time in consecutive days, this a 4-1 final before 18,328 at T-Mobile Arena a night after Los Angeles took care of business in overtime at Staples Center.
It was a battle of backup goalies Tuesday, and Jack Campbell of the Kings — making just his second career start and first in over 1,500 days — got the better of Maxime Lagace of Vegas.
The Kings are another one of those teams fighting daily for their playoff lives — doesn't it seem like every visitor owned such a resume the past few weeks? — and offer another big and heavy Pacific Division side that is healthy again.
They could prove a bear of a best-of-seven opponent for Vegas should the postseason gods deliver such a matchup. The Kings definitely appeared so this week.
Things got more than chippy in back-to-back games — I'm pretty sure David Perron of the Knights and Drew Doughty of the Kings aren't texting BFF messages to each other — and L.A.'s style won out more than that of Vegas.
"You definitely have some bumps and bruises after the game," said Knights defenseman Brayden McNabb. "They play hard. They play that style, and we're a physical team, too. Makes for a good game."
Well, not really.
Not the physical part.
McNabb is. So is defenseman Deryk Engelland. So is newly acquired forward Reaves, who so far seems intent on merely playing to his reputation as someone who thinks only about mixing things up.
That's where the rough-and-tumble part stops for Vegas.
The Knights didn't earn a comfortable lead in the Pacific by being rough guys, and whether part of the reason in getting Reaves from Pittsburgh was to add some of that or not, Vegas isn't advancing deep in the playoffs by becoming such a side overnight.
The Knights are hardly the Broad Street Bullies.
They're not even the Tropicana Blvd. Toughies.
It's true those NHL teams that play the best from October through March can't always translate such success when the playoffs arrive — hence all the annual upsets — but Vegas is built the way it's built. It wins by skating by people, not through them. If they are to advance, that won't change in early April and beyond.
It needs guys to get healthy. It needs Pierre-Edouard Bellemare back. It really needs James Neal, scratched Tuesday with an apparent hand injury after earlier battling illness, to be 100 percent. Vegas took 42 shots and scored once. It needs Neal to finish things.
But just as important will be the ability for Vegas to keep its continuity in tact, those intangibles that have not wavered no matter who's in or out of the lineup, no matter who's a star of the game or healthy scratch, no matter who's injured or called up.
Tomas Tatar is the other key new guy, acquired from Detroit at the deadline and having made his Vegas debut Tuesday. He watched from afar as the Knights built their historic start, among the masses who in the beginning questioned whether the amazing run could continue over the length of a season.
"I was (surprised) at it," Tatar said. "When a new team comes to the league in expansion, you don't really know what to expect. But I don't think it's an accident that they have been doing it for this long. You have to give them credit. They've been phenomenal."
"You want to come here and feel good. So far, the guys have been great and I'm really fortunate and happy for a great experience."
New faces can bring change. They take time to acclimate.
That, and as one fellow scribe astutely noticed Tuesday, Vegas is now 0-2 without Brendan Leipsic.
So there is that.
Contact columnist Ed Graney at egraney@reviewjournal.com or 702-383-4618. He can be heard on "The Press Box," ESPN Radio 100.9 FM and 1100 AM, from 11 a.m. to 2 p.m. Monday through Friday. Follow @edgraney on Twitter.