Facts are facts: Rematch required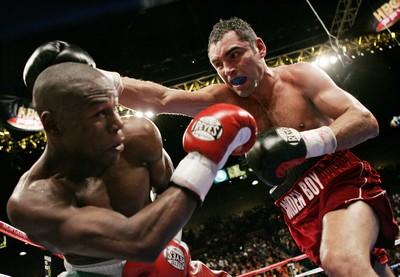 The months of hype and trash-talking and bizarre family feuds and that unfathomable hope that one night could return boxing into the consciousness of the mainstream sports fan ultimately left us with four facts:
1. Floyd Mayweather Jr. won a split decision against Oscar De La Hoya on Saturday night and deserved the WBC super welterweight championship belt that went with it.
2. In the end, the best advertisement for boxing was not among the millions of dollars in an extravagant promotional campaign. It was — without question — the fight itself. How ironic.
3. Someone at the Nevada Athletic Commission might be colorblind.
4. The world will want to see this again.
An uninteresting fight between Mayweather and De La Hoya might have been enough to again predict another pay-per-view record when talking rematch, never mind a split decision that a majority of those booing inside the MGM Grand Garden opposed and one Mayweather's own father (gee, what a shock) also questioned.
Listening to what boxers say about their futures after such a momentous fight is like listening to a fifth-grader discuss his options for college. It doesn't mean anything. Mayweather insisted throughout the weeks of preparations that he would retire following this night and would now do so with a 38-0 record. But he also hasn't received that telephone call that is sure to come from De La Hoya's camp, the one that begins talking about all the money a second fight would generate.
Floyd says it's all about the green, and fighting De La Hoya again would earn him more of the color than you'd find across Ireland.
"I'm going to take my time and be smart about this," De La Hoya said. "I'm going to go back home and watch the fight and see how my movements were and how my timing was and how my body reacted and analyze the situation. I'm going to wait and see."
It's a pretty winded way of saying he wants another shot at Mayweather and he can unquestionably provide the financial incentive to make it happen.
And it should.
Mayweather won this fight ever so slightly, certainly not decisive enough to walk away now.
Most of those 16,700 fans upset with the decision obviously reacted far more with their hearts than their heads. In a fight that at times was more difficult to score than it was discovering a reason Tommy Lasorda received a louder prefight ovation than Leonardo DiCaprio, punch stats don't lie.
De La Hoya threw more. He just didn't land nearly enough, specifically 21 percent to 43 percent for Mayweather.
Power punches landed: Mayweather, 54 percent to 27.
Jabs landed: Mayweather 29 percent to 10.
That's how you win a split decision.
"I was having fun in there," Mayweather said. "It was a hell of a fight. I came to fight. He was rough and tough, but he couldn't beat the best. I could see his shots coming. I stayed on the outside and made him miss. I just fought the best fighter of our era and I beat him."
Because, well, he finally woke up and became the terrific boxer he always has been.
Mayweather promised for weeks that varied assets such as popularity and size and strength don't win fights. Smarts do, he boasted. Too bad he waited so long to use his. This wouldn't have been as close on those final scoring cards.
But the final four rounds were enough for Mayweather to edge ahead on points against a De La Hoya that lacked usual power from a jab that has defined his career. Many thought De La Hoya couldn't come close to matching quickness. He did. Many thought Mayweather couldn't come up with a punch that could overly bother De La Hoya. He did with a consistent overhand right.
The decision came and the boos rained down, but the only real controversy Saturday night arrived a bit later when it was learned the commission might have reported the wrong scores coming from the wrong corners. Blue and red somehow got mixed up, but the ending was correct.
"I thought Oscar won the fight based on the point system," said Floyd Sr., who later softened his stance a bit when pressed as much as his son was by De La Hoya for long stretches. "Oscar threw more punches. My son had good defense. I still think Oscar did enough to win."
Let's be honest: There needs to be a rematch because this was far too close a fight to leave it in this manner.
But perhaps more importantly, how could you not want another few months of the Mayweathers going at each other from all sides?
Ed Graney's column is published Wednesday, Thursday, Saturday and Sunday. He can be reached at 383-4618 or egraney@reviewjournal.com.
De La Hoya vs. MayweatherNews & information
ED GRANEYMORE COLUMNS