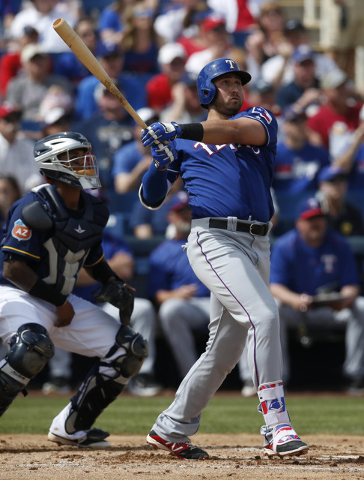 SURPRISE, Ariz.
In what was the greatest day of his life, Joey Gallo surmises it might have been better to go 1-for-4 with a single.
OK, so maybe 2-for-4 with a double.
You want to show a little of the strength and give fans a taste.
Maybe just a pinch of spinach for Popeye.
Gallo offered a mouthful.
"Looking back at it now," he said, "as special as the day was, one I dreamed about forever, maybe the expectations wouldn't have been so unrealistic if things had been a little different."
It's true that we are all promised sufferings, that it's all part of a grander plan, and that things become much tougher when the hardship is real and not just part of our imagination.
It wasn't a dream that upon being called up from Double A by the Texas Rangers in June because of injuries, Gallo homered in his big league debut and fell a triple short of the cycle with four RBIs. It wasn't fantasy that a few weeks later, the former Bishop Gorman High standout took Clayton Kershaw deep at Dodger Stadium.
I mean 439 feet deep.
No-doubter deep.
His aren't your garden variety big league home runs. They're titanic.
But short-lived is often the belief that things come easy to even the most talented of folks, even to baseball's top power prospect and former first-round draft pick, even to the 22-year-old guy who hits it a country mile and over the river and through the woods and through the window at grandmother's house.
Gallo's best day of his life was followed by what he has termed the worst year of his life, a learning experience that is unavoidable and brutally harsh on young swings upon arriving to a major league clubhouse.
Baseball is the most humbling of sports, and Gallo's memorable start in the bigs eventually saw him hit .204 with 57 strikeouts in 36 games and 123 plate appearances.
"It became such a grind where you actually showed up to the park expecting to fail," Gallo said. "I was defeated before taking the field, and that's a tough thing to accept. It's all mindset. I had to get back to things in the offseason working out in Las Vegas that I knew would help me. I had to get back to work and know that I'm a good player. I have to move on from last year and know this is a new season, a new opportunity.
"I have a better feel for things. I have a better approach to things. Last year, I just showed up and played. This year, I have a plan."
He was optioned to Triple-A Round Rock last week, an expected move given there still isn't a regular spot for him in the lineup and the Rangers would much rather he get daily at-bats in the minors against upper-level pitching than sitting on the bench at Globe Life Park in Arlington. He wasn't beating out veteran Adrian Beltre at third base, and the outfield is set with Ian Desmond and Delino DeShields Jr. and Shin-Soo Choo and even Josh Hamilton when finally healthy from knee issues.
Joey Gallo must wait a bit longer.
The hope is that when he is again called up, he sticks around for a good long time. He returned to spring training this year a more patient hitter, calmer in his demeanor at the plate and far more willing to accept walks than swing at any offering in his zip code and perhaps one a few towns over. He was sent to Round Rock having more than held his own the last month or so, blasting three home runs with a 1.036 OPS.
"Joey is on a great track," veteran Rangers infielder Mitch Moreland said. "He's still super young with a big future ahead of him. He's open-minded about everything and continues to learn every day. You can see him progressing and getting better and better.
"He's special. Failure is something that comes to all of us. You don't look at it like that. You look at it as a process. The experience (last year) will only help him."
So will having gained a bit of perspective this spring.
He accompanied third-base coach Tony Beasley to a chemotherapy treatment one March afternoon, the latter having been diagnosed with Stage II rectal cancer. For hours, the two sat and talked about baseball and life, but mostly life.
Gallo looked around the room, saw all the other patients being pumped with drugs, marveled at the positive approach by which his coach has attacked his disease, and understood that while last year might have felt like the worst of his life, his is really a charmed one.
"We sit around and complain about a lot of things, and here is Tony battling cancer with such toughness," Gallo said. "Baseball isn't life or death. You have good days, bad days, you succeed or fail. That's it. We show up to a field and play a game and go home. We don't get to see so much of the other stuff going on with people who are really suffering. It was good for me to see that.
"I guess a perfect situation for me this year would be to do my job well enough (at Round Rock) that they call me up and I come help the team win a World Series. I'm OK waiting my turn. I will be ready when they call me, more prepared this time.
"It's just baseball."
Which means the best time of his life.
Ed Graney can be reached at egraney@reviewjournal.com or 702-383-4618. He can be a heard on "Seat and Ed" on Fox Sports 1340 from 2 p.m. to 4 p.m. Monday through Friday. On Twitter: @edgraney