Friday game another big challenge for Bishop Gorman
October 3, 2013 - 8:40 am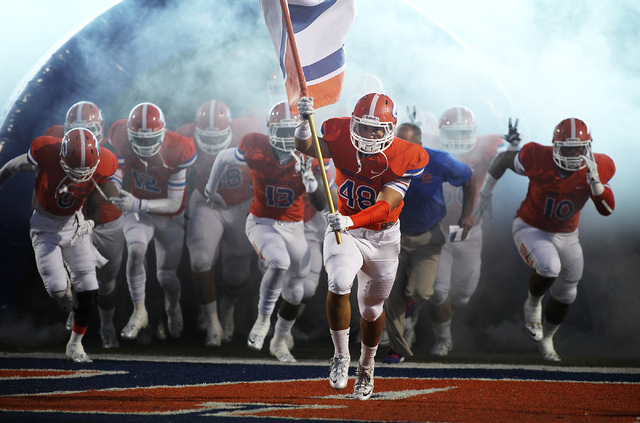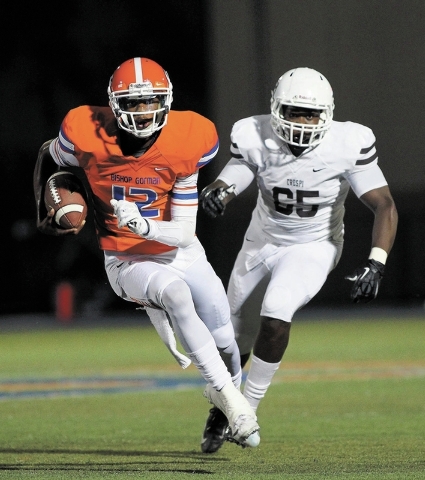 Tony Sanchez has this philosophy, that whenever you give an inch, whenever you believe there is nothing to lose, whenever you accept the notion that an opponent carries more pressure to succeed, something happens.
"You become a loser," said Sanchez, the Bishop Gorman football coach.
His team doesn't have such a problem, and confidence never will lack in its level of preparation, not even when those staring across the field are ranked No. 1 nationally and might own the high school version of speed as a certain college team in Eugene, Ore.
On Friday, Gorman ends a stretch of six games to open the season that best would be described as extraordinarily challenging, saving the most potent for last as Booker T. Washington from Miami visits for an ESPNU telecast.
Their nickname is the Tornadoes.
They're swift enough to think you might be playing against one.
"Fastest team in the country," Sanchez said of this week's opponent, ranked atop most national prep polls. "But we have told our kids that it's no different than any other game — it comes down to execution.
"This is like our eighth game against a top-10 opponent since (2009). We have played a No. 1, a No. 2 twice, a No. 5, a No. 7, a No. 10 … We're battle-tested. We never look at games like this one as if it's David vs. Goliath. We dig in and fight. We all have something to lose. We have a lot of pride and determination. Our kids work very hard.
"If we lose, we're going to go down giving it our best effort, going out there and playing our butts off."
Sanchez always is quick to say local results remain his team's No. 1 goal annually, that the fact the Gaels haven't lost to a Las Vegas-based team under his watch and have won a record four straight state championships remain their most significant accomplishments.
But national accolades come only from playing a schedule loaded with games that test your resolve to the highest degree, the sort of itinerary Gorman again has maneuvered through barely unscathed.
The Gaels are 4-1 after completing a stretch against teams from Arizona, California and New Jersey.
Most might have expected such a start. Some not.
Even the best teams take roster hits now and then, which Bishop Gorman did when losing a four-year starting quarterback (Jarrett Solomon) to graduation and a four-star running back (Nathan Starks) to dismissal from school.
Even the best teams enter a season with some level of uncertainty.
"We obviously had an interesting offseason in some ways, but when you lose kids you think will be there, you simply treat it as you would an injury — next man up," Sanchez said. "We spend an entire year preparing for 10 games of 48 minutes each. That's all anyone is guaranteed each season. Nobody flinched when guys had to assume different and more prominent roles this year."
The most prominent being he who directs the offense.
Solomon was more security blanket for the Gaels than anything Linus ever held around Charlie Brown and Lucy, leading Gorman to a 57-3 record in four years while passing for more than 10,000 yards and 138 touchdowns. Video game numbers.
But he's at Arizona now, and the opportunity to lead has fallen to senior Randall Cunningham Jr., who also happens to be the nation's best prep high jumper and son to a fairly famous father in these parts.
Being good enough at Gorman is one thing.
Being good enough and respected is another.
"(Cunningham Jr.) has responded very well," Sanchez said. "He's a really humble kid, mild-mannered, treats everyone so well. Kids at school love him. To have stepped into this schedule and gone on the road against very good teams and faced Division I-caliber cornerbacks all over the field and to have led us to a 4-1 record … I've always told the kids that winners find a way. He's a winner."
His toughest test yet, and that for his team, comes Friday.
I'm not sure how good Booker T. Washington really is, but I'm guessing coaches at Florida State and Miami believe it to be quite special, given how many of its players eventually will call one of the two major college programs home.
But this is what Gorman football is defined by, these types of games, this level of opponent, this big a moment. Bright lights and TV cameras and all such stuff.
You can be sure the Gaels won't give an inch against the Tornadoes.
Catching them, however, might be a different issue.
Las Vegas Review-Journal sports columnist Ed Graney can be reached at egraney@reviewjournal.com or 702-383-4618. He can be heard from 11 a.m. to 2 p.m. Monday through Friday on "Gridlock," ESPN 1100 and 98.9 FM. Follow him on Twitter: @edgraney.