Golden Knights draft picks understand theirs is a long journey to NHL
Updated June 25, 2017 - 12:18 am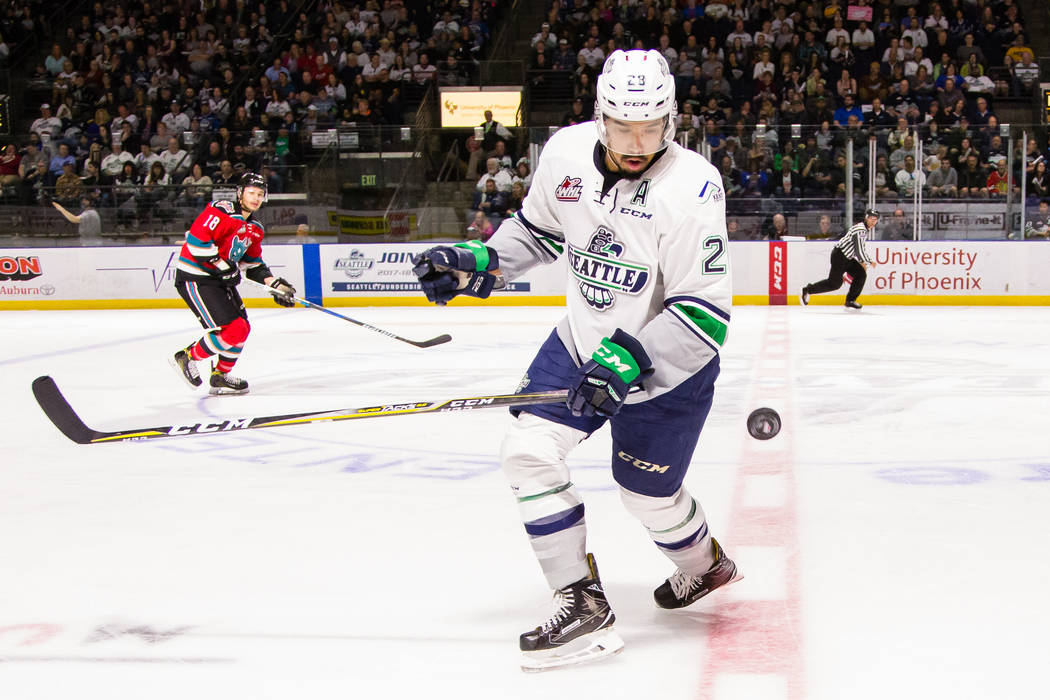 CHICAGO — Two days and 217 picks later, the NHL Entry Draft had successfully proven an obvious point: Big Baller Brand probably won't ever moonlight into making overpriced skates, because I'm not sure it could find a young player self-absorbed enough to wear them.
These kids and their altruistic attitudes would drive LaVar Ball batty.
Hockey's culture, perhaps more than any other sport, is to exhibit patience in developing skill, to encourage growth at lower levels and allow nature to take its course for things such as size and speed and strength.
It's most like baseball this way, only with development leagues spread across the globe.
So it happens that all but one of the Golden Knights' selections on Friday and Saturday probably will return to their amateur teams next season, the exception being a 20-year-old right wing named Keegan Kolesar, acquired from Columbus for the 45th overall pick.
He probably isn't coming straight to Las Vegas, either, slated to start his Knights journey with the Chicago Wolves, the team's American Hockey League affiliate.
It's more than self-restraint on management's part not to rush players who are clearly unprepared for the game's highest level, but also the understanding of those players to embrace such a timeline.
They all want to reach the NHL like, well, now.
They also know it's not how things work.
Beyond names such as Auston Matthews and Connor McDavid and players of a generational magnitude, the idea that an entry draft pick, other than perhaps the top few taken annually, will go directly from hearing his name called to an NHL arena is impractical.
Said one fourth-round draft pick Saturday: "I just started shaving."
It's this unassuming attitude of most young hockey players that is so endearing, the fact that when they are asked to describe their game, many begin with those areas in which they need to improve rather than where their strengths exist.
Good luck finding that perspective from 18-year-old athletes drafted into other sports.
"I don't shoot the puck enough," said Ben Jones, a seventh-round Canadian center pick of the Knights from the Niagara Ice Dogs of the Ontario Hockey League. "I need to get into the dirty areas more where the puck is. I can improve every part of my game, but mostly my skating.
"Going in the seventh round, I have a chance to prove people wrong, but the only way that happens is by having a hunger to work hard and learn and push through. You can always get bigger and better."
This kid would really struggle as an NBA lottery pick.
It went that way for seven rounds, those general manager George McPhee selecting as the first draft class in franchise history talking more about what they need to do than have already done.
Most never have been to Las Vegas — something that will change Tuesday when the team's development camp opens at the Las Vegas Ice Center — but several of them associated the city with the same movie.
They know all about the jungle cat in the bathroom.
"I've seen 'The Hangover,' " said first-round pick Erik Brannstrom, possibly the draft's best defenseman, who plays in the Swedish Hockey League. "I've seen all three."
Let's hope he doesn't think Mr. Chow is the prototypical resident, though some of the crazies along the Strip might give him that impression.
There is time for all of them to mature. A player not signed by his drafted team within two years can re-enter the draft, and a team owns the rights of an NCAA player until 30 days after he departs college, the latter of which could come into play with fifth-round pick Jonathan Dugan, a forward from Rochester, New York, who is scheduled to play at Providence in 2018-19.
"What's important is we feel like we made good picks, but now we have to develop these kids properly," McPhee said. "Each kid will do it in different ways. We'll watch all of them and be really smart about it. We're not going to fast-track anyone. Even some of the kids that aren't as big as others, I've always felt if you're good enough, you're big enough. But it never hurts for a kid to play an extra year of juniors or two years. It's better to overcook them than throw them in there raw.
"It's like having a kid in the eighth grade suddenly go to 11th or 12th grade. It's too much, not only on the ice but socially for some of these kids. We'll be open-minded. If someone is ready, you play them, but there's a good chance all these kids are going back to amateur."
That thinking sure wouldn't fly as a motto for Big Baller Brand skates.
Contact columnist Ed Graney at egraney@reviewjournal.com or 702-383-4618. He can be heard on ESPN Radio 100.9 FM and 1100 AM from 11 a.m. to 2 p.m. Monday through Friday. Follow @edgraney on Twitter.