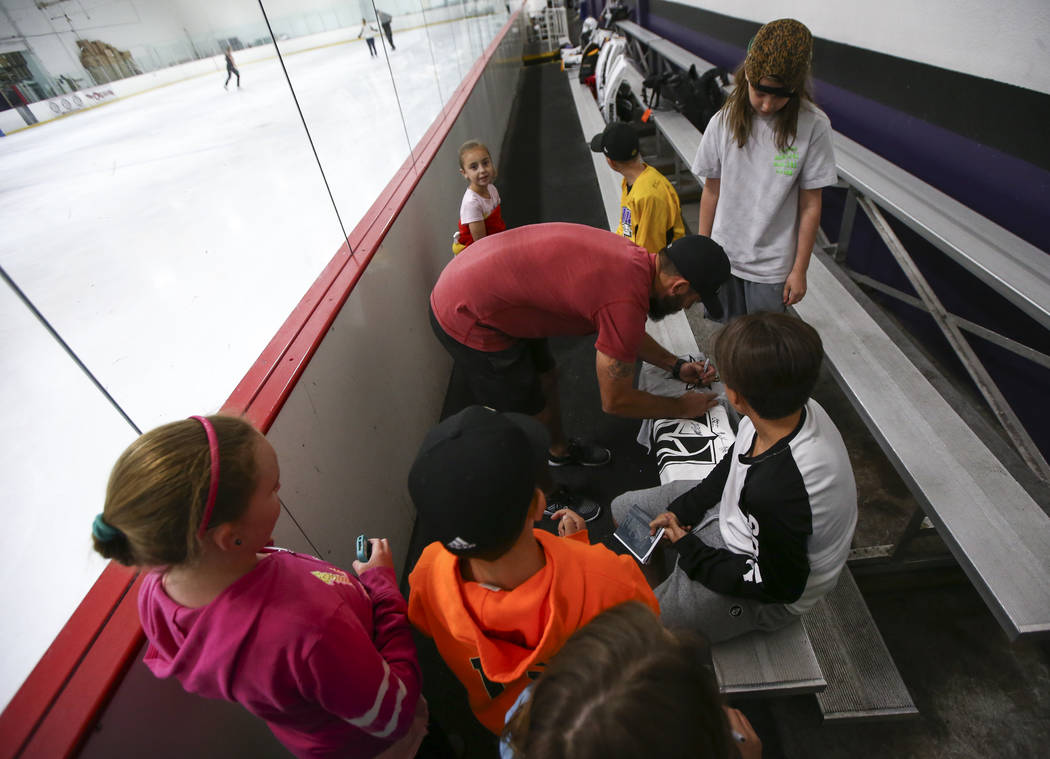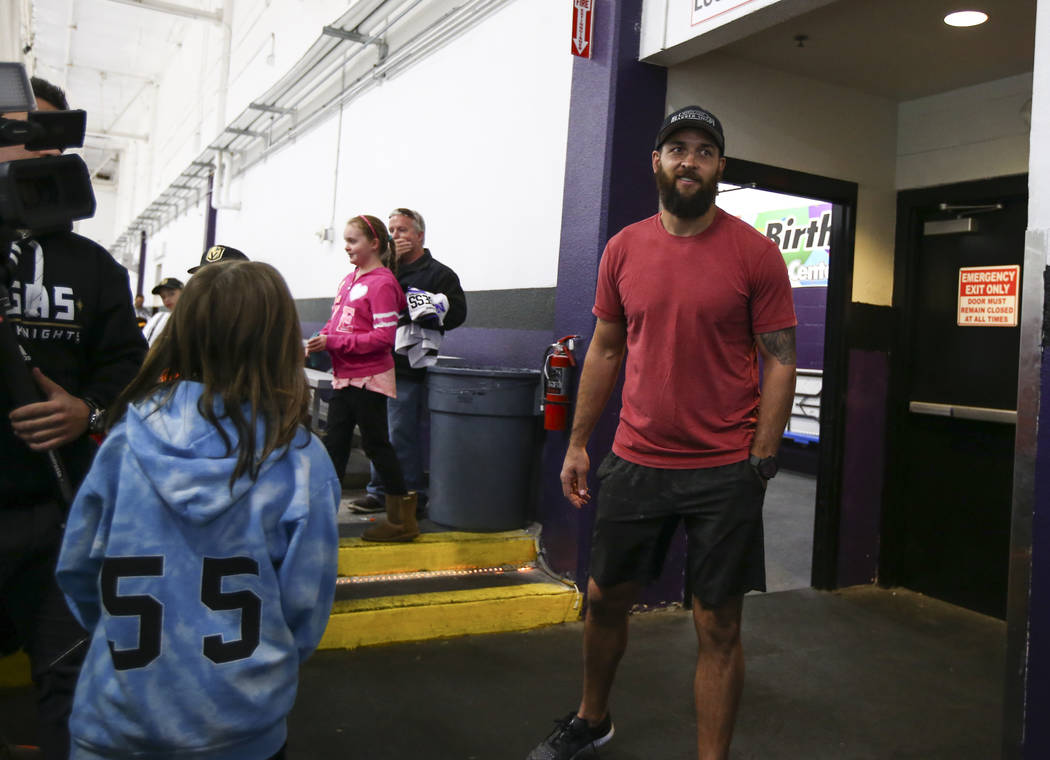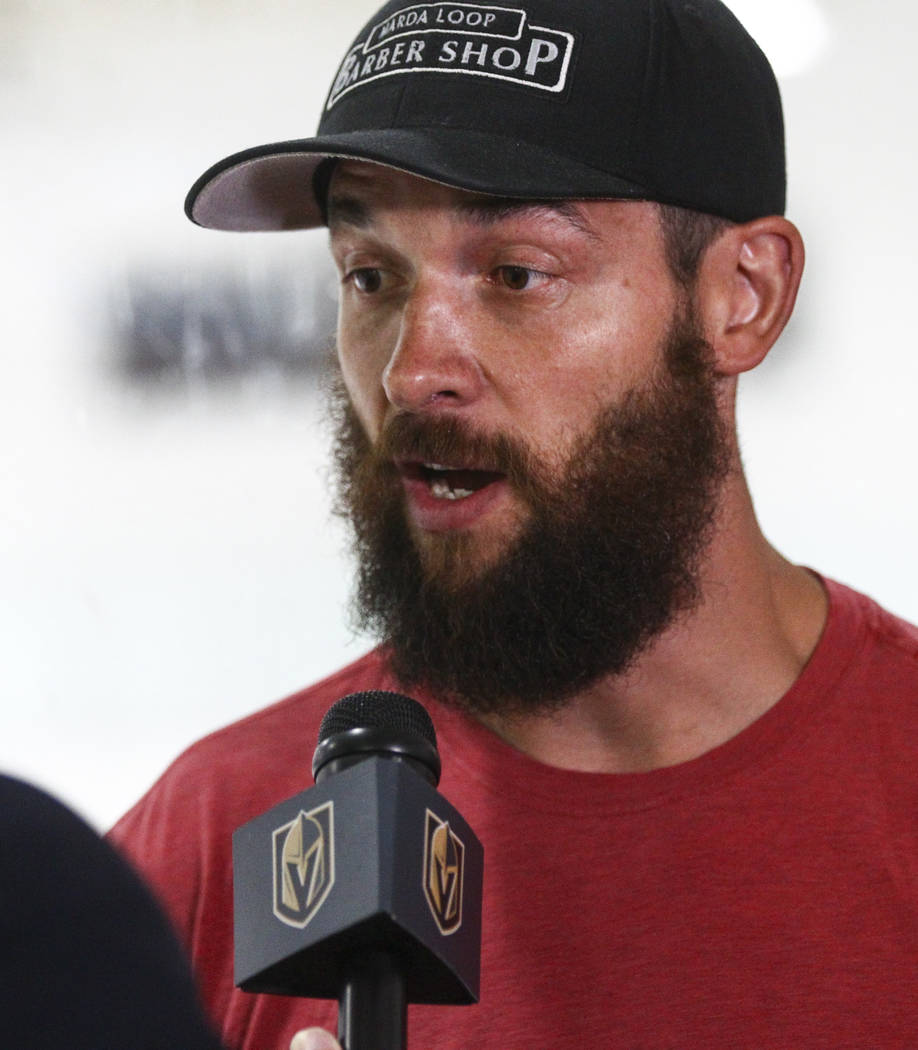 Deryk Engelland wasn't expecting the telephone to ring, figuring hockey might be suggesting he plan a different future.
Things can be cruel that way.
He had finished playing juniors and yet few NHL teams were lining up outside the dressing room, but then Calgary extended an offer to attend a development camp and a career was born.
That was 14 years ago.
Engelland attended a scrimmage this past week of the Golden Knights, who concluded their inaugural development camp Saturday at the Las Vegas Ice Center. His is more than a passing interest, given the valley resident was an expansion draft pick of the team and will join the Knights for training camp in September.
"I think that part is still sinking in because I haven't been on the ice with the guys," said Engelland, selected by the Knights from Calgary. "Every day, there is more excitement for me and my family, knowing I'll be playing in our hometown.
"As you get older, you have to train harder to keep up with these young guys coming in. The game is getting younger and faster. As an old guy, I feel like you have to train harder to keep that spot."
More than anything else, the 35-year-old defenseman believes any sort of first-season success will depend on how fast chemistry is developed. Most teams will have had their big lines together for some time, while the Knights will throw a plethora of bodies onto the ice for camp and hope things mesh quickly.
It's impossible to know who will emerge as team leaders — some NHL captains are as young as 19 — because the game has changed over the years and trendsetters within a group materialize various ways.
You gather as a team and identify everyone's strengths and play to them.
That's how leaders are born.
The group Engelland watched has, maybe, a few names that will break camp with the Knights and remain on the roster when the team opens its season Oct. 6 at Dallas.
A few other things were evident: Those selected in the entry draft certainly have some impressive skill, and George McPhee can actually smile for longer than it takes to read this sentence.
For the first time since he accepted the position of general manager in July 2016 and after months of hiring positions within hockey operations and preparing for expansion and entry drafts, McPhee was able to sit and watch players wearing colors of the Knights.
I even saw him joking around a few times, not yet ready for his own stand-up act but easygoing for stretches all the same.
"It's always the most fun to watch the young guys play," McPhee said. "I've always enjoyed the mornings in the business because your team is practicing. When the players leave the facility, you go upstairs and begin pushing paper around. Being around the players is a lot more fun than pushing paper around.
"No young player comes into the NHL really knowing how to be a pro. You have to learn how to do all those things. The (players) had a great week. I hope they learned something while they were here, hope they got to know their teammates, hope that for the rest of the summer they do what we have instructed them to in terms of training and eating right to accelerate their development process. We'll do all the testing again in September and see if they did."
That's when things really begin, when a new practice facility opens and those expansion draft picks arrive and coach Gerard Gallant sees if the competitive side McPhee is certain exists within the roster really can hold its own over the course of a long season.
It is something a player such as Engelland, who has one year remaining on a contract that pays him $1 million, has contemplated. The excitement of playing at home on a new team is unmistakable, but winning becomes that much more important when you are closer to the end of a career than the beginning.
"I've thought about that a little bit," Engelland said. "Obviously, prior to the expansion draft, you think about how things are going to turn out. I do think management and the coaching staff did a phenomenal job.
"As of now, we have guys in the room that we can put a team out there that's going to compete. Every team goes into a season with goals of making the playoffs, and we won't think any different here."
The next time we see those wearing the Knights' colors, it no longer will be about development. It will be about evaluation.
The next time we see them, things get real serious real fast.
Contact columnist Ed Graney at egraney@reviewjournal.com or 702-383-4618. He can be heard on ESPN Radio 100.9 FM and 1100 AM from 11 a.m. to 2 p.m. Monday through Friday. Follow @edgraney on Twitter.
Deryk Engelland file
Age: 35.
Position: Defenseman.
Size: 6-2, 214 pounds.
Birthplace: Edmonton, Alberta.
Residence: Las Vegas.
NHL teams: Pittsburgh (2009-14); Calgary (2014-17).
NHL career stats: 469 games, 86 points.