Golden Knights helped Las Vegas heal after mass shooting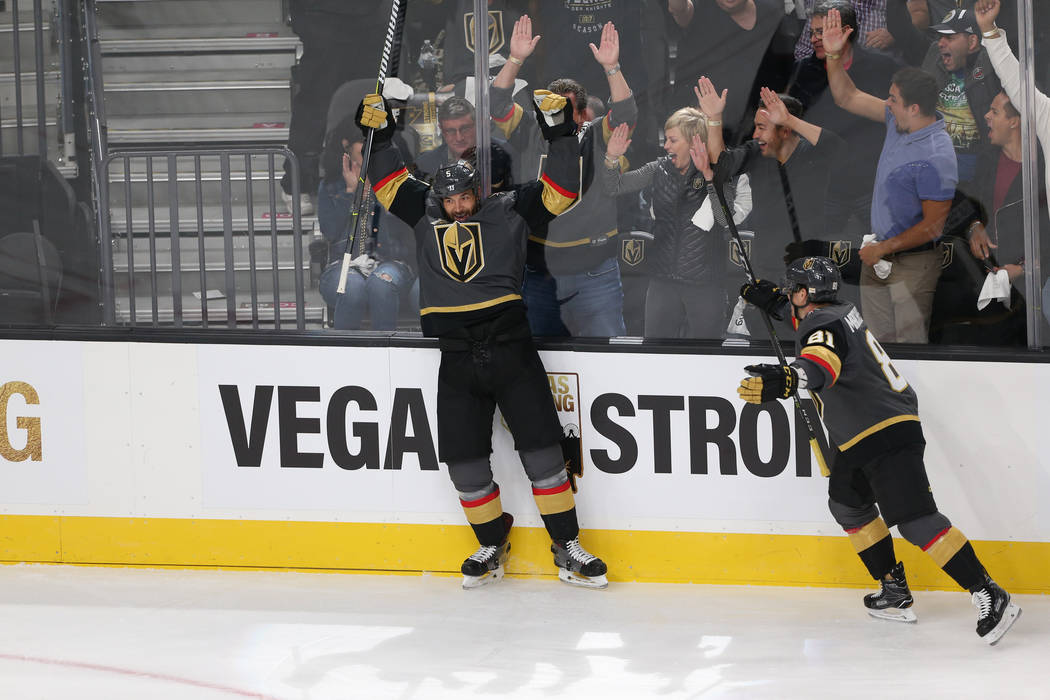 The picture was of an AR-15 rifle mounted with a magnification scope and sitting atop bipod legs, perhaps because the murderous coward desired it to be further from the 32nd floor window so as to hide all the smoke and flashes.
But however many times the man who fired so much terror and grief and death down upon those petrified innocent lives scattering for safety peered through his minuscule globe of destruction, he couldn't have known the strength and resolve and spirit that existed in the city he so viciously damaged.
And, in turn, Las Vegas couldn't at the moment have imagined that such a major part of the healing process would be discovered through its relationship with a hockey team.
The faithful bond between Southern Nevada and the Golden Knights was born, in large part, through the response to a mass shooting at the Route 91 Harvest festival on 1 October, where 58 were killed and more than 700 injured from those bullets raining down from a suite at Mandalay Bay.
In a most inexplicable manner, an NHL expansion team of which the majority of players and staff had no ties to Las Vegas before landing here to open an inaugural season, suddenly became a vehicle by which the town could begin its long and difficult road to recovery.
Sports have a way of doing that.
"It was a disaster (on Oct. 1), a terrible massacre, so we changed our initial opening night ceremonies," Knights owner Bill Foley said. "I'm so proud of the whole team. The team just connected to the town. They were brand new here. No one knew them. And they still went out and (experienced) some tough situations.
"From then on, it was pretty unbelievable."
He speaks of the home opener against Arizona at T-Mobile Arena on Oct. 10, Vegas having already begun what would prove a magical season-long run to the playoffs with road wins versus Dallas and the Coyotes, and the both incredibly sad and uplifting pregame ceremony meant to unify a city whose collective hearts were ripped apart by the deadliest mass shooting in modern U.S. history.
The speech that Tuesday evening lasted exactly 58 seconds — one for each of those killed — and it was more than fitting that Knights defenseman and Las Vegas resident Deryk Engelland addressed the gathering of 18,191.
His wife, Melissa, helped write the words, a stirring tribute delivered with the names of the victims emblazoned on the ice and each Knights player having escorted a first responder onto the rink, those from police and fire and medical and other emergency services recognized for their heroism in the aftermath of the shootings.
"I don't usually talk in front of many people, so that was a little different," Engelland said thinking back. "It definitely came from the heart, being from here."
A team and town unite
The Knights would jump on Arizona 4-0 over the opening 10 minutes and post a 5-2 victory, becoming the first NHL expansion team to begin an initial season 3-0-0.
From there, buoyed by the spirit of such mantras as Vegas Strong and a home ice advantage that became more and more remarkable with each passing victory, the Knights won nine of their first 10 games in Las Vegas and set the tone for what would be a historic season.
One defined by its inspired beginning.
"We always go back to our first home game," said coach Gerard Gallant. "It wasn't about our team winning, it wasn't about nothing — it was about the first responders and the tragedy that happened the week before. It was a tough way to start our season, but I think the guys and everybody supported it well. They all came out and played an unbelievable game that first night and I just think it carried over."
They say it's different than other cities in which they have played, how fans approach them and ask for pictures and autographs, Knights players having been adopted and embraced by Las Vegas in a manner that reaches far beyond a game. They are thanked, more than anything, for providing such a positive and needed distraction in a such a horrible time, for being some of the first ones to visit hospitals and blood banks following the shooting.
"I think it all went hand and hand, us coming together as a team and city and community and town," said Knights forward James Neal. "You're suddenly playing for a lot more than yourself and the team. It goes further, it means more. Very special to be part of."
The murderous coward had an arsenal of 23 weapons and accessories, including semiautomatic rifles, scopes and hundreds of rounds of ammunition, in his 32nd floor suite. I'm not sure how often he might have looked through those minuscule globes of destruction, how cloudless his vision was peering down from the darkness, but this is absolutely certain: He in no way grasped the courage and resilience and backbone of Las Vegas.
Just as the city could have never forecast such a large and important part of its healing would emerge in the form of a hockey team.
"It doesn't bring anybody (who was killed) back," Knights goalie Marc-Andre Fleury said. "But I hope that we've changed people's mind a bit and get them to come here and have a good time at T-Mobile and be proud of their hometown team."
For this, there is no debate.
A magical season-long run to the playoffs began with thousands of tears falling as 58 seconds slowly ticked away from a video screen high above the T-Mobile Arena ice one Tuesday in October.
From that near-moment on, a town and team were forever linked in a faithful bond born from an inspired response to an haunting image of terror.
It was, in so many ways, a Knight to remember.
Read Part I: Golden Knights are Vegas Born.
More Golden Knights: Follow all of our Golden Knights coverage online at reviewjournal.com/GoldenKnights and @HockeyinVegas on Twitter.
Contact columnist Ed Graney at egraney@reviewjournal.com or 702-383-4618. He can be heard on "The Press Box," ESPN Radio 100.9 FM and 1100 AM, from 11 a.m. to 2 p.m. Monday through Friday. Follow @edgraney on Twitter.