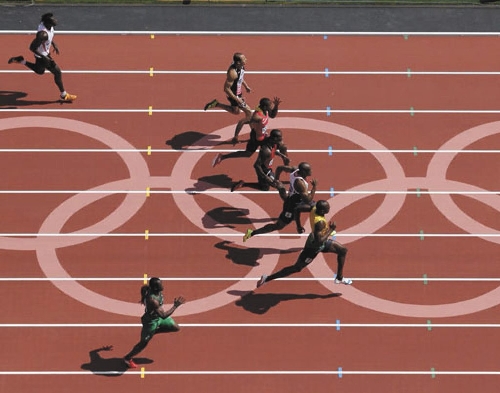 LONDON — Thomas Burke wasn't supposed to run. Several of the top sprinters were absent that day in Athens, so Burke decided to give it a go. He had this uncommon way of beginning a race. He would crouch low, thinking he might get a more powerful start by pushing off a front foot.
It was 1896.
He won the first 100-meter dash in Olympics history.
In 12 seconds.
The fastest men in the world still crouch to begin the most popular and dynamic event at any Olympics, but their unearthly times aren't as pure as when Burke won his gold.
There is a name for that sort of speed now: Tortoise.
The jewel of any games has been tarnished for some time by soiled syringes and positive drug tests, making a race that throughout its history has produced decades worth of drama and unconstrained happiness more a symbol for skepticism than competitive spirit.
It's dope, is all.
The 100-meter final will be run at the London Games late tonight inside Olympic Stadium, scheduled last on the day's program for its popularity and global interest and extraordinary pattern of creating magical moments in under 10 seconds. Way under.
It is explosive, theatrical, spectacular.
But is it clean?
Tonight has the makings of the fastest race in history, a collection of sprinters whose times have caused some to stand in awe and others to doubt their legitimacy, for some to believe it is possible for man to run the speeds we now witness and others to doubt that human performance is capable of them without the aid of drugs.
It's pretty simple: Ben Johnson ruined everything.
He was superhuman that day in 1988, an athlete of extreme power and wonderment, blowing away a world-class field in Seoul in 9.79 seconds. His time smashed the world record and held fans across the world in reverence of his talent.
Less than 24 hours later, the Canadian star with Jamaican roots was stripped of his gold medal for testing positive for steroids.
Six of the eight finalists that day eventually failed drug tests or were implicated for using them, including future gold medalist Linford Christie of Great Britain and U.S. Olympic great Carl Lewis.
And so the (dirty) cycle began.
"I think this is true," said Chris Walasi of the Solomon Islands, who ran a preliminary round of the 100 meters Saturday. "Any time under 10 seconds is unbelievable. It is not realistic. They should not cheat. They should just do the things the human body will allow without drugs. Anything under 10 … there must be something there. I can't believe it."
Walasi ran the 100 in 11.42 seconds here, putting him 23rd out of 29 competitors in heats that weren't even part of the official prelims phase. In others words, he was among a pack of walkers when compared to those who fly, and no one flies like the Jamaicans.
A small island in the Caribbean, 90 miles south of Cuba, 119 miles west of Haiti, home to coconut trees, Rastafarians and sun-kissed beaches, Jamaica also features the fastest humans on earth.
The small nation could sweep the medals in the 100 here, something that hasn't happened on the men's side in 100 years.
The Jamaican women did it four years ago in Beijing.
Usain Bolt, Yohan Blake and Asafa Powell could assume any combination of gold, silver and bronze tonight. Of the three, only Blake has tested positive for anything, a stimulant that at the time wasn't on the banned list.
Jamaicans own four of the top five 100 times in history, and while someone as famous as Bolt has yet to test positive, it doesn't mean his remarkable feats have passed without heaps of suspicion.
He doubled in gold in 2008, winning the 100 in 9.69 and the 200 in 19.30, both then world records.
A year later in Berlin, he ran the 100 in 9.58 and the 200 in 19.19.
How fast has the ultimate of races become?
The once-thought unbeatable 100 time run by Johnson, juiced out of his mind in 1988, would only tie for sixth all-time today.
It's not that athletes aren't tested constantly. In all, 107 were banned before the London Games for doping. Powell complained here last week that he has been tested three times since arriving, that sprinters with far more shady pasts than himself should be the ones targeted.
One would be Justin Gatlin.
The American who won the 100 at Athens in 2004 with a time of 9.85 served a four-year ban for doping, missing the opportunity to defend his title in Beijing. He is back now at age 30, having run the fastest of any preliminary time (9.97) over eight heats Saturday.
"I've turned the page, but (doping) is a part of my book," Gatlin said. "I can never close the door on the past four years and say that I'll never look at it, because that's where a lot of my strengths have come from. Going through the struggle I went through not only humbled me but strengthened me as a person.
"I've heard a lot of words over the past year or so – my road, my redemption, my journey. I'm just sticking to what I know – being a fast runner, breaking it down to its simplest form and just competing. I have been through a dark past. I've been tested multiple times since I have been back. I'm a clean athlete. I'm focused on that. There is a lot left in the tank."
Here is what drug czars will tell you: That to run one sub-10 second 100 is doable, but to go 9.8 or faster several times over a season is not without the quick recovery PEDs afford. Running that fast just tears a guy up, and many experts believe it's not possible to continue doing so over short periods without help.
At this level of world-class time, you can shave a tenth of a second off your mark through hard work and sound technique and pristine focus.
When you start shaving two-tenths and more, when the 10 flats get to 9.8 and then 9.7 and then 9.6 within a few years or less, well, eyes immediately raise.
"More than anything else, it's the fear of being able to get back," said Great Britain sprinter Dwain Chambers, whose lifetime ban for doping was overturned in May and who returns to the Olympics in the 100 here after a 12-year hiatus. "Whether (everyone in the 100 field here is clean) is not on my mind. Really and truly. I just want to compete, do the right things, set the right example."
The fastest men in the world will make like Thomas Burke late tonight, crouch low, push off a front foot and sprint down a track to a finish line that exists 100 meters away.
The most exciting moment in any Olympics will take fewer than 10 seconds, because that's the standard we have come to expect and probe.
"It will be fast," Gatlin promised. "It's going to be crazy, stupid fast."
We're just not sure how clean it will be.
Las Vegas Review-Journal sports columnist Ed Graney can be reached at egraney@reviewjournal.com or 702-383-4618. He can be heard from 11 a.m. to 2 p.m. Monday through Friday on "Gridlock," ESPN 1100 and 98.9 FM. Follow him on Twitter: @edgraney.