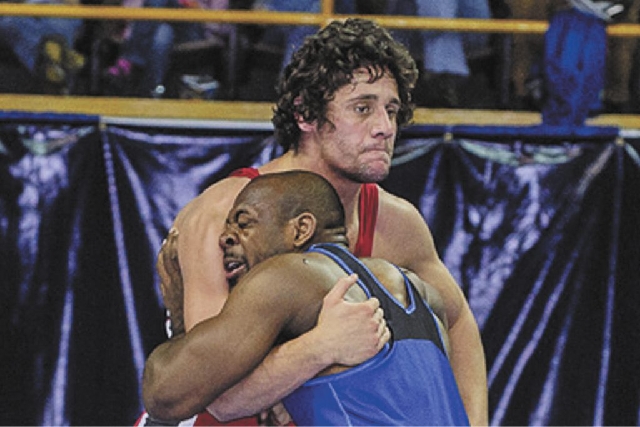 Dear Ron:
My life is complete. I found a Greco.
He's the real deal with a name to match. Panagiotys Gounaridis. You can call him Pete. He's all baklava and chicken souvlaki. Father is from Athens. Mother is from Sparta.
Yes, he has been asked about the wedding movie, well, a million times.
How do I know? I asked him about the wedding movie.
Ron, while you were in search Friday morning at the Las Vegas Convention Center for all those arm bars and ankle picks of freestyle wrestling, I went old-school on Mat 1.
Like really old. Like the days of Hercules and chariot races old. Like the days when you wrestled naked and covered in olive oil.
Hmmm. Thinking back on my honeymoon, perhaps I know more about this Greco-Roman stuff than I first imagined.
A confession: I enjoy watching the little Grecos and Romans more than the big ones. The little ones provide more action, which is important given the world of Greco-Roman wrestling forbids holds below the waist.
"The little guys don't stop moving," Gounaridis said. "They're too hyper. Us bigger guys, we like to get hold of our opponent, pick him up and slam him to the ground. If we do that, we're good to go."
Gounaridis slammed his way to a sixth-place finish at the U.S. Open here this week. He is a big Greco, competing in the 96 kilo division, which is 211.5 pounds. His father (Anastasios) wrestled while growing up in Greece and again once leaving the military there and thought his son would enjoy the sport.
Put it this way, Ron: It's an acquired taste. Sort of like boiled leafy greens and watching UNLV football past September.
While it's true wrestlers are scored for their performance in three two-minute periods and a match can end early by a pin, Greco-Roman only really becomes exciting when the clinch period begins over the final 30 seconds of a period and the two competitors take things to the ground.
Until then, it's a lot of stalling from one's feet, holding another's wrists, clinching here, grabbing there. Think Big Ten basketball played in singlets.
There was a single Greco-Roman bout at the 1912 Olympics that lasted nine hours. If I had to watch this for that long, I would gouge my own eyes out, against the rules or not.
It really makes a guy pine for the days of ancient Greece, when biting wasn't allowed in Greco-Roman but it was acceptable to break your opponent's fingers. I imagine Pretty Boy Plato snapped off his share.
Gounaridis is 26, was born and raised outside Boston, wrestles for the Army and is stationed in Fort Carson, Colo. One of his coaches Friday was a short man with no neck (a common sight around the convention center) who wasn't all that happy with how his wrestler was officiated. He kept yelling at the referee, and I kept looking for David Hall and things got real confusing.
I had no idea what the coach was angry about — if you have seen one guy stand up and rest his head an another's shoulder for two minutes, you've seen 1,000 of them — and wasn't about to ask.
Having not yet discovered a true Roman to go with my Greco, I had thought about approaching the coach with the greeting "I am Spartacus!" but realized the short man with no neck would have then crushed me like an empty can ready to be recycled.
I agree with you, Ron, that the International Olympic Committee erred greatly when recommending that wrestling be dropped from 2020 Olympics. Those in Greco-Roman have been competing in the games since 1896. That's a whole mess of historic headlocks.
In the search for core sports, how in the world can one of the oldest and proudest of amateur competitions no longer be considered one?
It's not even a patriotic view, Ron. Between you and me, our American Grecos and Romans aren't very good on a global stage right now. Not a single one finished among the top five in any division at the London Games. Rulon Gardner isn't walking through any convention hall door any time soon, unless he misses hanging out with a lot of other no-neck guys.
But you can't knock the spirit of our Grecos and Romans. The big ones like Gounaridis. The little ones like two-time Olympian Spenser Mango, who won the 55 kilo division at the U.S. Open and also wrestles as a serviceman.
Army Strong, is right.
"I have been in for a year and should have joined much sooner," Gounaridis said. "It's tough. But the Army has me in the best condition of my life. Greco-Roman might not have the most agile of wrestlers, but it has the meanest. Guys use their forearms as clubs.
"This is one of the oldest (Olympic) sports, man. Nothing compares to it."
Pete was tired. He lost his opening match Friday and had to fight through the long and wearisome consolation bracket. He was in no mood to be asked about "My Big Fat Greek Wedding."
I asked anyway.
Then ducked.
"Oh, yeah, that," he answered. "People always want to know about if it's really like the movie … I say, 'Yeah, sure it is.' "
Hail to Grecos and Romans everywhere.
Mission accomplished, Ron.
Las Vegas Review-Journal sports columnist Ed Graney can be reached at egraney@reviewjournal.com or 702-383-4618. He can be heard from 11 a.m. to 2 p.m. Monday through Friday on "Gridlock," ESPN 1100 and 98.9 FM. Follow him on Twitter: @edgraney.
RELATED STORY:
•
RON KANTOWSKI: Freestyle: Before Gable, there was Abe — honest