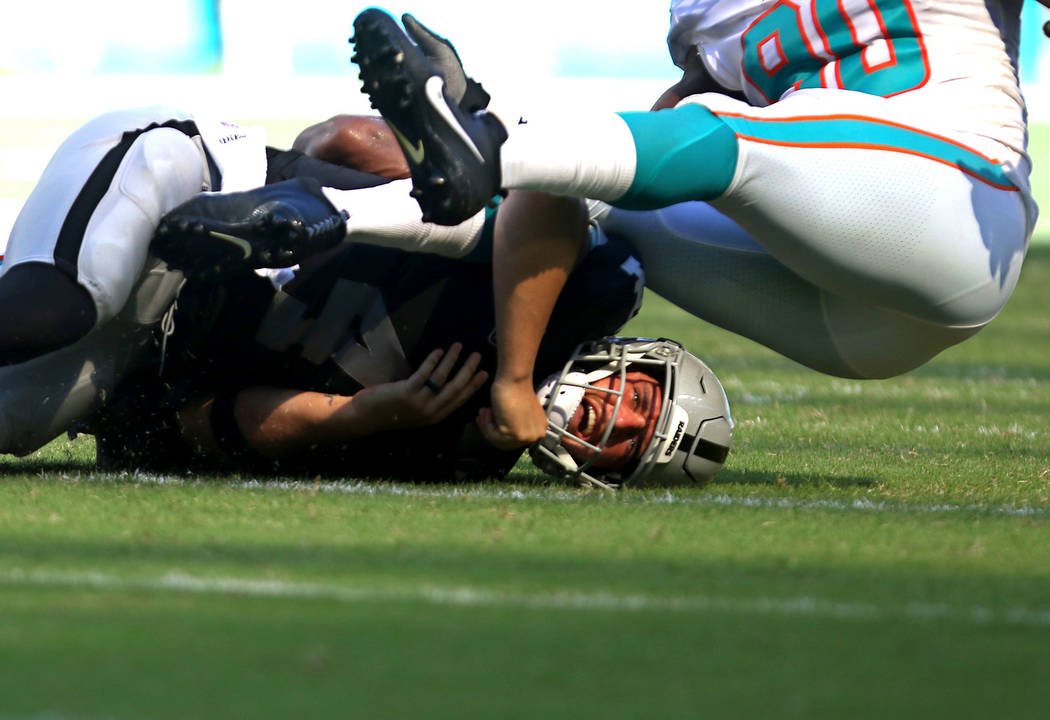 MIAMI GARDENS, Fla.
When he sticks to the script, Jon Gruden has proven over the first three weeks of this NFL season to be Laurence Olivier, prepared and versatile, creative and confident, a virtual Henry the V calling plays.
But then the other guys catch their breath, and it becomes time to adjust and improvise and ad-lib some things.
In such moments, Gruden isn't reminding anyone of Robin Williams.
Ten years later, the Raiders' head coach, upon returning to the sidelines, is having a devil of a time finding consistency in his play-calling after the opening drive — or at least relaying what he wants from his quarterback — a truth that badly hurt the Raiders in a 28-20 loss to Miami on Sunday at Hard Rock Stadium.
On a sweltering afternoon that again saw the Raiders' offense make folly of its opponent on an initial series — four plays, 75 yards, Derek Carr-to-Jordy Nelson from 12 yards out — look only to the team's most critical one to understand this latest defeat.
It was then that Gruden and Carr, the men owner Mark Davis has put in charge of the franchise, one with $100 million contract to coach and the other signed to the tune of a $125 million extension, offered a less-than-memorable finish to what is now an 0-3 record.
The interception would come on first-and-10 from Miami's 13-yard line with 2:59 remaining, the Raiders trailing 21-17 and yet in prime position to earn a win here for the second straight season.
Why, then, was Carr throwing at all on first down?
Consider: The Dolphins were missing two starting defensive linemen much of the game — one injured, one ejected — and for the first time this season, Doug Martin wasn't going down on initial contact.
The reserve running back had just offered consecutive runs of 15 and 6 yards.
It was hot and steamy and the Raiders were grinding out chunks of yards.
Also, the Dolphins had earlier executed scoring drives of 1:31, 2:03 and 48 seconds, which means scoring fast and not forcing Miami to use any timeouts was the last thing the Raiders needed.
So what happened?
The first-down call came in late, and whether it was for another run or not, Carr saw single coverage on wide receiver Martavis Bryant and, a second before being drilled to the turf, let the ball fly toward the end zone.
It was caught, all right, by Miami cornerback Xavier Howard.
Gruden: "We just got fooled. (Howard) made a great play, a great play in one-on-one coverage."
Carr: "We have plays that are built in, with certain stuff. If we have one-on-one, we can go to certain looks (and) those kind of things. I just saw one-on-one with Martavis. I just gave him a chance. They ended up making a good play. It sucks, right?"
The call?
The fact it was late and Carr rushed the snap?
The decision to check out of it?
Whatever led to the pick?
Yeah, all of it.
Fourth-quarter blues
The Raiders have scored on all three opening drives this season and led at halftime of all three games.
They have also been outscored 37-3 in the fourth quarter.
They had 10 points at halftime Sunday and had only produced a field goal on two series that ended inside the 2-yard line. They simply haven't finished enough drives, and certainly any games.
In those times Gruden has made a terrific play call — a fourth-and-1 pass when leading 19-10 at Denver early in the fourth quarter last week — fullback Keith Smith drops it.
In those times Gruden overthinks the room — handing the ball to Smith instead of Marshawn Lynch on fourth-and-goal from the 1 on Sunday when leading 7-0 — the play is stopped short.
Lynch, who afterward spoke to the media for the first time since Week 2 of last season, suggested the Raiders are a play or check away from being the league's most explosive offense.
On a game's first series, absolutely.
But when it comes time to adjust, well, that's just funny.
"It's hard to go 80 yards in this league repeatedly against a good defense," said Gruden. "Hopefully, we start getting some turnovers and some returns on our special teams and set up some better field position. That pretty much summarizes it. … All three phases, we've got to all pick it up, and it starts with me."
Ten years later, he seems to be learning on the job.
Meanwhile, his team is 0-3.
I'm pretty sure that's not how he scripted things.
Contact columnist Ed Graney at egraney@reviewjournal.com or 702-383-4618. He can be heard on "The Press Box," ESPN Radio 100.9 FM and 1100 AM, from 11 a.m. to 2 p.m. Monday through Friday. Follow @edgraney on Twitter.