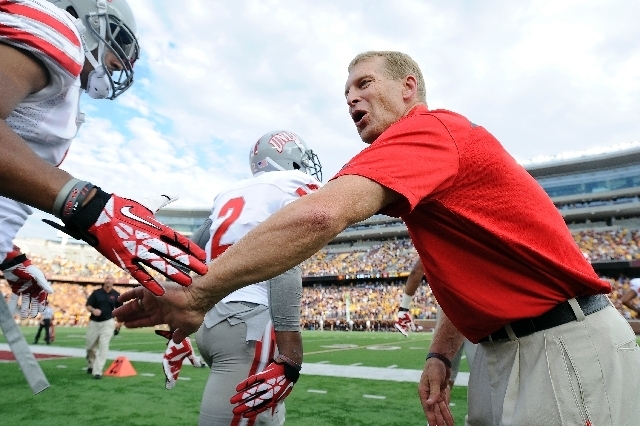 MINNEAPOLIS
I am thinking Uncle Si.
He is one of the stars of the television show "Duck Dynasty," the Duck Commander, the Vietnam War veteran whose job is to fashion the reeds that are inserted in every patented duck call.
Si is 65 and struggles staying on task, so he often takes midday naps and plays with the security equipment around the family business. But he also has a net worth of more than $5 million, so Si must be doing something right.
I officially am nominating him as special teams coach for UNLV's football team. There is no way Si could do worse than the guy running it now, and that's while taking a nap.
Bobby Hauck might win enough games to continue as coach for the Rebels in 2014, but should his tenure end following this season, one of the factors he should point to for not getting it done is his own stubbornness.
The Rebels lost their season opener to Minnesota on Thursday at TCF Bank Stadium, a 51-23 final that more than emphasized one of the major reasons Hauck has won just six games at UNLV in now, his fourth year guiding the program.
It's also his fourth year running special teams.
Hauck fired his offensive and defensive coordinators from last season and should have made it a trifecta by replacing himself on special teams.
It began as a few one-liners during his first season and then became troubling and then sort of a disaster, and now it's just flat nonsense, Hauck's continued insistence that he oversees a facet of the team that time and again has played a major role in all the losing.
It was the main reason UNLV wasted a decent enough effort on both sides of the ball Thursday, as the Rebels allowed a 98-yard kickoff return to open the second half when trailing by three and a 51-yard touchdown off a blocked field-goal attempt that put Minnesota up 30-13.
UNLV also had an extra point blocked, a 21-yard punt that led to a Minnesota field goal and a kickoff following a score sail out of bounds for a penalty. The Rebels missed a 49-yard field goal and allowed 303 return yards.
Fact: UNLV played well enough offensively and defensively that it should have been either team's game to win the final five minutes. With five minutes remaining, Minnesota led 44-16.
"I would say it's a calculated gamble trying to stay healthy in spring ball and fall camp, but we did not train those kickoff and punt coverages live," Hauck said. "We just didn't do it. We're playing with virtually no starters on special teams.
"That's a decision I have made. Whether you view that (blocked field goal for a score) as a special teams play or an offensive function — we view it as an offensive function — you can't give up touchdowns like that."
Um, uh, er, what?
I'm pretty sure most in the postgame news conference viewed it as would a majority of the world (except Pakistan, but that's only because it pretty much hates everything we do): Which is to say a blocked field-goal attempt for a touchdown is a special teams play.
Are field goals part of the kicking game on every football team of every level except at UNLV? If not, who coaches it?
"We all coach it on the (offensive staff)," Hauck said. "We all coach it every day."
Then they need to do a much better job.
I like Hauck. I believe him succeeding enough this year to return for a fifth season would be better for the program in the long run instead of starting all over with another coach. But for the first time in 39 games at UNLV on Thursday, Hauck began teetering that line of making (bad) excuses for a loss that falls very much on him.
This just in: He's coaching for his job. If you have players at punter and long snapper and on returns and those who handle kickoff duties playing their first college game, as UNLV did Thursday, that's on you in a fourth season. If you have true freshmen defending kicks, as the Rebels did here, that's your decision.
But the time for even hinting about youth at key spots is gone. Those are accepted reasons for poor play during the first few seasons of a rebuilding process. Not now.
Hauck has coached special teams most of his career, at Northern Arizona and Colorado and Washington and Montana. He is confident in his ability directing that facet of a team, despite the buffoonery it has produced at UNLV.
I'm confident Uncle Si would view a field-goal attempt as a special teams play. Call me crazy. Quack, quack.
"We got out of camp healthy," Hauck said. "We didn't get anyone hurt. But we weren't good enough tonight. You take a calculated risk (not practicing special teams live), and the reward was not there."
A 51-23 loss was.
Nothing special about that.
Las Vegas Review-Journal sports columnist Ed Graney can be reached at egraney@reviewjournal.com or 702-383-4618. He can be heard from 11 a.m. to 2 p.m. Monday through Friday on "Gridlock," ESPN 1100 and 98.9 FM. Follow him on Twitter: @edgraney.