Hawkins' defense contagious
November 27, 2010 - 12:00 am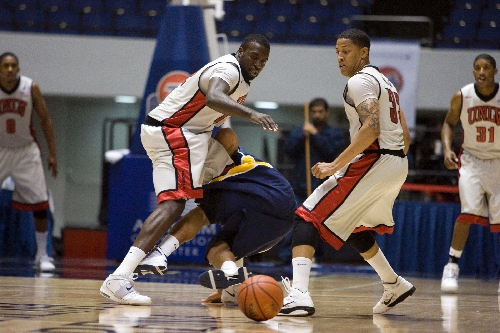 ANAHEIM, Calif.
Look at Justin Hawkins. He's the exception. He's the one who in middle school thought first about stopping the basketball more than scoring it, the one who turned on a television and mimicked the NBA actions of Bruce Bowen more than Michael Jordan.
He's every coach's dream.
"I grew up in a humble home around humble people who told me to idolize role players who made their teams better," Hawkins said. "When my coaches asked me to do something, I did it."
You can read about Hawkins as a young defensive pest in the new book, "Play Their Hearts Out," by Pulitzer Prize winner George Dohrmann. You can also see it in person each time Hawkins locks into an opposing ballhandler.
His teammates are following along.
The Rebels whipped Murray State 69-55 on Friday night in a semifinal of the 76 Classic at the Anaheim Convention Center, and it's hard to believe many teams nationally are defending the perimeter better than UNLV this early in a season.
Don't kid yourself. Most players are now, then and always concerned first with offense. But when a tone is set and good coaching stresses sound technique and a player like Hawkins excels at disrupting others, the need to create havoc becomes contagious.
Playing defense is difficult. Playing it as well as the Rebels are is unfeasible for those lacking the depth and athleticism and desire of those Rebels at the guard and wing spots.
Playing it like Hawkins is impossible for many.
"It takes a lot of determination," he said. "It's hard. You have to be disciplined throughout the whole game. But the coaches want me to be that energy guy off the bench this year, so I just come in and try to pick up for whoever I'm replacing."
Defense earned him a scholarship, and in two years at UNLV, Hawkins has shown that the major step from high school to college hasn't slowed his ability to guard. He's strong enough and quick enough to shut down very good players at this level.
Wisconsin was a better result for UNLV because it's a better team than Murray State, but beating a team on a neutral court that won 31 games and lost to Butler in the second round of the NCAA Tournament in March falls directly into the quality win category.
The Racers have one of the country's better backcourts and yet turned the ball over 13 times in the first half. They shot just 34.8 percent for the game, jumpers usually impeded by several hands of the Rebels.
"We played a really good team," Murray State coach Bobby Kennedy said. "They set the tone defensively. We didn't handle it the first half, and it was catch-up the whole game."
UNLV advances to a championship game against Virginia Tech on Sunday night at 6, and while the Hokies return five starters from last season and are picked second to Duke in the Atlantic Coast Conference, they haven't played anywhere near exceptional yet.
They do have senior guard Malcolm Delaney, who, with the exception of Jacob Pullen from Kansas State, will be the best player UNLV faces in its nonconference schedule.
Yes. More perimeter defense will be needed to win Sunday.
Maybe even better than it has been, and it was terrific the first two games here.
"For the most part, we had pretty good (defensive) awareness in the backcourt tonight, trapping in the backcourt," UNLV coach Lon Kruger said. "We've talked about making the other team uncomfortable in what it's trying to do and have done a good job with that. It's great to see what Justin can do defensively."
It's great because convincing today's college player to embrace defense as Hawkins does is often a lost endeavor. Kids want to shoot and score and raise three fingers in the air when long jumpers find net.
UNLV does a lot of that, too, but any offense it produces is usually created by that havoc at the other end. There are still issues that will eventually bite the Rebels. Lack of rebounding. Foul trouble by the big men. Nights when those 3-pointers don't fall.
But there are far worse things to rely on when other phases falter than great defense, far worse options than a sophomore always ready to pick up and lock down.
"Get my hands on balls, guard the other team's best player, studying the other team's tendencies, having defense set up offense," Hawkins said. "I've always been one to play defense."
Come on. The kid idolized Bruce Bowen.
Enough said.
Las Vegas Review-Journal sports columnist Ed Graney can be reached at egraney@reviewjournal.com or 702-383-4618. He can be heard from 2 to 4 p.m. Monday and Thursday on "Monsters of the Midday," Fox Sports Radio 920 AM.