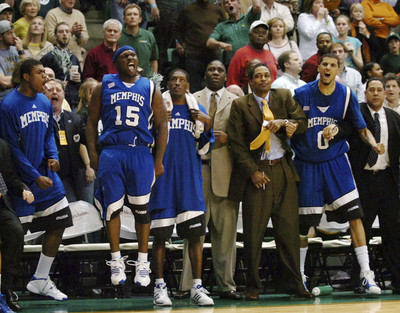 Bob Knight stood before the Indiana basketball faithful back in 1976, pointed to a remarkable team on Senior Day and introduced its players this way: "Take a good look at these kids, because you're never going to see the likes of them again."
That's the thing about Knight. His delivery might be boisterous, but much of what he says is true.
The pursuit of perfection has been too strenuous a task for college basketball teams since the Hoosiers went 32-0 more than three decades ago, a few like Indiana State and UNLV coming close to such excellence but most never sniffing the opportunity.
Memphis thinks it has the talent to be perfect.
It's not going to happen.
The Tigers are terrific at 26-0 and have won 45 straight in the regular season, the longest such streak since those Knight-coached teams won 57 from 1974 to 1977. Memphis is good enough to win the national championship. Long enough, quick enough, skilled enough.
They are also 11-0 in road/ neutral games, and in no sport is it more difficult to win away from one's home than college basketball, particularly for big favorites.
But whether it occurs today when the No. 1 Tigers host No. 2 Tennessee or in one of four remaining Conference USA games or in the league tournament or at some point during the NCAAs, a final buzzer will sound and someone will have outscored Memphis.
It's not that the Tigers aren't capable of going 40-0, but the scrutiny that would accompany such a quest in March and the quality of opponents they would face suggests the stars won't align flawlessly.
Remember this about Indiana's perfect season: The Hoosiers might have had to defeat quality opponents such as defending national champion UCLA and a Marquette team that won the title the following year and C.M. Newton's finest Alabama squad and Purdue twice in the final seconds and Kentucky in overtime, but not until the NCAAs did many outside Bloomington pay attention. It wasn't a national story until the tournament.
The media presence chronicling Memphis has been intense but nowhere near the level it would become if the Tigers enter the NCAA Tournament unbeaten.
With each passing victory, to the six a team needs to win a national title, the number of questions and cameras would increase. Saying your team is mentally tough enough to handle such inspection is one thing, but proving it has proven an impossible task.
"I really believe it depends on what kind of team you have," UNLV coach Lon Kruger said. "If you feel like it has an attitude and swagger, you might want to keep it going. In some cases, it might be best to take the pressure off and have a loss before (the NCAAs) and then try to win it all.
"Going (40-0) would be remarkable. It's hard to imagine anyone doing that. If they can, there won't be any asterisk. They will deserve it."
Scheduling isn't as much a concern with Memphis as past seasons. The Tigers still play in a conference that maybe affords them five games each season where they must be awake to win, but no one can suggest nonleague opponents such as Oklahoma, Connecticut, Southern California, Arizona, Gonzaga and Tennessee won't have properly prepared them for March.
But here's another reason perfection is so difficult to achieve: In any long NCAA run, you're always going to have a game and perhaps two where a crowd lifts an underdog to a level of play it can't usually display. Memphis as a No. 1 seed could encounter a second-round game against a No. 8 or 9 from the Atlantic Coast Conference or Big East or Pac-10, a team that would look at an unbeaten record and not blink.
What happens late in a one-possession game like that for a Memphis team that ranks last nationally in free-throw shooting? There is a reason no team has won a national title when shooting worse than 60 percent from the line since 1950.
"I still won't be shocked if those guys go undefeated," said UNLV guard Tre'Von Willis, sitting out this season after transferring from Memphis. "They started talking about this the day after last season ended. I don't think they're going to lose. They have all the pieces."
I don't see it. Maybe it happens today against Tennessee, where a football state is seeing tickets to a regular-season basketball game go for $10,000. Maybe in the conference tournament or NCAAs. Someone is going to get the Tigers.
Memphis is terrific, but 40-0 is like asking Kelvin Sampson to follow a rule. Unfeasible.
Ed Graney's column is published Sunday, Wednesday, Thursday and Saturday. He can be reached at 383-4618 or egraney@reviewjournal.com.