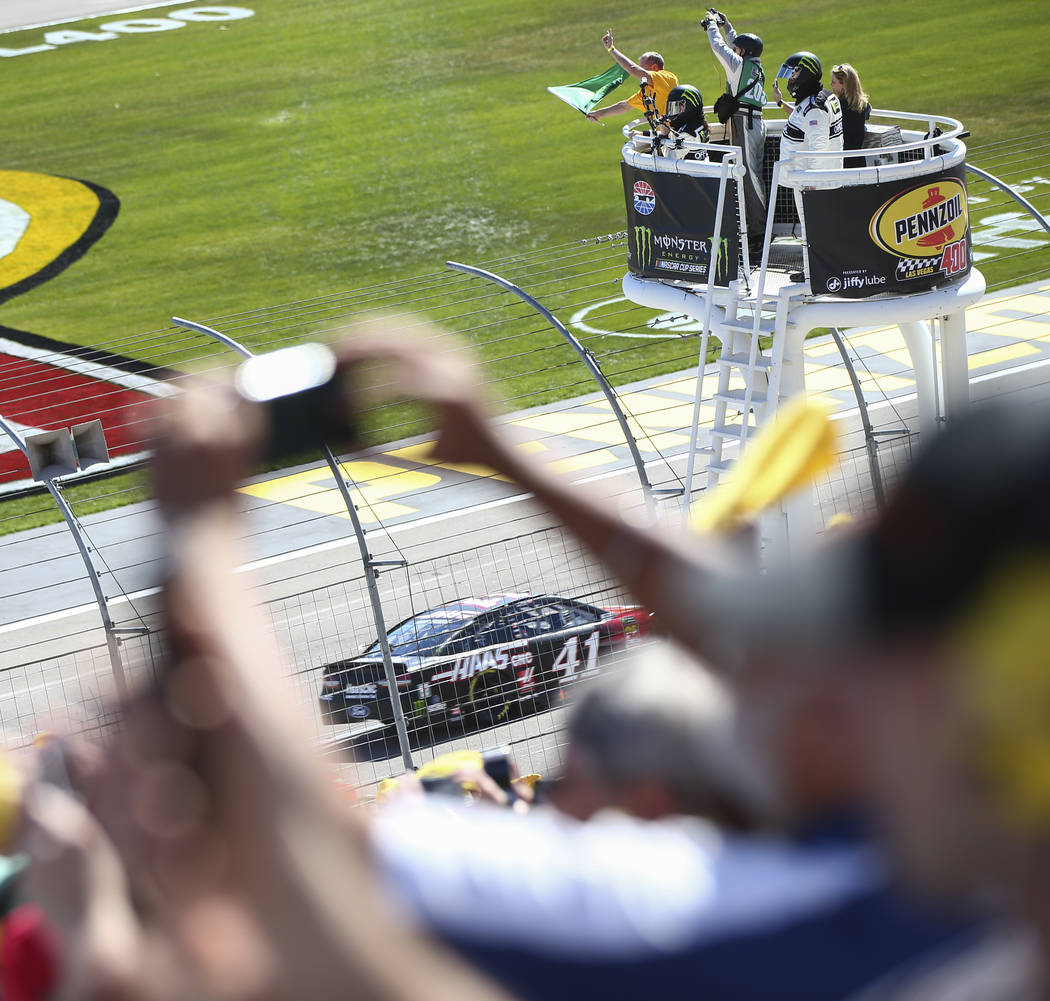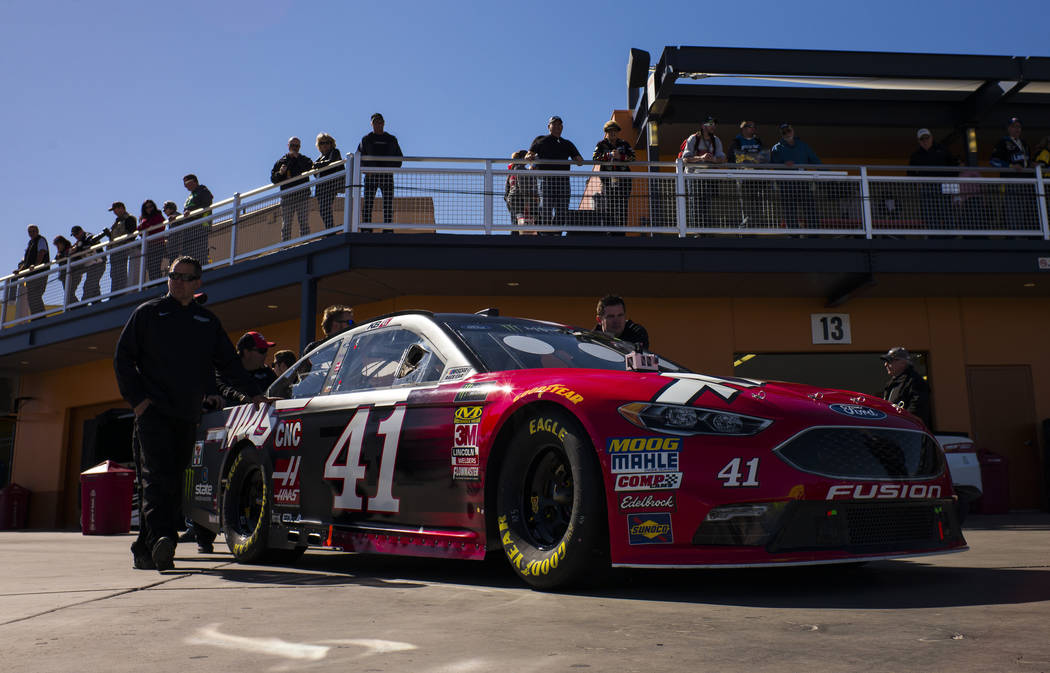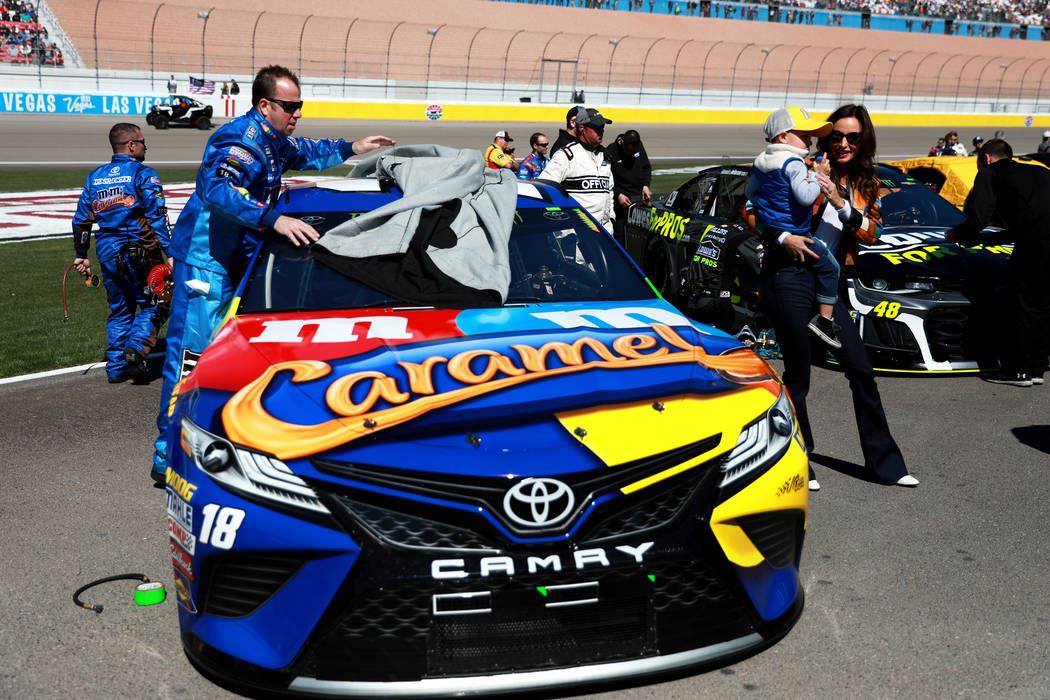 At some point, you figured Kevin Harvick would pull a Doc Brown and punch in a date hundreds of years from now, slowly rising above Las Vegas Motor Speedway en route to a place you don't need roads while missing only Marty McFly in the passenger seat.
It might not have been a DeLorean time machine Harvick directed around the mile-and-a-half track Sunday, but his Stewart-Haas Racing Ford was just as magical.
It meant there might not be enough Bloomin' Onion in the world for Outback Steakhouse to make good on its Harvick promotion of free grub the day following a Top-10 finish and that everyone else was racing for second in the Pennzoil 400.
Which meant another NASCAR Cup race passed in Las Vegas without a Busch pulling into Victory Lane.
The hometown brothers were back again, and Kyle Busch actually made a day of it, overcoming a slow start to finish second and adding the impressive run to his Truck Series win Friday night.
Kurt Busch wasn't nearly as fortunate Sunday, wrecking off Turn 4 with 85 laps remaining.
It wasn't different in terms of neither passing a checkered flag first — the brothers have just one win (Kyle in 2009 from the pole) in the Cup Series at Las Vegas over a combined 31 starts — but certainly allowed them a personal moment of significance.
It was before the race when the Busches presented an autographed helmet to Alan and Angela McIldoon, parents to Jordan McIldoon, who was killed in the Oct. 1 attack at the Route 91 Harvest country music festival.
This is what the McIldoon family has always done, visiting Las Vegas from its home in Maple Ridge, British Columbia, for NASCAR weekend.
Jordan was about to turn 24 when he was among the 58 killed.
"Vegas Strong," Kyle said. "It was great to meet the family and spend a few minutes with them out there onstage and be able to give them a token of appreciation and sadness for their loss. Obviously, nothing will bring back their son, but you know, it's a little something about giving them some joy by spending the day out here at the Speedway and having that remembrance.
"It was cool to come out and put on a show for the hometown fans. It would have been nice to run down and catch the 4 (Harvick), but they were so far out there and the class of the field. They were on rails. Nobody was catching them. I don't know what to do to catch up and get better than those guys, but we certainly have some homework to do."
Um, 1.21 gigawatts supplied by a plutonium-powered nuclear fission reactor?
Um, a bolt of lightning channeled directly into the flux capacitor?
Um, having Biff Tannen hide outside the trailer of the No. 4 driver and play knock-knock on his head?
Harvick won a second consecutive race, if you can even call them that. Last week in Atlanta, he led 181 of 325 laps and beat runner-up Brad Keselowski by 2.690 seconds. On Sunday, he led 214 of 267 laps and finished 2.906 seconds ahead of the younger Busch, who could never totally overcome fighting a loose condition on the first run.
His team dialed up air pressure and wedge adjustments to tighten things and Busch was terrific over the final 100 laps, gaining ground and improving position on long runs.
He was really good.
Harvick was stupid great.
Kurt Busch was neither.
He continued a Cup Series drought in Las Vegas when, running low on the groove off Turn 4, he took Chase Elliott and his car with him into the SAFER Barrier on the outside retaining wall.
"I wasn't even going 100 percent," Kurt Busch said. "I knew Chase was going to be on my outside and it was just that quick. We were back there in the dirty air, but Turn 4, I always know it is slick and I wasn't even pushing through there and it stepped out on me. Ruined his day, ruined my day. It just stepped out on me. It is ridiculous."
Kevin Harvick didn't step anywhere.
He's flying like Doc Brown right now.
It means the folks at all Outback Steakhouses better triple their next order of Bloomin' Onion, and that it's again wait-until-next-year for the Busch brothers.
For now, the No. 4 time machine and everyone else heads to Phoenix.
Contact columnist Ed Graney at egraney@reviewjournal.com or 702-383-4618. He can be heard on "The Press Box," ESPN Radio 100.9 FM and 1100 AM, from 11 a.m. to 2 p.m. Monday through Friday. Follow @edgraney on Twitter.