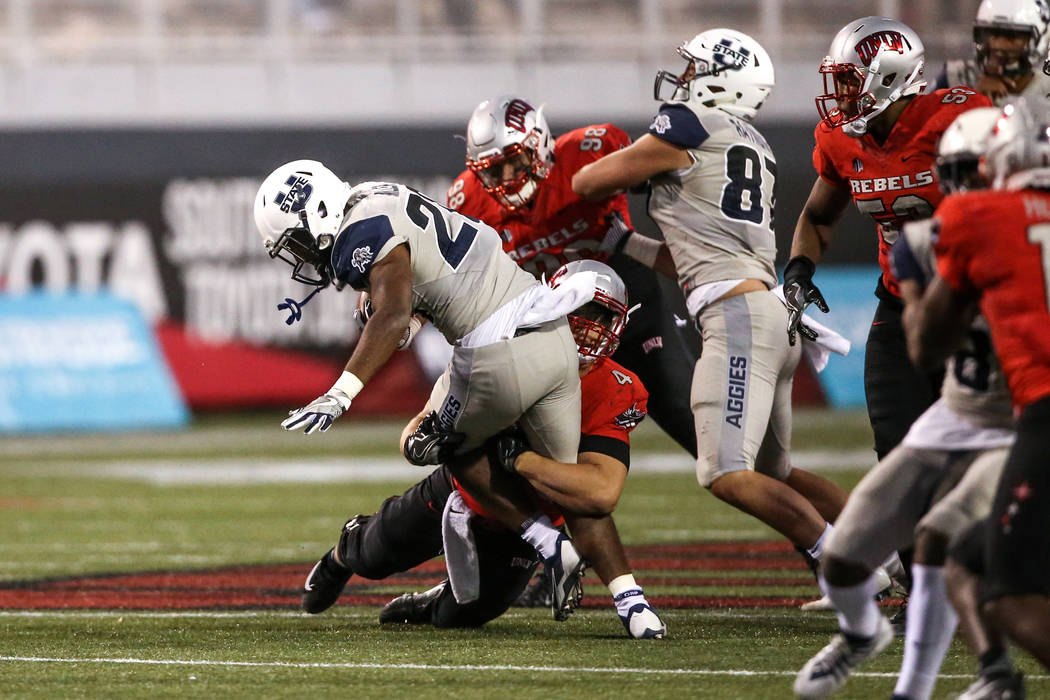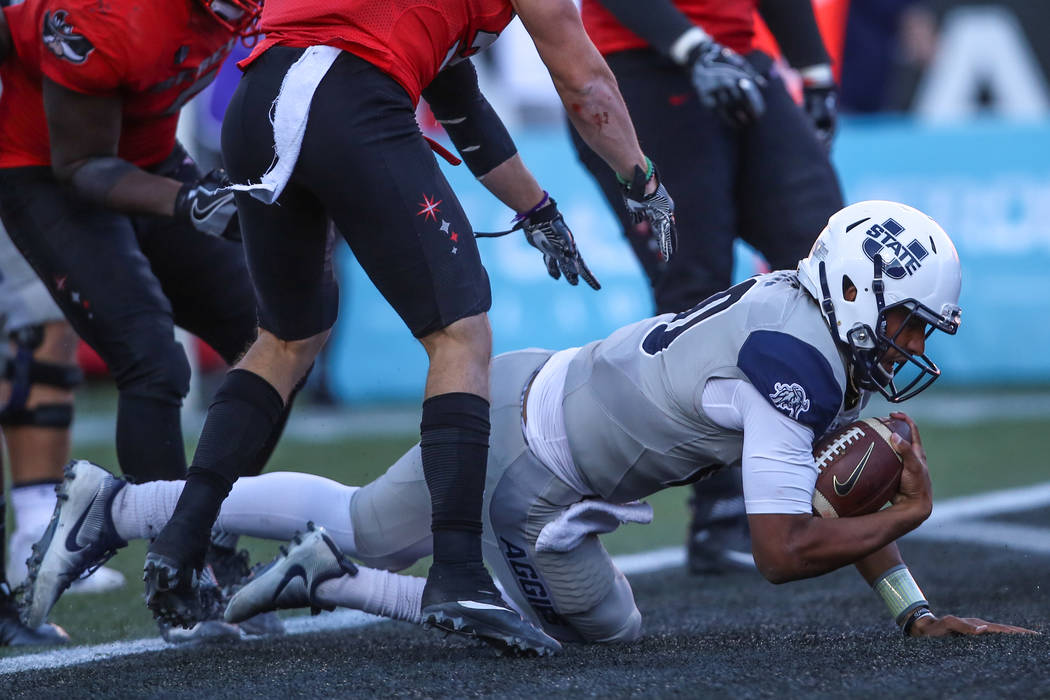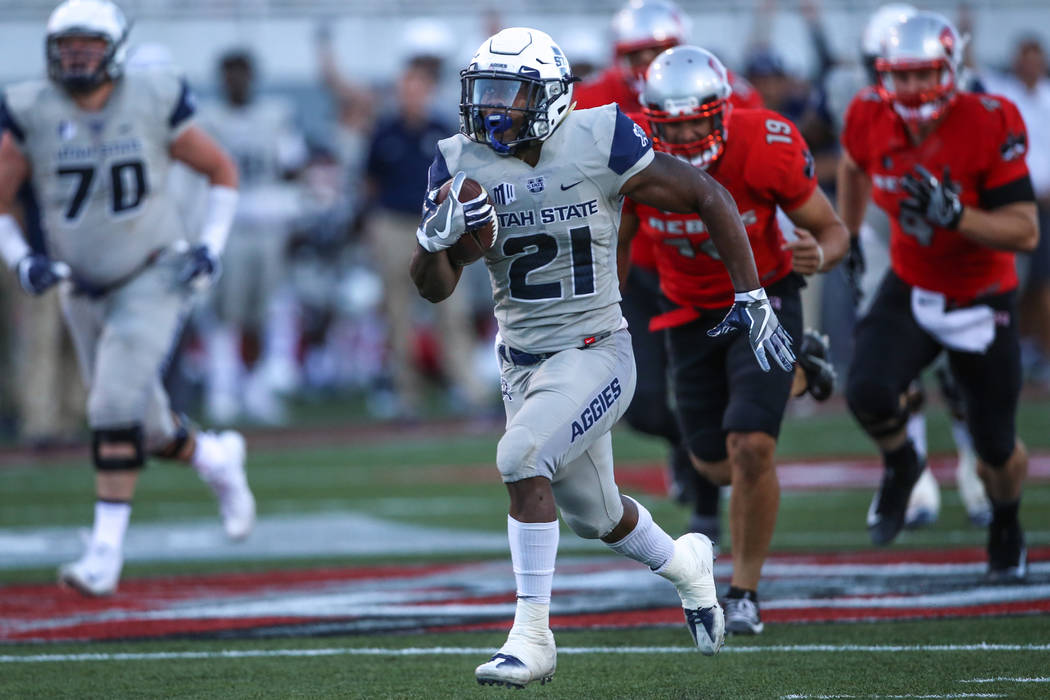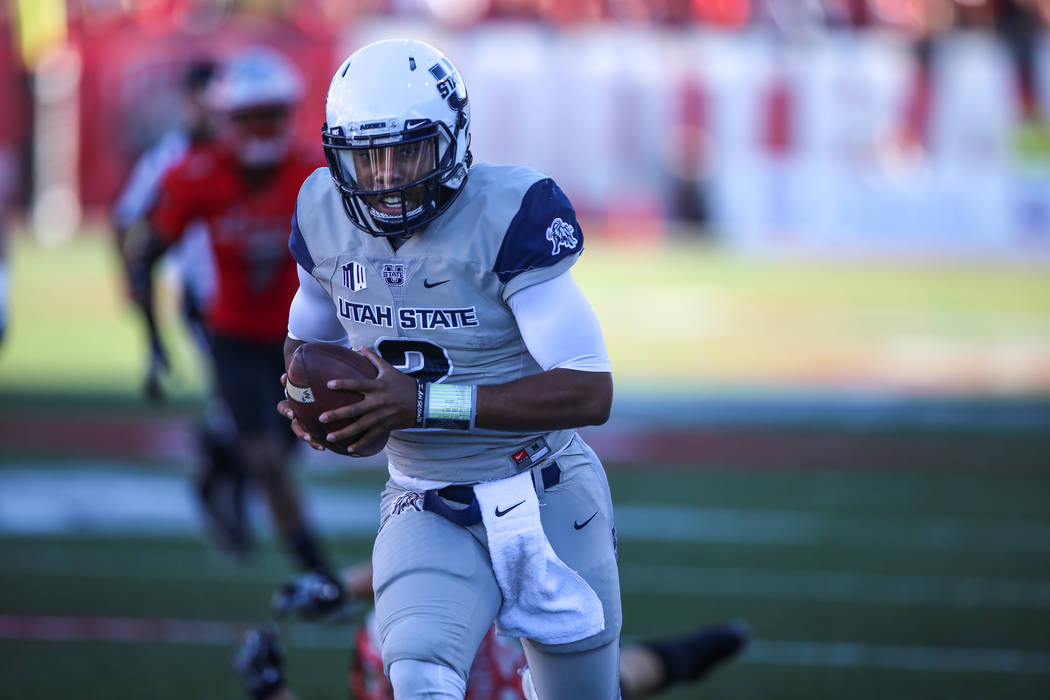 Most storylines will lead with the head injury suffered by Armani Rogers, and it was a shame the UNLV quarterback endured such a setback against Utah State on Saturday.
His helmet whacked against the Sam Boyd Stadium turf at a pretty fierce level in the second quarter, so it's the hope of everyone that the redshirt freshman travels through the concussion protocol without further setback and emerges healthy.
But it's not the reason UNLV lost 52-28, and it's not the reason the Rebels appear headed for a 13th losing season in 14 years, and it's absolutely not the reason this program continues to founder around in an annual vat of quicksand.
I'm not sure even Stephen King could properly chronicle how miserable UNLV is, was and has been on defense, but he sure would be provided decades full of material for another volume of horror.
The sad part for Rebels fans is none of it is fiction.
College recruiting is a tough business, but I have to imagine one of the easier assignments for opposing schools is battling UNLV on defensive players.
What in the world could be UNLV's sales pitch on that one?
It's either coaching or players or both for the Rebels, and yet perhaps all of the defensive nonsense has over time created a sort of systemic culture that breeds an expectation of failure.
This isn't about one game of blown coverage or even a season.
It's an organized and consistent measure of long-term negligence.
"We're just bad on defense," UNLV coach Tony Sanchez said. "There's a lot of accountability that needs to be addressed. When we got here, heck, we haven't (improved defensively) too much, at all. Does it need to be addressed? Absolutely.
"I think we have put together a more talented group in certain areas. The problem is, we've got to be able to make stops when we need to make them. Regardless of the situation, we have to figure out how to solve the problem. It's just not good right now."
The answer across social media — as it has been for weeks — would be for Sanchez to make a change at defensive coordinator, to wait until season's end and either move on from Kent Baer or perhaps have the coach make the decision easy for his boss by walking away.
That's the easy solution, but UNLV was terrible on defense long before Baer joined the program.
I find it difficult to believe a guy who was defensive coordinator at Notre Dame and Colorado and Washington and California and Stanford and Arizona State, who has held that title in college for 29 years, suddenly forgot how to draw up a coverage.
But the Rebels are again among the nation's worst units, so if Sanchez decides to make a move, few could or should dispute it.
Just don't think that will solve the entire problem, because this incredible level of inadequacy goes much deeper than one face.
Consider: Since 2008, UNLV hasn't ranked better than 80th in total defense nationally.
In the past 17 years, it has ranked 100th or worse seven times.
There were also seasons during that span of 96th, 97th and 98th.
They entered Saturday's game ranked 120th of 129 teams this season.
Coaching is a huge part of it. They either don't know how to teach tackling, are using the wrong methods or need tougher kids. They either don't explain specific assignments and coverages well enough or haven't recruited players skilled enough to understand them.
UNLV led 14-0 on Saturday.
Two plays later, Utah State hit a 70-yard touchdown pass.
The Rebels then led 28-14.
One play later, Utah State hit a 75-yard TD pass … against a cover-3 scheme.
And the wide receiver — Aggies redshirt freshman Jordan Nathan — was open down the seam from here to Pahrump.
Do you know how impossible that is to do?
Do you know how much that destroys any momentum your side has built?
"It burns you to your core," Sanchez said.
Injuries are part of it. UNLV is at 72 of an allotted 85 scholarships in Sanchez's third season. The Rebels are so banged up at linebacker that former quarterback Johnny Stanton played the spot for a large portion of the fourth quarter.
Group of Five schools never will have the depth of Power Five programs, so when you can't stop anyone and then begin to lose some of the few competent players you have, well, it becomes a complete circus.
I don't know the answer. I'm not sure anyone at UNLV does.
But this goes way beyond one staff, one coordinator.
This is a systemic culture that has bred an expectation of defensive failure.
And it reared its ugly head again Saturday.
Believe me — Utah State is dead flat average, if that.
Its totals: 52 points, 578 yards, 8 of 14 on third down, almost 8 yards a play.
No fiction there.
Contact columnist Ed Graney at egraney@reviewjournal.com or 702-383-4618. He can be heard on "The Press Box," ESPN Radio 100.9 FM and 1100 AM, from 11 a.m. to 2 p.m. Monday through Friday. Follow @edgraney on Twitter.
Defenseless UNLV
National rankings
Entering Saturday's game
Scoring defense: 108th
Rushing defense: 123rd
Passing defense: 90th
Total defense: 120th