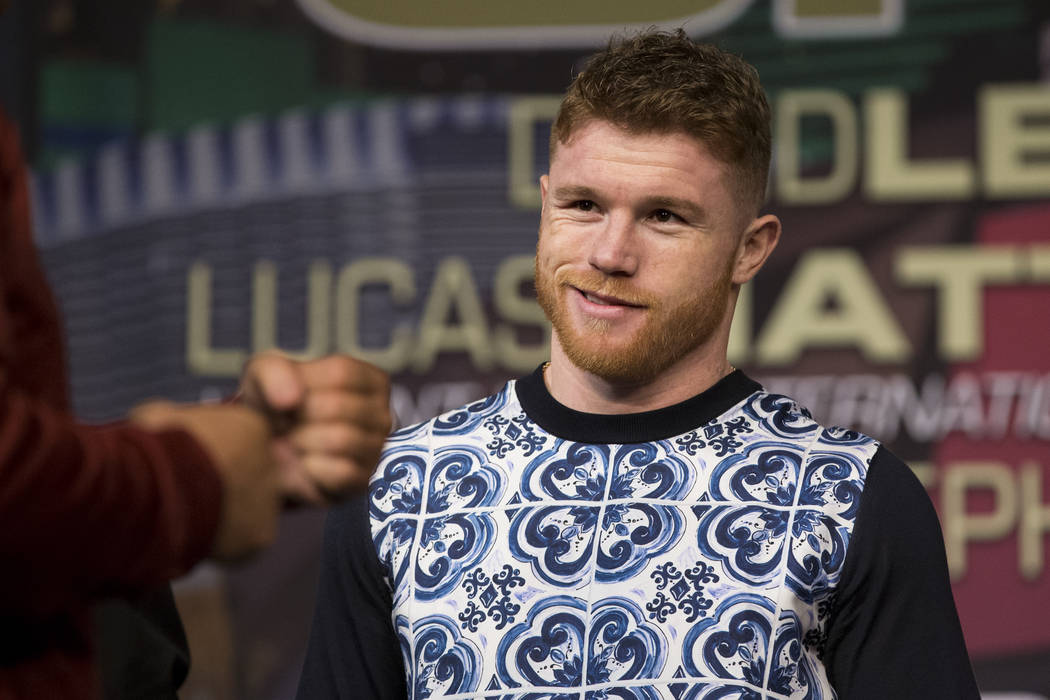 I would have thought it would be larger in scope, this particular shape produced by a body coming between rays of light and a surface.
I would have thought Gennady Golovkin — GGG to the world — might have cast a more imposing shadow.
But if there is a storyline that can eclipse talk about the next overdue boxing matchup fans have waited for, it's a pay-per-view card highlighted by two Mexican stars on Cinco De Mayo weekend.
Canelo Alvarez is a heavy favorite to defeat Julio Cesar Chavez Jr. on Saturday night at T-Mobile Arena, to be fought at a catchweight of 164.5 pounds, and I'm assuming that extra half-pound is a provision to protect the sometimes undisciplined Chavez from choosing extra meals over more training and failing on the scale.
"This is the biggest fight of my career, one of the most important in the history of Mexico," Chavez said. "I take that very seriously."
It's also huge for the other guy, the more talented guy, the golden ticket from Golden Boy Promotions.
Some windows when sitting atop your sport remain open for years. Some close quickly.
In this time of Floyd Mayweather Jr. keeping alive a storyline about coming out of retirement to face UFC king Conor McGregor and Manny Pacquiao trying to convince the masses that his fighting someone named Jeff Horn should earn even an ounce of attention, the 26-year-old Alvarez is boxing's shining star.
But even the most luminous of spheres eventually burn out and explode after a few million years.
Let's hope it doesn't take that long for Alvarez to fight Golovkin, because we already experienced such buffoonery with Mayweather-Pacquiao.
While the focus this week mainly has been pointed directly at Chavez and what ways exist that he might screw up the entire script by winning Saturday, those in the Alvarez camp have said all the right things about GGG being next in line.
But this is boxing, where you usually need truckloads of truth serum to extract even the slightest hint of honesty from those involved.
"I know you guys want the other fight, but let's focus on this one first," Alvarez said. "It's impossible not to talk about (GGG), but it doesn't affect me. I'm only focused on Chavez, and imagine, if I lose, then we won't get that fight with Golovkin. Let me handle this one first."
Why wouldn't they still fight? A win by Chavez would put him in line for fighting GGG, but while Alvarez off a loss might not sell as well, it still could be what the majority of folks paying to watch desire.
This is again where the UFC has, for the most part, annihilated boxing.
Just make the best fights.
Alvarez has a point about keeping his attention on Chavez. Golovkin was forced to go the distance for the first time in 24 fights that spanned almost a decade when escaping with a hardly dominating unanimous decision against Daniel Jacobs in March. Alvarez also never has fought at the middleweight limit of 160 pounds — never mind almost 5 above it.
Chavez is certainly the bigger fighter. You never really know.
But if the odds prove true Saturday in terms of an outcome and there isn't soon an Alvarez-Golovkin fight announced for September, we will have officially reached the pathetic state of delay that was Floyd against Manny.
And in this sense, Alvarez will look the worse for it.
You can only follow Mayweather's lead for so long of, once on top, opposing only big names past their prime or those not seasoned enough for such a moment. Alvarez was the latter when he lost to Mayweather in 2013. Not quite ready for the spotlight.
Now, he is it.
Weight is obviously no longer a concern in fighting GGG given Saturday's matchup. Forget, too, this nonsense about the WBC and what belt would or wouldn't be on the line. Fans want to see the fight a heck of a lot more than they care if a title is at stake or even understand how many sanctioning bodies exist.
Nobody gives a hoot.
It was after Alvarez knocked out Amir Khan in May 2016 when Golden Boy Promotions chairman and CEO Oscar De La Hoya actually called out GGG, telling the fighter and his representatives to make sure they answered the telephone the following morning.
A year later, nothing.
"I've always said Canelo wants to fight the very best and be in the biggest fights to bring boxing back," De La Hoya said. "Is he going to fight Golovkin? Absolutely. But first things first, and on May 7, we'll see how it goes with (Golovkin)."
Which means he's expecting a win Saturday and placing yet another telephone call Sunday.
Been there, heard that, crickets.
I would have thought GGG might have cast a larger shadow this week.
I also would have thought we still wouldn't be waiting for GGG and Alvarez to fight.
Same old boxing.
Follow all of our boxing coverage online at reviewjournal.com/boxing and @RJ_Sports on Twitter.
Contact columnist Ed Graney at egraney@reviewjournal.com or 702-383-4618. He can be heard on "Seat and Ed" on Fox Sports 98.9 FM and 1340 AM from 2 to 4 p.m. Monday through Friday. Follow @edgraney on Twitter.