In battle of pride and toughness, UNLV takes hard fall
February 17, 2016 - 12:07 am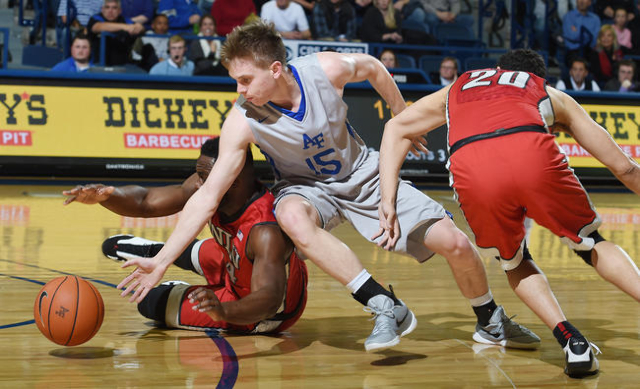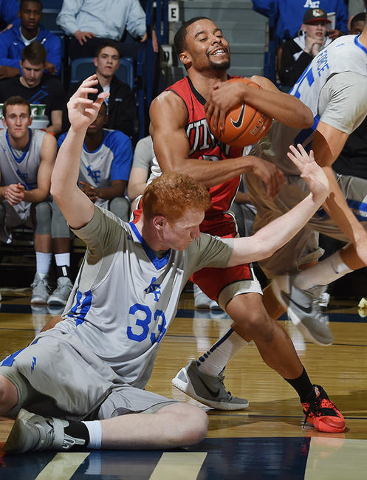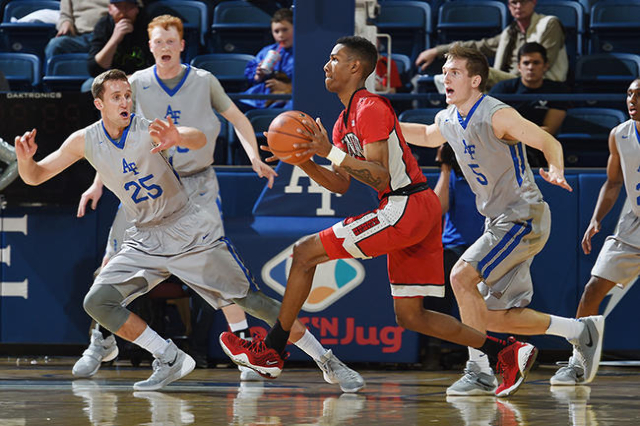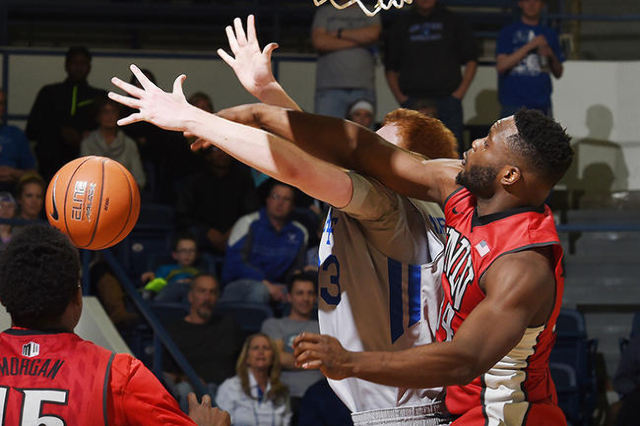 AIR FORCE ACADEMY, Colo. — UNLV lost a basketball game to Air Force on Tuesday night by a final score of 79-74.
The problem: For much of it, the Rebels played as if it was 100-64 all over again.
Todd Simon said he thought his team competed with effort and energy throughout, and I suppose that's what an interim coach would say, but if you saw how the Rebels warmed up inside Clune Arena, how sloppy they were with the ball in the first half, how they grew frustrated enough to earn a technical foul and later screamed at each other for not getting back on defense, you know this:
UNLV didn't take the Falcons seriously, and that is a terrible mistake when playing this team in this place.
It's true that when UNLV whipped the Falcons by 36 last month, the Rebels had a healthy Ben Carter and Stephen Zimmerman Jr., that they were at full strength and have since lost Carter for the season and perhaps Zimmerman as well with knee injuries.
But none of it — a depleted roster in altitude, wallowing in seventh place in a forgettable Mountain West, unsure who the future coach will be, unsure how many players on the roster will return — should have prevented the Rebels from winning a third straight game.
"I haven't forgotten (100-64)," Air Force coach Dave Pilipovich said. "Every dog has his day. I've been in this business 30 years. I didn't forget, our team didn't forget. Our guys fought. I think every loose ball we got.
"I don't forget — 36 points. I don't forget."
Reality check: UNLV was without its top two frontcourt players, but the Falcons were missing their best player in sophomore guard Trevor Lyons (injured hand). Air Force hasn't been this bad since the 2008-09 and 2009-10 seasons, when it went a combined 1-31 in conference play.
The Falcons have an RPI of 210 today, and the mere fact Pilipovich has managed to squeeze 13 wins (four in league) out of this bunch should earn him some coach of the year consideration.
That's how limited Air Force is throughout its lineup.
The best thing you can say about the Falcons: They seem to be really nice kids who try hard.
That's how bad a loss this is for UNLV, even for a team wallowing in seventh place at 6-8.
"We turned the ball over, were too careless, had too many empty possessions, missed some timely free throws," Simon said. "Essentially, we didn't play really well."
They didn't understand this: That for all the on-court weaknesses Air Force players have, mental toughness isn't one of them. They, like their coach, remembered the beatdown in Las Vegas and the fact UNLV still had two starters on the floor at game's end.
They didn't forget one runout for a dunk, one hoot or one holler from the home team that night.
So they scrapped like crazy this time. Hustled their brains out. Attacked more than you would expect them to. They won a serious mind battle when UNLV was forced to go zone in the second half — it simply couldn't guard Air Force off the dribble, read that part again slowly — and then scored the game's most important basket on a slip screen for a layup with 31 seconds remaining against a sleeping bunch of Rebels.
A slip screen for a layup.
How, well, Air Force.
UNLV, on the other hand, was lost defensively all night. Its zone was pedestrian — the Rebels still haven't guarded Air Force in the high post — and those on the bottom were unbalanced time and again. Some extended far enough out of it. Some didn't.
"This is why we won the game — we outfought them," Pilipovich said. "Our execution, at times, wasn't great, but if you watched the game, which team was tougher, which team had more heart? We have heart. … I don't think you can measure the cadets' heart."
It was less than an hour before tipoff when the academy had a pregame ceremony for a group of new cadets being sworn into the Air Force. UNLV players were shooting at one end of the court when associate head coach Ryan Miller, in respectable fashion, told the Rebels to stop and observe the moment. It was the correct gesture by Miller.
A few UNLV players kept dribbling and shooting and messing around. Miller walked over and reminded them to stop. He tried taking the ball from one, who instead bounced it behind his back and held it as Miller shook his head and walked away.
That's the attitude UNLV players showed up with here, and a few hours later, they paid for it dearly. Not in the standings. UNLV was out of the league race almost before it began.
But in the big picture of what this team has become as it plays out the season, this wasn't good.
UNLV thought it would roll over the Falcons yet again.
It thought 100-64 never could be followed with a loss to the same team.
It didn't account for this: Pride is not a battle in which you want to engage the Falcons, and mental toughness is absolutely not a competition UNLV wants to have with most, never mind Air Force.
The Rebels lose that one every time.
Ed Graney can be reached at egraney@reviewjournal.com or 702-383-4618. He can be a heard on "Seat and Ed" on Fox Sports 1340 from 2 to 4 p.m. Monday through Friday. On Twitter: @edgraney
Check our GameDay page for full coverage of the UNLV-Air Force game.