Inconsistent play dooms UNLV
October 31, 2014 - 7:00 pm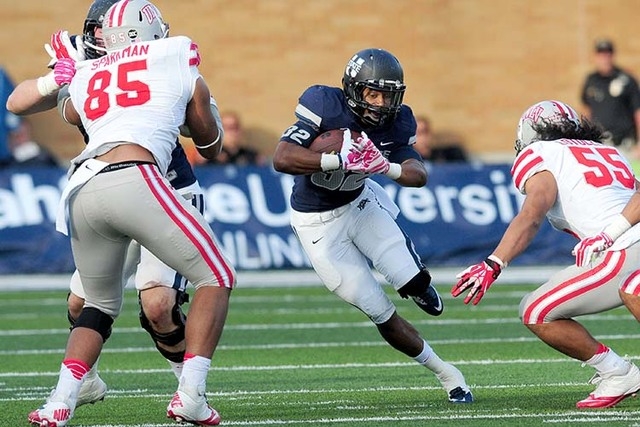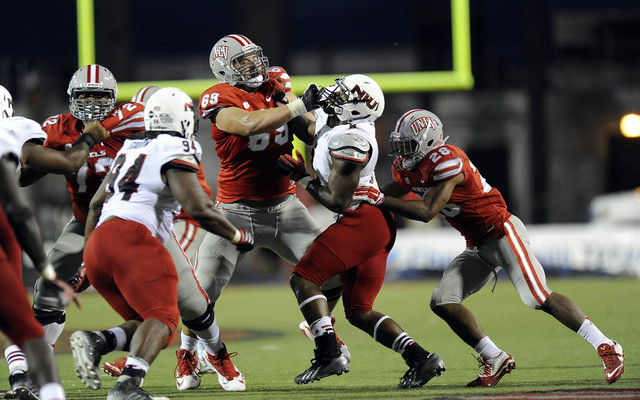 The calendar has flipped a page and the month of ghosts and goblins and cheap candy has again passed, opening its arms to a time when those college football teams with legitimate hopes of postseason life become intent on finishing their season in a bowl game.
And teams like UNLV wonder what went so wrong.
"Come the first of November, I want to be undefeated every year," Rebels coach Bobby Hauck said. "But that's not the case."
You knew pretty quickly it wouldn't be this year, when the Rebels lost at Arizona 58-13 to open the season and the only thing flawless about their execution was how defective it proved.
Two months later, not much has changed.
UNLV is 2-6 entering its game against New Mexico today at Sam Boyd Stadium and the only thing intriguing about the Rebels is which side from the gambling world they will make happy from those who wagered on a season win total of 4.5.
It wasn't how Hauck and his coaching staff planned things, not coming off a seven-win season and the program's first bowl appearance in 13 years. But if you didn't believe things might go sour following the Arizona loss, you had to know how dire they might prove the following week.
That's when the Rebels survived a 13-12 victory against Northern Colorado, one of the worst teams in the Football Championship Subdivision, or Division I-AA for all those who paid attention to such things before 2006.
It's rarely one area that leads to the state UNLV finds itself, last place in the West Division of its conference and having been outscored 37-19 on average this season.
Week-to-week.
Game-to-game.
Different areas tend to break down depending on opponent and situation.
"We're pretty relentlessly positive around here," Hauck said. "We need to focus on the job at hand and the thing that detracts and distracts us from that is worrying about nonsense. Just worry about the next play and get it right. One play. Then worry about the next play. Get that one right. Play the entire game that way.
"Doing things well one play and not the next is maddening for everybody. That's the gist of it. We're just not consistent enough."
It hasn't helped that UNLV's best player, senior wide receiver Devante Davis, has missed the last four games with a wrist injury that becomes more mysterious as the weeks pass.
When it comes to disclosing updates on injuries, Hauck makes Bill Belichick look like Rand Paul during a filibuster. I'm thinking if we don't see Davis in action today, Hauck has had the player cryogenically frozen in hopes that he can salvage one more season of eligibility from him.
You know, for that nightmare schedule in 2015.
The absence of Davis has hurt the Rebels, but the offensive and defensive lines are absolutely killing them.
It's football. Everyone is hurt this time of year. But no matter how banged up UNLV might suggest it has been, this is also true: The Rebels are set to offer an offensive line against New Mexico today where four of five players have started all eight games and the other six of eight; the team's four defensive linemen listed as starters have done so all eight games.
It suggests this: The talent and depth Hauck spoke about before the season doesn't exist along those lines. They're just not as good as he and others hyped them to be, and numbers prove it.
Consider: UNLV can't run the ball a lick, ranking 106th nationally with a 122.1 average.
It can't stop the run, ranking 120th while yielding an average of 263.8.
It ranks 113th in sacks allowed and 68th in sacks.
It ranks 117th in scoring, 114th in scoring defense and is one of only eight teams nationally to surrender an average of more than 500 yards.
It's not to say the Rebels haven't been all sorts of inconsistent at key spots like quarterback and running back and throughout the secondary — they have and then some — but each snap is dictated by the ability of those blocking or getting off blocks.
UNLV has been ridiculously bad at both.
"We've gotten hit too many times," senior offensive tackle Brett Boyko said. "I don't think that's necessarily a problem with talent. We're making mistakes with what we're seeing. We've had bad eyes in situations. I don't think we're playing poorly in terms of physicalness or nastiness, but we have to cut down on the mistakes.
"We try not to pay attention to what other people say. We pay attention to our issues and not worry about what people think."
It's probably best that way.
That said, I think UNLV can beat the Lobos, likely the final time this season Hauck's team will be favored. New Mexico is nearly as bad defensively as UNLV. It can't stop the run, either.
November has arrived and this is the matchup we have locally.
It's not what Hauck envisioned.
The only thing perfect about UNLV is how imperfect it is.
Las Vegas Review-Journal sports columnist Ed Graney can be reached at egraney@reviewjournal.com or 702-383-4618. He can be heard from 11 a.m. to 2 p.m. Monday through Friday on "Gridlock," ESPN 1100 and 98.9 FM. Follow him on Twitter: @edgraney.