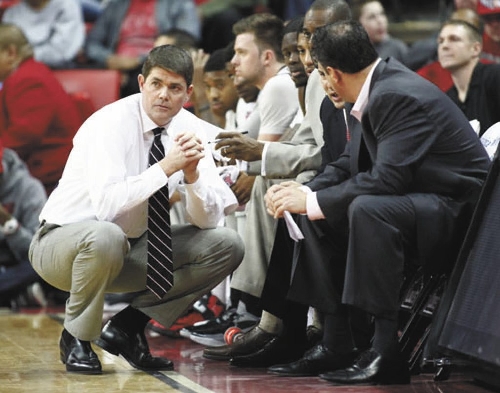 There is a danger in something being said so often that it becomes a cliche, which usually means a significant amount of truth is attached, which means UNLV's basketball team could own an inexcusable trait today that would impede its chances of reaching its potential this season and beyond.
Effort is like the vocal range of Alicia Keys.
It never should be questioned.
I'm not even sure most of the players believe it, but for 57 games under Dave Rice as their coach, the Rebels have had this indefensible reasoning when losing away from home.
Time and again after road and neutral-court setbacks – the most recent being a 77-72 decision at Boise State on Saturday – they have pointed to a lack of focus and intensity to begin games.
The quotes never change.
The excuses never vary.
It's getting old.
At best, it is a stock justification used in place of admitting an opponent was better on a given night.
At worst, it's an embarrassing part of UNLV's culture as a program whose blame falls directly on Rice to amend.
This is his house. His players.
It's on him to fix it.
The Rebels end the first half of Mountain West play tonight at Fresno State, where it would take far more than another slow start for UNLV to suffer a second straight loss. The Bulldogs are 7-13 overall and 1-6 in conference for a reason. They're not good.
But more than winning, UNLV needs to exhibit the sort of exertion Rice insists he desires at both ends from the opening tip.
"Whether it's the Super Bowl or NBA championship or a college basketball game, guys are asked questions after a loss, and I think it's easier for them to say they weren't ready to play rather than someone is better than them," Rice said. "I think in the past it might have been guys just searching for something to say. That ends right now.
"Obviously, if there is a truth about a (lack of effort), it concerns me. Ultimately, it all falls back on me. But we're 22 games into this season, and it's time for us to play with a greater sense of urgency – every possession for every half, home and away.
"It's a teamwork issue at both ends of the floor. I know this sounds like a cliche, but it's time. We have to rally around the fact we're in this together, and we have to play with a chip on our shoulders and play like a desperate team, beginning at the defensive end the entire game. That has to be our mantra."
A popular opinion is that Rice is too soft on his players, that he doesn't hold them accountable enough by limiting playing time for those who either aren't giving maximum effort or continue to make the same mistakes.
I don't know how hard he is on them behind closed doors. You don't. No one does but those in the room. But you can't scam players. They know fake, and for Rice to be someone he isn't publicly for the sake of combating perception isn't the answer.
But sitting players – no matter their name or role – is a good start.
The Rebels are 17-5 and headed toward another NCAA Tournament, perhaps even toward a conference championship. But they are neither as committed to defense nor as sound playing it as under Lon Kruger.
In some ways, it's not close.
Kruger's teams were committed in a way most excellent defensive teams are, which is to say you don't show up in February and expect to be terrific at it. You practice it, preach it, embrace it every day of every month of every year.
UNLV finds itself among conference leaders in defensive numbers today, but that's just one part of being good enough to get critical stops on the road and during the NCAA Tournament.
That's what this is all about. March. That's what matters most.
Field-goal percentage defense. Rebounding margin. It all makes for nice sound bites after a win. It doesn't mean you're going to stop the ball when winning is on the line.
Right now, Rice has players – beginning with his best one in freshman Anthony Bennett – who aren't steadfast in their desire to defend. They have not, or won't, buy in defensively at a 100 percent level.
Rice's players worry far too much about whistles.
This just in: It's the road. You're not getting calls. You haven't earned the benefit of any doubt.
Play through it.
Get over it, already.
It's true Rice has recruited much better players than Kruger, many who wouldn't have signed with UNLV under the former coaching staff. There is more long-term upside now. The big picture includes a better chance at deep NCAA runs.
I've always believed UNLV had reached its pinnacle of NCAA success (Sweet 16) under Kruger and that Rice could lead the Rebels further into the madness. I still do. He has a better chance of getting UNLV to a Final Four because he will sign far more talent.
But as limited as some of Kruger's teams were in overall skill, rare was the time when effort was questioned.
Those teams played hard. They defended with a purpose. Kruger got every ounce of ability out of them.
This team doesn't every night.
That might not mean anything against a bad Fresno State side tonight. It might not even stop UNLV from winning the Mountain West.
But if you don't think a lack of defensive intensity and effort from the start of games will come back to haunt UNLV in the NCAAs, then you missed a certain game against Colorado last March.
Las Vegas Review-Journal sports columnist Ed Graney can be reached at egraney@reviewjournal.com or 702-383-4618. He can be heard from 11 a.m. to 2 p.m. Monday through Friday on "Gridlock," ESPN 1100 and 98.9 FM. Follow him on Twitter: @edgraney.