Just survive, baby: Raiders earn week's worth of immunity at 6-6
December 3, 2017 - 8:36 pm
Updated December 3, 2017 - 8:54 pm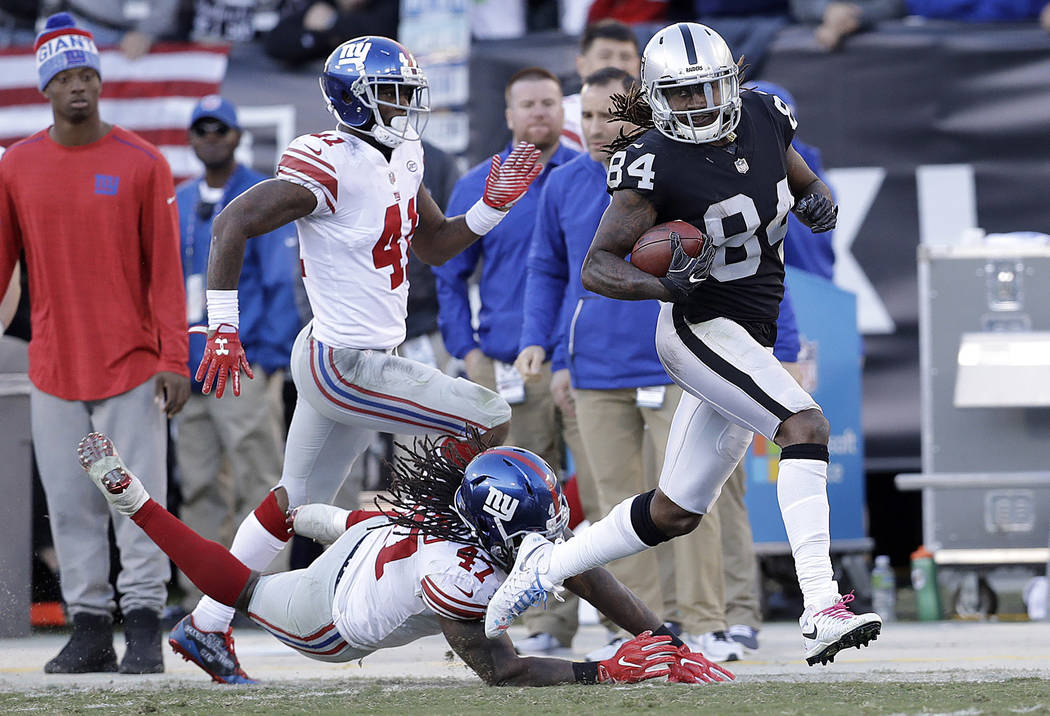 OAKLAND, Calif.
The only things missing were Jeff Probst and a bunch of torches, although I'm guessing had they handed one to Jalen Richard he would have dropped it before anyone wearing a New York Giants uniform attempted to snuff out its flame.
Castaways might be the best way to now describe the once-viable NFL team that gave us Lawrence Taylor.
As for the Raiders, they remain a collection of silver-and-black survivors.
They earned another week's worth of immunity.
If you judged either team on the first three quarters Sunday, there wouldn't have been enough food, fire or shelter to keep anyone alive.
But if the league is anything, it's about persevering deep enough into a season where a playoff berth is still attainable as temperatures begin to drop.
Such is reality for a Raiders side following its 24-17 win against the Giants before 54,994 at Oakland-Alameda County Coliseum, a final stretch of four games remaining and still every preseason goal of coach Jack Del Rio and his team in play.
The AFC West, wrongly thought by many the NFL's best division to begin the season, now offers a three-way tie of 6-6 teams at the top.
The Raiders share that space with the Chiefs and Chargers, and all will face one another before anything can be settled when it comes to crowning a division champion and then preparing to host a playoff game.
"The NFL, you know, crazy," said Raiders quarterback Derek Carr. "You have to stay the course. There's a lot of adversity that happens over a season. You wish you could go out and win them all, but that hasn't been our road this year.
"But it's right in front of us. It's there. Everything we want is right there. We realize that. As long we can get hot, right around now, this is the time to do it."
They need to be a whole lot hotter than Sunday.
Richard fumbled three punts and was fortunate his team recovered all of them. Carr threw two passes directly into the hands of Giants defenders and both were dropped.
Instead of now preparing for a showdown at Kansas City on Sunday and all the postseason implications that might be created from its outcome, the Raiders were a few bounces away against the Giants from being dead on arrival when it comes to any playoff hopes.
But things went their way and they have now won two straight games — each by seven points — against opposing starting quarterbacks in Paxton Lynch of Denver and Geno Smith of the Giants, who have the sort of (non-)ability that would immediately get them voted off the island.
They wouldn't even make it to Tribal Council.
Toughest schedule ahead
This also isn't figure skating. Nobody cares about technical merit or required elements or presentation. It's only about winning, and the Raiders by dropping earlier games put themselves in a position where the season's final weeks have to be considered must wins each time things are teed up.
"We've been purposeful in our work," Del Rio said. "We understand the scenario of where we are and what we need to get done. And what we need to get done is one week at a time. Keep improving as a football team."
Of the three teams in first place, there's no question the Raiders have the toughest remaining schedule. One home game remains (against Dallas on Dec. 17), along with road visits to the Chiefs, Chargers on New Year's Eve and what says "bah, humbug" more than a Christmas night outing in Philadelphia against this year's version of the Eagles?
But the Raiders are also playing some of their best defense of the season since John Pagano took over as coordinator two weeks ago and the post-suspension running back that is Marshawn Lynch seems to get better with each passing game.
The Raiders on Sunday played without their top two receivers and made enough mistakes that most any opponent not named the Giants or Cleveland could have kept them from ever reaching first place.
But like those who find the hidden immunity idol, the Raiders survived.
There is a reason cheers on Sunday were rated this way:
Second loudest — Lynch's burst up the middle for a 51-yard score.
Loudest — the scoreboard flashing a final score of Jets 38, Chiefs 31.
"People are going to lose and people are going to win," Richard said. "Kansas City lost. We just look forward to going in there and taking care of this next game and winning out in December."
I just wouldn't entrust him with the torch.
He could drop it and send this whole AFC West pursuit up in flames.
Contact columnist Ed Graney at egraney@reviewjournal.com or 702-383-4618. He can be heard on "The Press Box," ESPN Radio 100.9 FM and 1100 AM, from 11 a.m. to 2 p.m. Monday through Friday. Follow @edgraney on Twitter.