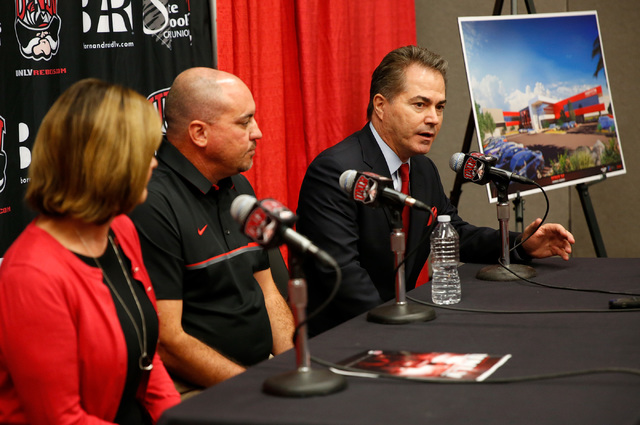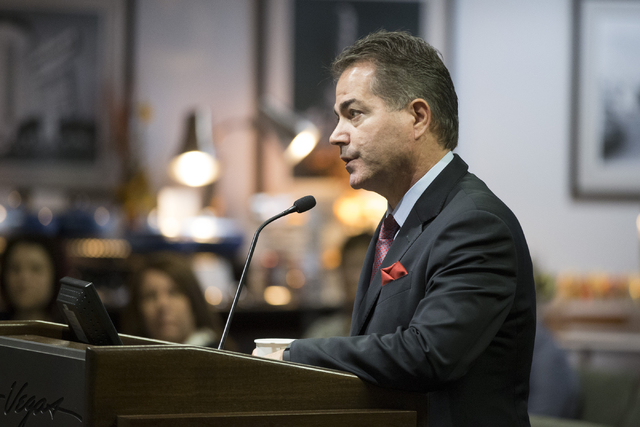 Len Jessup has been busy lately, what with UNLV's medical school being granted preliminary accreditation and him serving as vice chairman for the Southern Nevada Tourism Infrastructure Committee that recommended the domed stadium proposal passed by the Nevada Legislature.
I'm not sure how many meetings Jessup has attended the past several months, but it's safe to assume UNLV's president has read more agendas than there are unknowns for the men's basketball season.
But it is how Jessup handles a certain personnel matter that could prove as important a decision as he ever makes charting the university's future. He can't miss. He can't afford another nationally ridiculed search for a high-profiled position.
(Been there, done that.)
He needs to hire the right athletic director.
He needs to, simply, not screw this up.
I'm not sure, at this point, the level of faith many have in Jessup making the right call. Some of those closest to him quietly expressed disappointment at how unassertive he was in deciding the fate of Tina Kunzer-Murphy, who it was announced last week will remain as athletic director until moving into a different role on campus at the end of the school year, six months after her contract was set to expire.
In this realm, Jessup needs to go outside the university and town when identifying candidates. If he doesn't completely clean house, he should at least see that things are tidied up … a lot.
UNLV starves for a fresh perspective leading athletics more than Tony Sanchez needs a program-changing quarterback, because for so long with the Rebels, it has been about who you know or who your friends are and, in turn, overindulging the influence they might provide because of the (not so grand) checks they write.
That's small-time stuff. Jessup needs to think in a big-time manner.
At no point in its history will UNLV be able to offer an athletic director a more promising position than now, a combination of a scholastic base headed toward Carnegie Tier 1 status mixed with what soon will be as competitive a collection of athletic facilities as most nationally can offer.
UNLV has too bright a future not to go after the best and brightest.
The goal is obvious: Gain entrance into a Power 5 conference. Jessup can talk all he wants about how positive the Big 12 supposedly was toward UNLV in its recent expansion discussions, but there was zero chance the Rebels were being seriously considered under the current athletic department administration.
It. Was. Never. Happening.
It's still not a guarantee an on-campus football facility set to break ground in the spring and the impending 65,000-seat stadium would be enough to push UNLV over the top and into a Power 5 league, but such opportunity can only be improved with the right athletic director.
Jessup needs to find that person, damn the cost. He never would be able to convince a sitting athletic director at top Power 5 schools to consider such a move, but he needs to pursue others within the lower to middle tier of those conferences.
He has months to figure out how UNLV can offer a financially incentive package — say in the $400,000 to $500,000 range annually — to draw a No. 1 or the right No. 2 from power leagues to lead Rebels athletics.
Athletic directors are about three things — operations, budgets and fundraising. Jessup needs a vibrant, aggressive, creative mind capable of changing a culture and raising record-level money, if for nothing else to give Sanchez a chance to watch more film, given in his short time at UNLV he has raised more than anyone else.
Isn't it about time someone other than coaches prove to be the best fundraisers at UNLV?
And if Jessup proves capable of identifying that person, he needs to afford them complete power.
The fact that UNLV's athletic director still doesn't have total control over facilities such as the Thomas & Mack Center and Sam Boyd Stadium, that whoever sits in the chair must answer to others on campus concerning those buildings, is beyond amateurish. It's foolish on numerous levels, really.
Just more small-time stuff.
That needs to change.
So, too, does a disastrous situation within marketing, in which a virtual revolving door has seen countless bodies be removed or choose to depart, including a new director who recently spent about two weeks on the job before quitting.
It all means that even with so many bright spots that could lead to the best days yet for UNLV athletics, there are still major issues in need of repair. Cost can't be a concern. Jessup needs to stand firm on that. Not if UNLV has any chance of swimming in the pool of big-time athletics.
Jessup extended Kunzer-Murphy for whatever reasons he thought justifiable, so he now has months to figure out how he can pay what someone in high demand expects.
You want a chance at the Power 5? Then go hire the absolute top person you can from that level.
There was a time I believed the UNLV job was best suited for local candidates with ties to the university. No longer. Not even close. The idea it needs someone who knows the school and town intimately is more than shortsighted and absolutely wrong, which I was in assuming that.
Small. Time.
If you cast your net wide enough and find the right person and pay the going rate for a legitimate candidate, money will be raised and success will be delivered. There are too many good things happening around UNLV to think otherwise.
Everyone will have an opinion. Boosters. Regents. Coaches. Fans. But this is squarely on Jessup, a seemingly nice guy who answers questions and yet hasn't proven to be the most decisive sort regarding how the future of UNLV athletics should be shaped.
That needs to change.
This is arguably the most important hire he will make at UNLV.
He needs to block out the impending noise and shoot for the stars.
Let's see if he has enough big time — not to mention backbone — in him.
Contact Ed Graney at egraney@reviewjournal.com or 702-383-4618. He can be a heard on "Seat and Ed" on Fox Sports 1340 from 2 p.m. to 4 p.m. Monday through Friday. Follow @edgraney on Twitter.