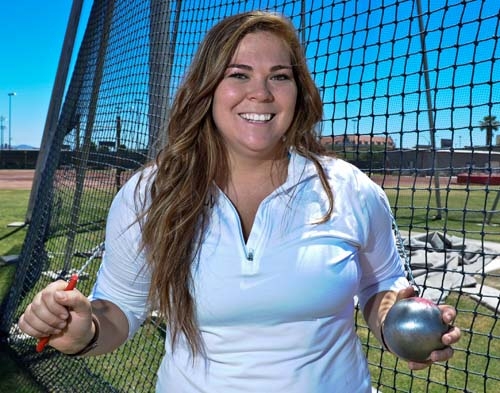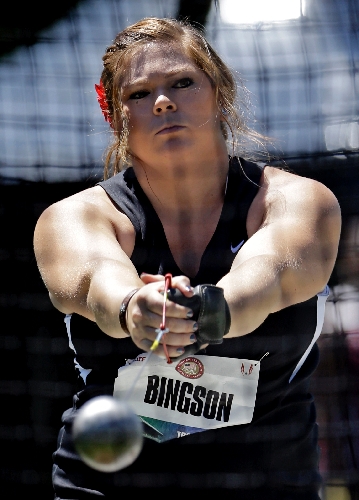 This is how the conversation usually goes when someone gets to know Amanda Bingson …
Someone: "What do you do at school?"
Bingson: "I'm on the track team."
Someone: "UNLV has a track team?"
Bingson: "Yes."
Someone: "What do you compete in?"
Bingson: "The hammer throw."
Someone: "What is the hammer throw?"
"They think I'm a carpenter hammering nails," Bingson said. "I suppose it makes sense. When I first got to college, I had no idea what it was either."
Stop us if you have heard this one before: College track athlete begins competing in a new discipline her freshman year and, by the time she is a senior, has become a two-time All-American and good enough to qualify for the U.S. Olympic trials.
She arrives having finished third at the NCAA Championships and with no thoughts of making the U.S. team, no belief she can do anything more than perhaps advance to the final round, no false hope she will have a career day and other more seasoned athletes will falter.
She then goes out and makes the Olympic team.
Yeah. I know.
You haven't heard that one often.
It happened to Bingson on June 21 in Beaverton, Ore., when the Silverado High alum finished second at the trials and booked a summer trip to London that will mean a lot more than taking pictures alongside Big Ben and touring the House of Parliament.
Her goal before the trials was to gain the sort of experience she would need to make a run at the U.S. team in 2016 and qualify for the games in Rio de Janeiro.
Goals change when you throw a heavy metal ball attached to a wire and handle 71.78 meters, or 235 feet, 6 inches.
She helped lead Silverado to two state track titles and thought her UNLV career would be spent either pushing the shot or throwing the discus. Turns out, she was too short at 5 feet 6 inches for the latter and not strong enough for the former, or so surmised then-UNLV assistant coach Greg Watson. He suggested Plan C.
"I thought she would make a pretty good hammer thrower but obviously didn't know she would one day be an Olympian," said Watson, now coaching at Texas State and who will train Bingson for her London voyage. "But she won the Mountain West Conference championship her second year, and then we realized she was a really talented and special athlete.
"I think her mindset at the trials was perfect for her. She was so relaxed because the goal was 2016. She just went out and threw and didn't worry about anything. Now, we're just four years ahead of schedule. I told her to embrace the opportunity. You never know what the next four years will bring."
Here's the thing: You have to love the hammer throw to be great at it. You have to love it more than your favorite movie or food or book or television show … times 1,000. You won't become famous off it. You won't become rich. You won't get the endorsements of Usain Bolt. You won't even get the endorsements of Bolt the canine from that forgettable Disney flick.
No one outside your little world of fellow carpenters will have any idea who you are in an event that over time has been dominated by Russians and whose world record-holder today is a German (Betty Heidler – 79.42 meters or 260 feet, 7 inches).
Bingson loves it that much.
"At first, I just liked winning," she said. "That's what captivated me most. But it's so much more now. Track has done so much for me, allowed me to travel, to attend college. … I can't repay all that. How I feel in the (hammer throw) ring is how I want to feel in life. It's an amazing feeling."
She will graduate in December with a degree in interdisciplinary studies and an emphasis on sports psychology, the idea being that she one day will help other athletes cope with the stress of competition, one day give them mechanisms to handle those 30 minutes between throws when the first attempt falls well short of expectations.
"I just want to get into my own mind," Bingson quipped.
Next month, she will get into a Team USA uniform and walk into the Olympic Stadium for the Opening Ceremony, where her teammates will include UNLV assistant track coach Khadevis Robinson (800 meters), where the world will look on as its best athletes from more than 200 countries congregate to signal a beginning to the games.
The moment will not be lost on Amanda Bingson.
I sure hope she remembers her hammer and nails.
Las Vegas Review-Journal sports columnist Ed Graney can be reached at egraney@reviewjournal.com or 702-383-4618. He can be heard from 11 a.m. to 2 p.m. Monday through Friday on "Gridlock," ESPN 1100 AM and 98.9 FM. Follow him on Twitter: @edgraney.