Locomotives gives falsely accused former preps star hope
September 20, 2012 - 1:01 am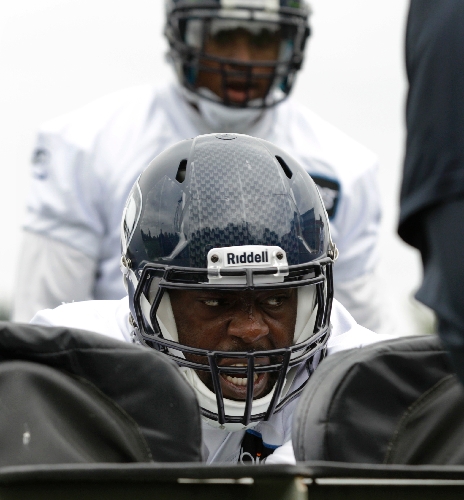 Mind is the Master power that moulds and makes,
And Man is Mind, and evermore he takes
The tool of Thought, and, shaping what he wills,
Brings forth a thousand joys, a thousand ills: –
He thinks in secret, and it comes to pass:
Environment is but his looking-glass.
They are words from "As a Man Thinketh," by James Allen, suggesting that when we seek perspective about life, we should follow the path that the mind harvests and the heart manifests.
Brian Banks read them often in prison, intent on understanding the injustice that destroyed his innocence and yet not allowing it to define his complete being. Allen wrote that if we remain true to our most cherished visions and ideals, our world at last will be built as we desire.
When the doors slammed shut and the lights went out each night and his mind wandered and it was impossible to sleep, when he had no clue which day of the week had passed and from which month, Banks fought himself to remain strong, to remain true to those visions and ideals.
"They were long nights," he said. "You're always in a reflective state – where you are, where you know you should be, where you know you shouldn't be. A lot of meditation. A lot of prayer. Honing in on accepting the path God has put before you, even if it's something you don't understand, even if it's a place and situation you don't want to deal with. You don't look at calendars. You don't know the day. You just allow yourself to lose all sense of time. You have to.
"When I first went to prison, facing so much time, I had to let football and the (NFL) dream go. I couldn't survive that environment and come out of it healthy mentally and spiritually by obsessing the entire time over something I couldn't control. I had to think about now, today, this moment, how I would get out of there safe and sane."
He is sitting in the office of Las Vegas Locomotives coach Jim Fassel, whose United Football League team has provided Banks, 26, the opportunity to continue chasing that dream he once set aside, one he seemed destined to realize 10 years ago as a standout linebacker at Long Beach Poly High School in California.
He had verbally committed to play for Southern California and then-coach Pete Carroll. At 16, the world was at his feet.
That was before the stairwell, before he made out with a girl named Wanetta Gibson at school, before she accused him of rape, before his attorney over months and months of incarceration finally wore him down enough that Banks agreed to a plea bargain of six years in prison instead of facing up to four decades if convicted at trial.
This, despite there being no DNA evidence linking Banks to Gibson, no semen discovered in the rape kit, no witnesses of any kind.
His word against hers.
He served 64 months.
She received a $750,000 settlement from the school.
The world was at his feet before he spent a year in juvenile hall, before those 90 days of observation at Chino State Prison, before the 45 days of 23-hour lockdown at Delano State Prison, before being labeled a Grade 3 of a maximum 4 security risk at the California Men's Colony prison, before serving his final 2½ years at the California Rehabilitation Center, before being paroled and having to wear a GPS ankle device for five years, before no one would give him a chance, a job, a second look.
Before the girl recanted her entire story, before she contacted Banks via Facebook with the words, "Let's let bygones be bygones," before she met him at the office of a private investigator and admitted on videotape that Banks never hurt her, never kidnapped her, never raped her.
Before she said it was all one big, elaborate, awful lie.
Prosecutors said they won't charge Gibson for making the false accusations, unsure they could prove the case. She is said to own few assets, meaning the settlement money is long gone.
"I'm not mad at her," Banks said. "I don't want revenge or something negative to happen to her. I have moved on. I am happy I have my life back. I'm moving forward."
That was made possible in May, when a judge in Long Beach threw out the kidnapping and rape convictions and, for the first time in 10 years, set Banks free of all charges and labels that accompany sex offenders.
The judge woke him, once and for all, from the nightmare.
If it's true an athlete's prime arrives at or near age 26, Banks still might own a chance at one day wearing an NFL uniform. He was encouraged enough by tryouts with a handful of teams that it is an endeavor still worth pursuing, a journey that starts in the UFL.
"I believe you have to look at potential," Fassel said. "There's a part of me that never wants to rule anyone out if he has the desire and fits the profile I like as a hungry football player. Brian has that. I like to give those guys chances. Imagine if you were accused of rape, spent five years in jail and another five on parole and you never did it. … He has a passion in life for playing football. I'm banking on him."
Years passed when no one did, when Banks would walk into a job interview, charm everyone in the room, be on the verge of accepting a position and then having to talk abut his time in jail and the ankle bracelet under his pants. He always left without an offer. He never received follow-up calls.
He has seen both sides of the human spirit, the good and evil, the forgiving and merciless, the sympathetic and malicious. He is incredibly thoughtful about the unfairness that delivered him to this moment in time.
Mind is the Master power that moulds and makes.
"Before May 24, 2012, the day of exoneration, I've had people judge me, look down on me, degrade me, embarrass me, humiliate me, call me a rapist, a sex offender, a guy with no college education, no job experience, nothing," Banks said. "But now, they want to help me, support me, inspire me, lift me up.
"I've learned so much about myself and others. I've been humbled. I've taken pride and ego out of my life. If football ends today, I'm OK with that. I don't consider myself an athlete. I consider myself a dream chaser.
"If it happens for me in football, I've succeeded. If it doesn't, I've succeeded. I have my life back. My freedom back. My innocence back. I have already won.
"I set the score, and I won."
Las Vegas Review-Journal sports columnist Ed Graney can be reached at egraney@reviewjournal.com or 702-383-4618. He can be heard from 11 a.m. to 2 p.m. Monday through Friday on "Gridlock," ESPN 1100 and 98.9 FM. Follow him on Twitter: @edgraney.