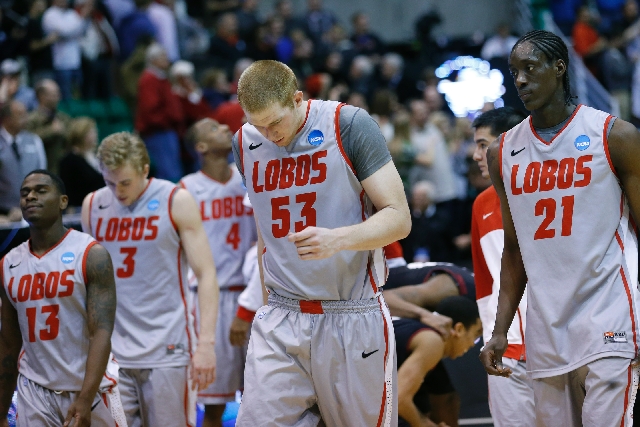 It is March 24, and from mid-November until now, Mountain West basketball teams have played nearly 300 games. They have been ranked, defeated quality opponents, earned good enough results to have entered the NCAA Tournament with the nation's No. 1 Ratings Percentage Index of all conferences.
And on Monday, when the madness reaches its second week, it might have been all for nothing.
March is about perception as much as reality. It's not fair. It's not the most profound way to gauge a league's worth. More than anything else, it's the over-inflated sense of importance attached to one event.
But that's how big the NCAAs are, how bright the spotlight shines on results this month.
Television executives don't pay $11 billion over 14 years for an event and not hype it as end-of-time significance.
Eight games remain today before the Sweet 16 is set, and only San Diego State is breathing as a Mountain West team. The Aztecs play Florida Gulf Coast for the right to advance into the bracket's second week, and anyone sleeping on the Eagles didn't watch them take out Georgetown on Friday and doesn't realize they beat Miami earlier this season.
And anyone holding a ticket that says UNDER 4½ tournament wins by the Mountain West already has spent his winnings.
It hasn't been the tournament Mountain West officials and a record five teams to advance from the league dreamt about. By the time San Diego State took the court for its opening game against Oklahoma on Friday, three conference brethren — New Mexico, UNLV and Boise State — had been bounced.
The fourth, Colorado State, was sent home by No. 1 seed Louisville in the round of 32 on Saturday.
Sent home by an 82-56 score.
As conspiracies go, a few have been directed at the Mountain West the past few days regarding its implied strength, mainly that its coaches manipulated the conference RPI by scheduling non-Division I teams so as not to hurt the overall ranking.
Example: A game against La Verne isn't calculated into the RPI, but a win against Portland and its No. 232 rating can damage a team and league's overall number.
I'm not going to deny it happened when coaches went to schedule nonconference games this season; not going to presume it did, either. Have no idea.
I do believe the RPI continues to be a flawed tool used extensively by the selection committee to pick 37 at-large teams, an instrument that puts far too much weight on schedule strength given who you play often is more important than whether you win or lose. It's the NCAA world we live in.
But just as the Mountain West wasn't the country's best league this season — the Big Ten was better than everyone else — nor should four days worth of games define the ability of those teams that made the tournament.
But they will.
Perception = Reality.
Selection committee members are human beings with long memories. You can't for a second believe that if San Diego State loses today and the Mountain West doesn't advance a team into the Sweet 16, those choosing the 2013-14 field won't remember such a poor showing by the conference when it comes time to award bids.
The committee isn't supposed to judge any season but the one in which it is setting a field, and yet the more tournaments that pass with Mountain West teams not holding up their end by winning games, the more you would think any benefit of the doubt is erased.
More than the conference not being as strong as ratings suggested this season, those already gone from the field didn't play or coach well enough, or both.
Matchups hurt in a few cases when Boise State couldn't defend La Salle off the dribble and New Mexico couldn't make enough shots to combat Harvard's deliberate pace.
UNLV, well, we know all about that, don't we?
The Mountain West had its best regular season in league history. It also adds Utah State next season, making it even tougher to gain an at-large spot out of the conference.
But stumbling badly over four days shouldn't diminish what close to 300 games proved, even though it will in most minds.
Said Colorado State coach Larry Eustachy to reporters at the Mountain West Tournament: "I thought (the league) was overrated before coming into it. Everybody does. That's the perception that's out there, and I bought into it."
In the case of the Mountain West, four months of reality is about to be thrown out the window by such perception.
Las Vegas Review-Journal sports columnist Ed Graney can be reached at egraney@reviewjournal.com or 702-383-4618. He can be heard from 11 a.m. to 2 p.m. Monday through Friday on "Gridlock," ESPN 1100 and 98.9 FM. Follow him on Twitter: @edgraney.