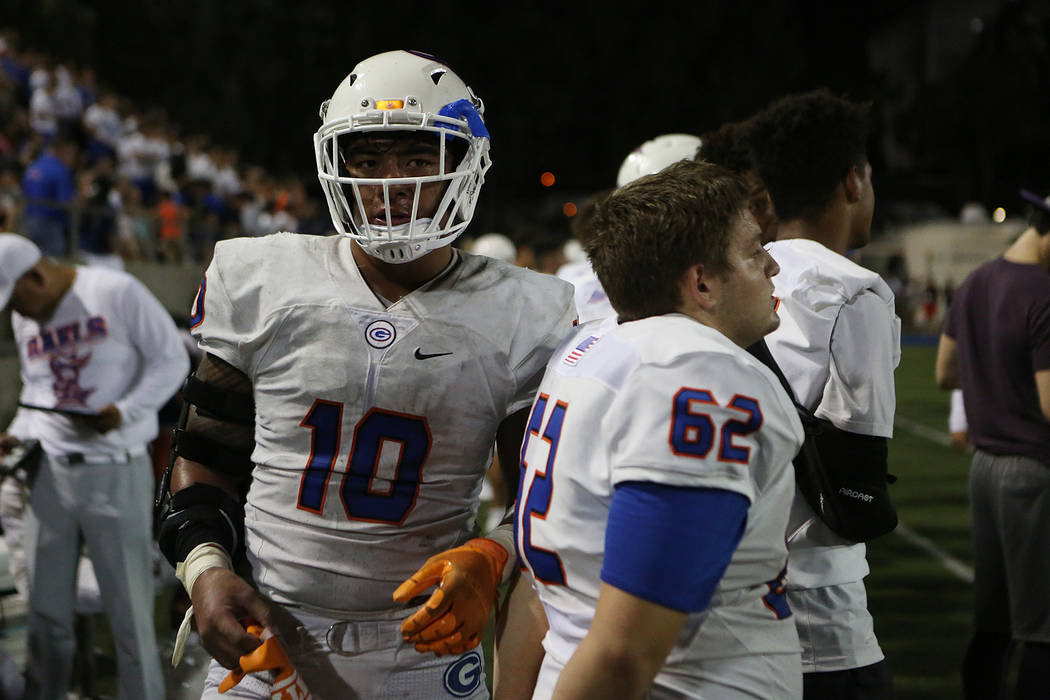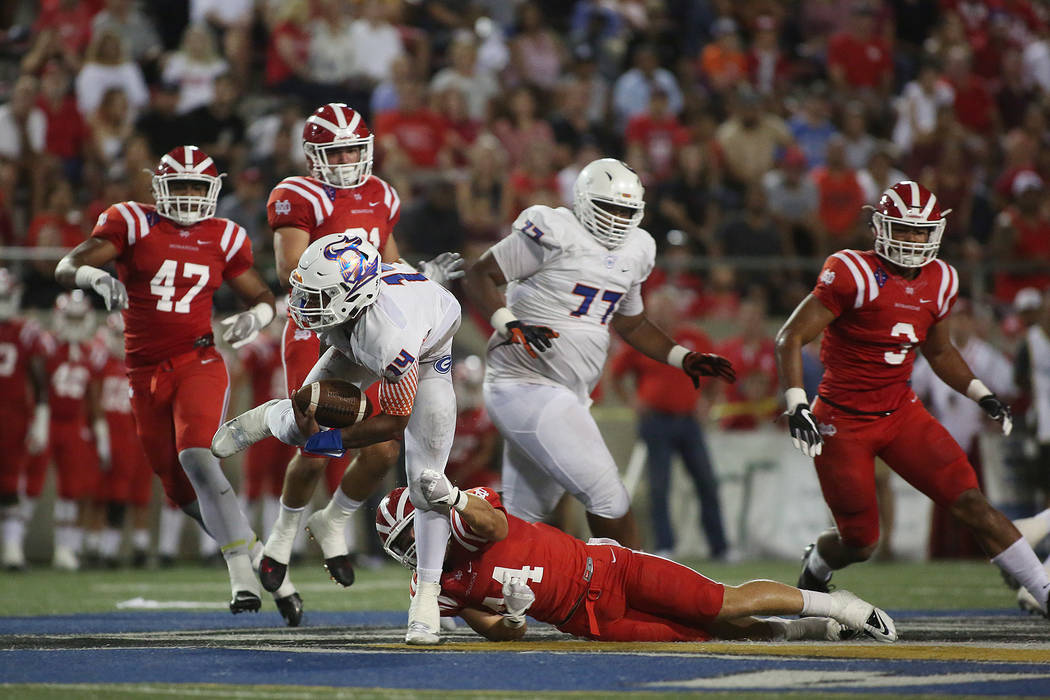 SANTA ANA, Calif. — The delay was mostly about scheduling, about TV partners who have fallen in love with matching elite prep football programs early in a season finally getting all involved to agree on dates.
Finally, years after many suggested a meeting was imminent, the parochial national powers that are Bishop Gorman and Mater Dei played Friday night at Santa Ana Stadium.
Turns out, they even created some history — the kind Bishop Gorman would just as soon forget.
The winning streak has ended at 55 for the Gaels, as Mater Dei rolled to a 35-21 victory and in the process more than validated its No. 1 national ranking.
Bishop Gorman entered ranked third, and yet the difference in two spots for much of the evening proved as obvious as the Southern California weather was hot and sticky.
Mater Dei was much more physical up front, which matters just as much at the prep level as any other.
But credit the Gaels, whose pursuit of a fourth straight mythical national title probably ended five hours from home, for not going meekly into the humid night.
It was 28-7 to begin the fourth quarter.
They got within 28-21.
Then the better team imposed itself.
So it ends, a win streak that began for Bishop Gorman in 2013, a run that included several memorable victories against ranked teams mixed with what has been a preposterous level of dominance against Nevada opponents.
"I know nobody believes me, but (the streak) isn't a priority," Gaels coach Kenny Sanchez said this week. "It's just not. Life goes by really fast, and I think the staff and the kids have always just focused on the next game coming up. I don't feel like we won 55 straight games. I really don't. We talk about it. We don't pretend it doesn't exist.
"But there's nobody on this team that won 55 straight games. Not one. That weight (of continuing the streak) doesn't exist for them. It's a myth, a mythological weight on their shoulders."
Now, it's off them entirely.
There are prep football streaks and then there is this: 151 straight.
De La Salle is a Catholic school in Concord, California, and its program has the longest win streak in prep history, spanning from 1992 to 2004, more than doubling the previous record of 72.
The years of winning put De La Salle on a map no high school team probably will realize again, and the program became the subject of two books, one of which was made into the movie "When the Game Stands Tall."
It was stuff of legend, as the Spartans were named national champions seven times by various publications and news services.
But as impressive as the streak was — nobody should snub their nose at 151 — it wasn't earned against an annual collection of elite programs.
In fact, only nine ranked teams were part of those that fell to the Spartans during their historic run.
Of those nine wins, four came against Mater Dei.
Bishop Gorman also has compiled countless wins within its streak against even lesser competition than De La Salle faced in and around the Bay Area all those years, which means when the annual calendar switches in Las Vegas and the Gaels begin playing in-state teams.
But in the nonleague portion of things, Bishop Gorman has scheduled as tough as anyone else nationally the past several years, which doesn't make 55 as impressive as 151, but sure makes it part of the conversation among all-time win streaks.
"I'll be honest, when you go back and talk about the streak, I don't think it was ever along the lines of winning so many games in a row," said UNLV coach Tony Sanchez, who was leading the Bishop Gorman program when the streak began, this week. "It was more about using the (non-Nevada) part of the schedule to play anyone, anywhere and at any time. That was our mindset when this all started. Find out who the best is and play them.
"Look, when you play as many (ranked) teams as Bishop Gorman has the last several years, eventually you're going to stub your toe and lose. At some point, you're going to get beat. It's inevitable. This stuff has an ebb and flow to it. At some point, the (current 86-game win streak) against Nevada teams will end. I don't know when, but these things don't last forever.
"It's hard having to be the best week in and week out. What they have accomplished at Bishop Gorman is amazing given some of the nationally ranked teams they have faced."
They played another one Friday night, two parochial national powers, a matchup folks waited years to see, the best high school football has to offer anywhere in the country.
The two will do so again next year, when Mater Dei visits Bishop Gorman.
There won't be any talk of historic win streaks then.
That ended here, the better team as obvious as the weather was hot and sticky.
Contact columnist Ed Graney at egraney@reviewjournal.com or 702-383-4618. He can be heard on "The Press Box," ESPN Radio 100.9 FM and 1100 AM from 11 a.m. to 2 p.m. Monday through Friday. Follow @edgraney on Twitter.