May this eulogy be the last for Las Vegas Arena football teams
August 11, 2015 - 9:10 pm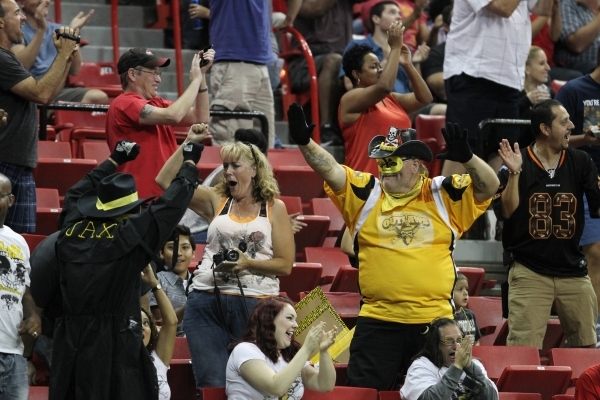 We are gathered here today on this predictable occasion with much joy and relief, filled with hope that this will represent the final time an Arena Football League team attempts to make Las Vegas home.
The empty wallets of honest, hard-working people just can't take any more deception. Or missed paychecks.
I'm not sure how long the eulogy would last should the jerseys of those tried-and-failed AFL teams here be placed on a coffin in the middle of the Thomas & Mack Center, but it wouldn't be offered in front of a standing-room only crowd.
There isn't much to say, really, other than the obvious.
Stop now.
Stop forever.
Find another Home Sweet Home, Vince Neil.
It is yet another reason the impending arrival of an NHL team to the city can't come soon enough, that with major league sports finally landing in the valley once Gary Bettman's office makes official its expansion invitation, the desire for anyone to propose another niche sport destined to fail will hopefully die before reaching the goal line.
But these AFL folks can't seem to take a hint, or perhaps they all need LASIK surgery to notice the number of empty seats at home games. The league folded the Las Vegas Outlaws after their regular-season finale Saturday, a move it should have made upon assuming control of the organization in July.
The AFL is a little slow on the uptake, no?
Our own Steve Carp did a terrific job in Tuesday's edition explaining how yet another failed venture such as the Outlaws has left local merchants and vendors and team employees awaiting payments that probably will never arrive.
Stiffed, again.
Shades of the mighty United Football League.
But instead of the whining we read elsewhere from Neil regarding the league not allowing the Outlaws to compete in the playoffs to which it earned a berth — which, given the team's 5-12-1 record, suggests there are orange slices at halftime and participation trophies for all competing — we should have heard a more sensible evaluation from the Motley Crue vocalist who led the ownership group.
Fact: There isn't a market here for the AFL, certainly not a big enough one to continue granting franchises that end with countless people not getting paid for services rendered. There has appeared over time a small group of loyal fans who are entertained by the game and mistakenly believe the product has long-term viability, but not near enough to warrant more doomed ventures.
The Sting played here two seasons in the mid-1990s before relocating to Anaheim, Calif. The Gladiators lasted from 2003 to 2007 and had varying levels of success before moving to Cleveland, mostly because attendance dropped in half in 2006 and 2007 and owner Jim Ferraro wanted to give close buddy Bernie Kosar something to do, naming him a minority partner.
We have now entered the Blame Game phase of the operation, a typical stage that allows those in charge at different levels of power to cast responsibility on others for such a dreadful ending, thinking that if someone else is labeled the villain, they will be free and clear from having to cover any of that nasty debt.
Neil, in between blaring out "Wild Side" while on tour, blamed investors and a managing partner he hired to pay bills and run daily operations and handle sponsorship and finance deals.
Scott Butera, the AFL commissioner, blamed Neil's ownership group.
I'm pretty sure Outlaws coach Aaron Garcia, given the chance, would blame the ice vendor, given Garcia at one point had to fetch a few bags from the gas station so his players could cool down and tend to their aches after practice.
The ice guy, of course, also wasn't getting paid.
Butera is delusional enough to insist Las Vegas would still successfully support a team for the long term, but not forthcoming enough to say how much money was lost on the Outlaws' venture or how much is owed on outstanding bills.
This is mostly on his league, anyway. Butera likes to remind anyone willing to listen that he wasn't the commissioner when Neil was granted the franchise, but he has been it since September 2014. Butera was running things when the league assumed control of the Outlaws and should have, but didn't, immediately fold them.
Ours is a major league sports city when it comes to NASCAR and mixed martial arts and boxing. The 51s as a Triple-A baseball franchise have been a consistently successful enterprise. Soon, the NHL will join the party.
So who in their right mind would now extend credit to any ownership group wanting to house another AFL team here? Here's hoping nobody.
This is about the time in a eulogy when immediate family members of the deceased are named and recognized or an inspirational quote is read to provide some sense of comfort and closure.
I suppose in honor of the team's now-defunct owner, we will simply remind you that it's the same ol', same ol' situation, same ol', same ol' ball and chain.
Same ol' Situation when it comes to the AFL and Las Vegas.
Stop now.
Stop forever.
Stop ripping people off, literally and otherwise.
Las Vegas Review-Journal sports columnist Ed Graney can be reached at egraney@reviewjournal.com or 702-383-4618. He can be a heard on "Seat and Ed" on Fox Sports 1340 from 2 p.m. to 4 p.m. Monday through Friday. Follow him: @edgraney