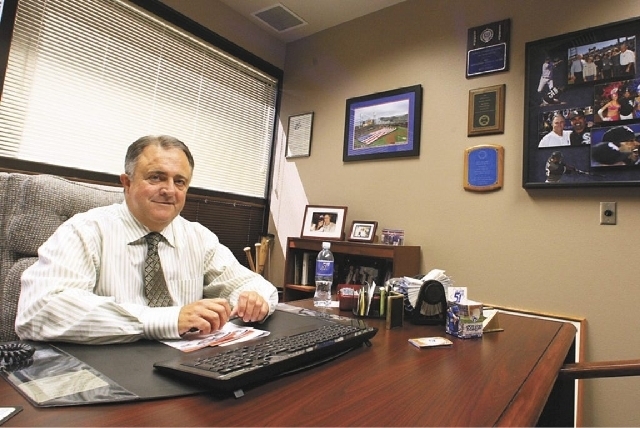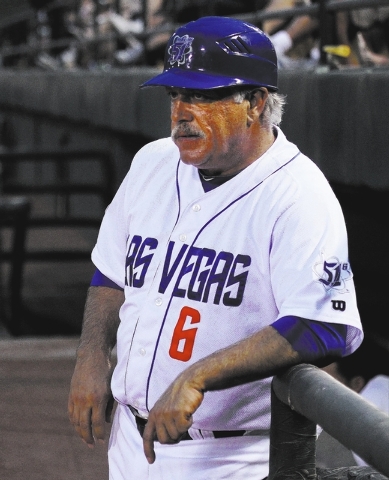 I'm not sure if winning leads to more dialogue. Or if larger crowds translate to the opening of minds and doors in and around City Hall. Or if success on a scoreboard means more in a board room.
It can't hurt.
Baseball divisional races aren't decided in April, but it wouldn't be the longest of shots to suggest the 51s this season are good enough to repeat atop the Pacific Southern standings and again advance to the Triple-A playoffs.
It wouldn't be a stretch, given the wealth of pitching the Mets own throughout their organization, to say Las Vegas should be annual contenders as long as New York remains the local team's major league affiliate.
Las Vegas is trotting out its best team since 2006, back when the Dodgers were the affiliate and the star players were Chad Billingsley and Russell Martin and Jonathan Broxton and Andre Ethier and Joel Guzman.
The 51s are 15-5 this season and off to their best 20-game start in franchise history. They beat El Paso 21-9 on Tuesday.
They have everything championship teams traditionally own.
Well, almost everything.
"I'm out and about in the community every day, on the telephone and computer, and the same things are said," 51s president Don Logan said. "The first thing is, 'Hey, your team is playing really well.' The second thing is, 'What's going on with the stadium?'
"There was a period of time when we were so bad for so long, we couldn't talk about the performance of the team. We had to take that out of the marketing efforts and conversation. But we played very well last season and are again very good this year with some top-level star power, which you don't always get at this level.
"And I think if you ask everyone — players, coaches, staff — it's unfortunate that in arguably one of the best cities in the league and definitely one of the best teams in the league, we have by far the worst facility in the league."
It's a Saturday night on Las Vegas Boulevard and traffic has slowed to a crawl. That's where things are with the 51s and a proposed new ballpark next to Red Rock Resort in Summerlin.
Gridlock hell.
That's where the team's ownership group of Howard Hughes Corp. and local investors find themselves in an attempt to move away from the relic that is a 30-year old Cashman Field and into the sort of modern, fan-friendly facility that offers the type of player development amenities common with professional teams at this level.
Consider: Of the 30 teams between the International and Pacific Coast leagues of Triple-A baseball, only three offer stadiums that opened before Cashman Field (1983). Two have undergone millions of dollars in renovations over time and one team (Nashville) will move into a new facility in 2015.
Of the 30 teams, 14 have opened new ballparks since 2000.
El Paso debuts its $60 million Southwest University Park facility next week. It's a 9,500-seat ballpark funded through private and public dollars, the sort of deal those who now own the 51s are seeking for their project.
But if a recent stance of Mayor Carolyn Goodman doesn't change — that she doesn't think it's right to spend city dollars on a ballpark that will sit on county ground — ownership might have to soon consider an option it hasn't yet wanted to engage: Pay for the ballpark itself.
If Goodman and others at City Hall continue to believe more in the pipe dream and unrealistic notion that yet another proposed arena project will lead to Las Vegas landing an NBA team (it won't) than being part of a group that helps fund a 51s ballpark, those on the baseball side of things might have to more seriously consider privatizing the entire deal.
What might seem a negative today could prove a huge financial positive for years to come, once naming rights have been secured and a $60 million price tag drops to around $40 million.
It might be the only way now.
The NBA isn't coming to Las Vegas. It. Is. Not. Happening.
The National Hockey League might one day, a potential tenant down the road for the new MGM Arena.
But what those at City Hall refuse to see is that a large majority of those who would attend games at the new ballpark in Summerlin and be employed by it and many of the establishments in a surrounding urban village would be city residents.
Once again, small-time thinking is getting in the way a potentially lucrative agreement for all involved.
I'm not sure if winning matters, if the fact Las Vegas has the best team in Triple-A today will in any way alter what are short-sighted opinions by some.
"Winning is part of the development of any organization," 51s manager Wally Backman said. "We can be good for a long time here. They've made some improvements to (Cashman Field). I understand a lot of it is politics. They have made it as good as it's going to get. Give them credit for that. They have made it playable. They've done what is needed for us to survive here."
They can do better than survive.
They can engage a community like never before with a new ballpark, creating jobs along the way.
They just might have to do so themselves.
Meanwhile, I assume City Hall will continue to push for an arena that might never be built while dreaming of an NBA team that will never arrive.
Las Vegas Review-Journal sports columnist Ed Graney can be reached at egraney@reviewjournal.com or 702-383-4618. He can be heard from 11 a.m. to 2 p.m. Monday through Friday on "Gridlock," ESPN 1100 and 98.9 FM. Follow him on Twitter: @edgraney.