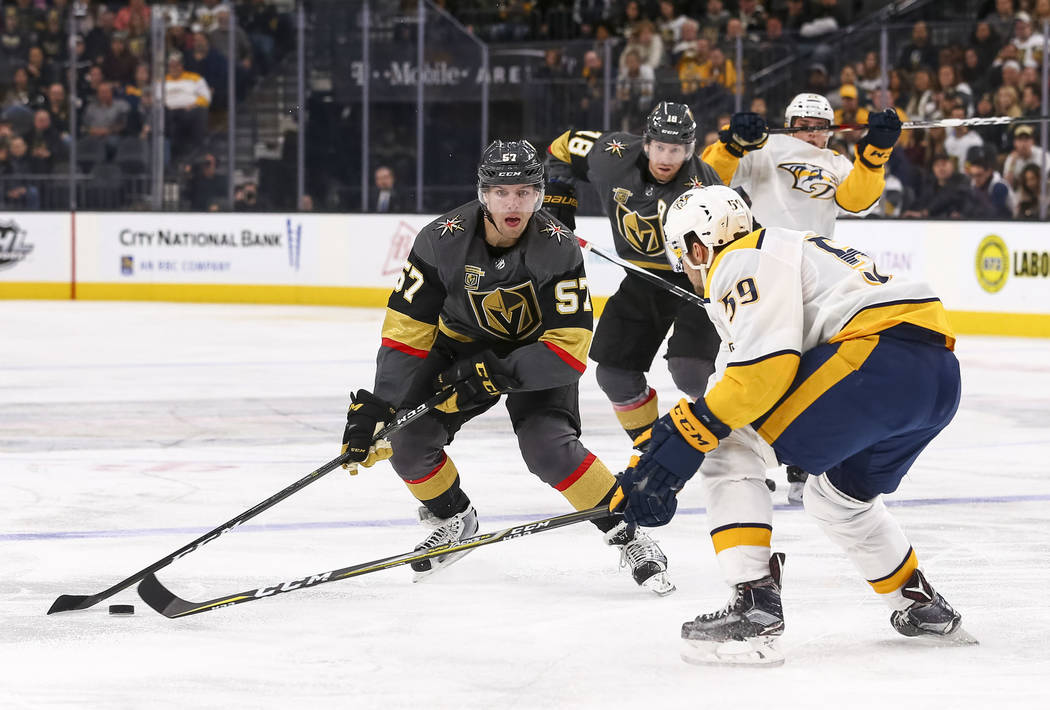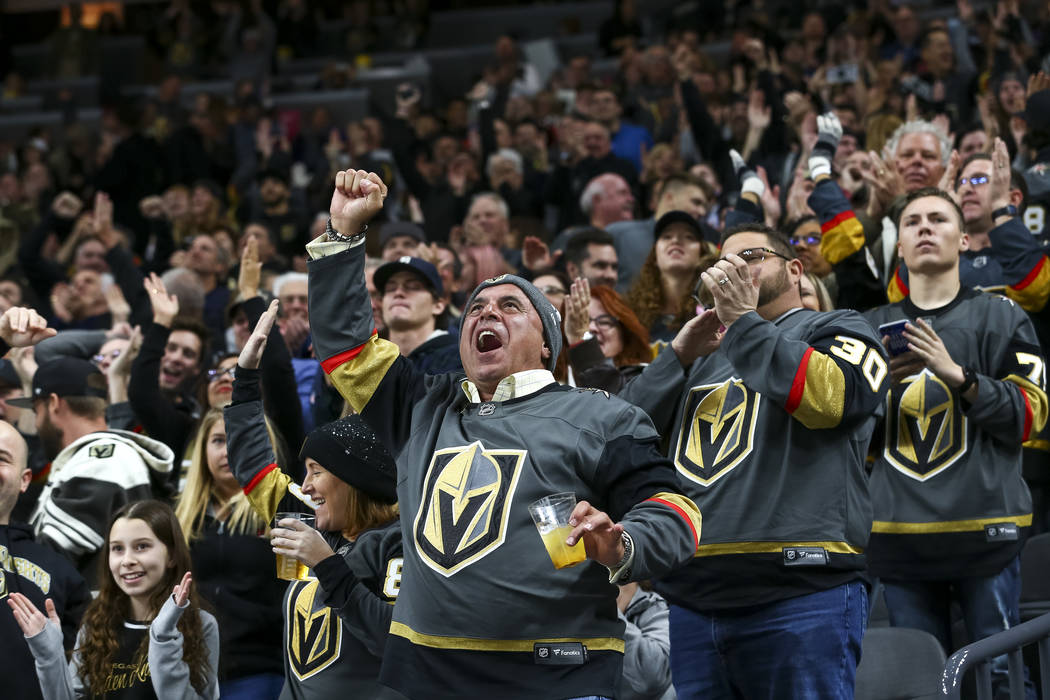 The first announcement came an hour before the puck dropped Tuesday night at T-Mobile Arena, when a bellowing voice welcomed those fans already in their seats to the first Golden Knights game of 2018.
The calendar has flipped, and nothing is as expected, and I'm not talking about Jon Gruden returning to the Raiders.
I would have never believed these words would be typed in this space back in October: George McPhee over the next several months needs to be a general manager who thinks with his heart over his head.
He needs to go for this thing and leave any thoughts of the future tucked away.
The Knights to this point have defied a preseason forecast of typical expansion doom and gloom, rushing past most opponents to the best start in history for a first-year team and engaging a community in incomprehensible and thrilling and emotional and remarkable ways.
That last part matters as much as anything, perhaps more than it should.
But it's huge. Nobody could have predicted how this team and town would so effortlessly connect.
Vegas opened the year with a 3-0 win against Nashville before 18,171, a Predators team that as an eighth seed made the Stanley Cup Finals last year and is again in solid position for a postseason berth within a Western Conference that should prove more competitive than the East inside the playoff bubble.
The West is deeper. It's more competitive.
It's also a conference title the Knights — who have now won eight straight and are 17-2-1 at home — need to chase with everything they have.
Gerard Gallant doesn't want to talk playoffs, nor does the Knights coach want his players commenting on the possibility of reaching hockey's most intense and exciting segment to any season, and that's a smart and understandable and experienced approach.
But there's a reason January is also a time those within an organization first glance at standings and point totals in a more-than-casual way.
Things get pretty serious from here on out.
Three months ago, the easy and, really, correct assumption would have been McPhee approaching a Feb. 26 trade deadline as a big-time seller with the idea of continuing to stack draft picks as a way to build long-term success.
James Neal is an unrestricted free agent after this season. Teams covet pure scorers. David Perron's deal is also up. Teams really covet guys who are a pain in the butt to play against. Jonathan Marchessault and his scoring ability also could walk. William Karlsson is a restricted free agent.
All are names most expected to be among those others approached McPhee about, and nothing says that still won't happen.
But if the Knights are in it when those calls come, then stay in it.
Look, any deal involving draft picks is always a risk — who knows what they might ultimately produce? — and there's absolutely no proof that by keeping the Knights in tact for a possible deep playoff run would guarantee long-term harm.
Bill Foley will spend money in the off season, a Knights owner who will assuredly take his team further away from the floor of the salary cap. Vegas could see as much as $14 million come off the books from players like David Clarkson and Clayton Stoner and Mikhail Grabovski departing.
The atmosphere of T-Mobile and community support and tax breaks and winning have every chance to sell those already here on staying, not to mention perhaps enticing others to join. For the ninth time this season Tuesday, a home gathering in excess of 18,000 cheered the Knights.
"It means a lot," said goalie Marc-Andre Fleury after his second shutout of the season. "Every night is fun to play here. (The crowd) gives us a little boost. It's so loud and people get so excited and it's a good thing, the support they have given us."
It has mattered beyond belief.
The calendar has flipped, and nothing is as expected.
It's January, and the Knights own a Western Conference-leading 56 points.
Until proven an unintelligent strategy due what would be a momentous stumble, those making decisions needs to shift into a unanticipated gear: Heart over head.
Go for it with everything you have.
Futures are overrated, not to mention altogether unpredictable.
Contact columnist Ed Graney at egraney@reviewjournal.com or 702-383-4618. He can be heard on "The Press Box," ESPN Radio 100.9 FM and 1100 AM, from 11 a.m. to 2 p.m. Monday through Friday. Follow @edgraney on Twitter.