Misfit group of Golden Knights continues improbable start
November 24, 2017 - 8:23 pm
Updated November 24, 2017 - 10:06 pm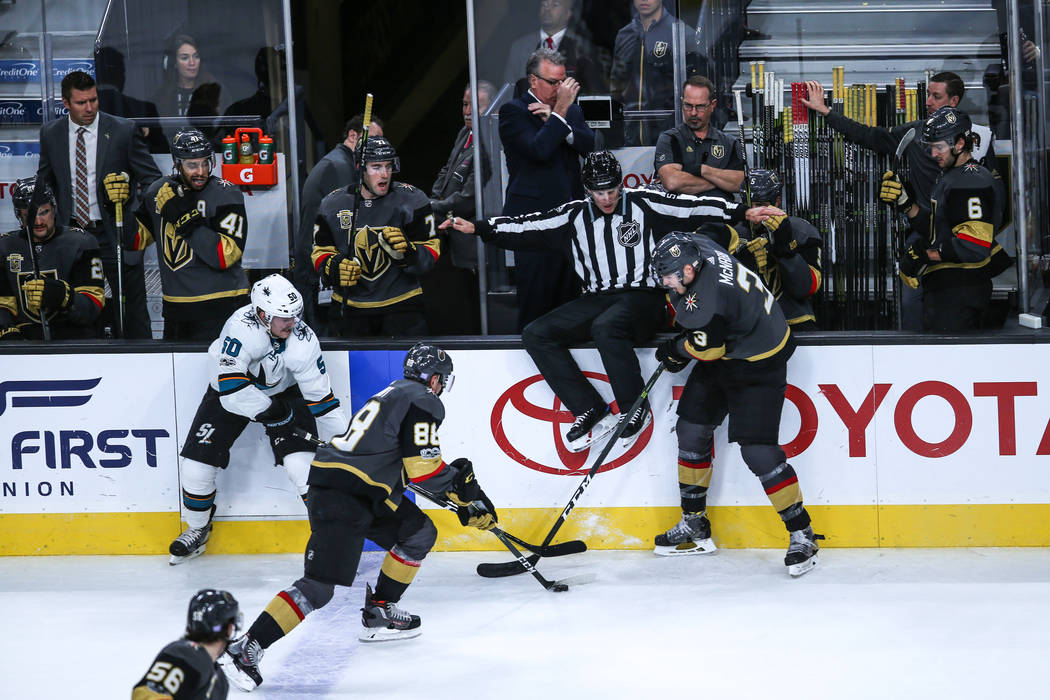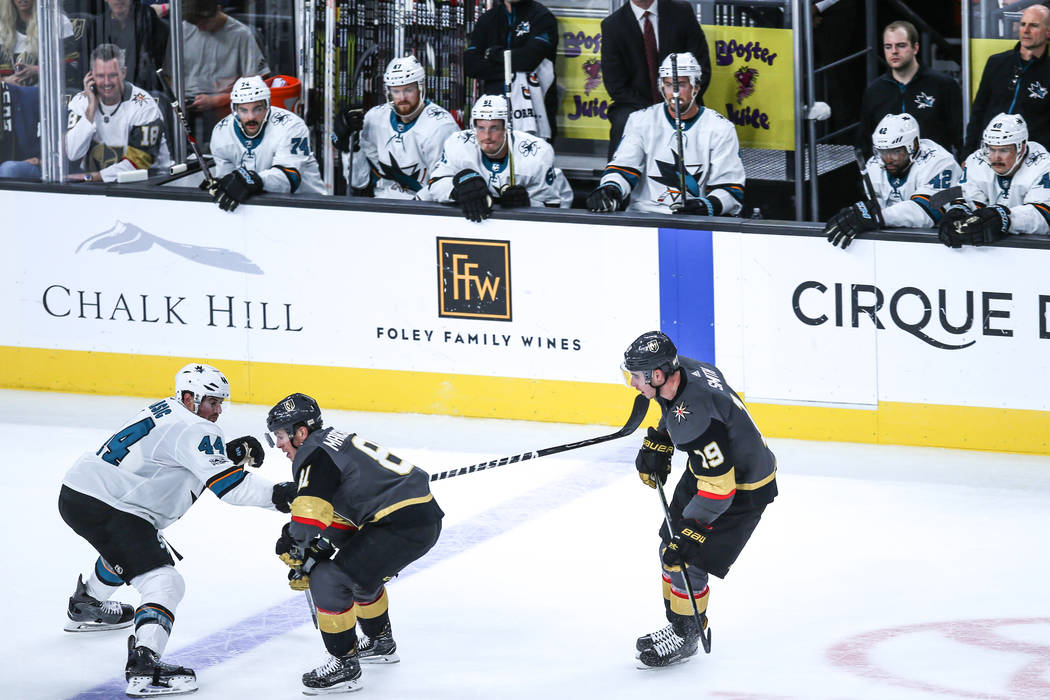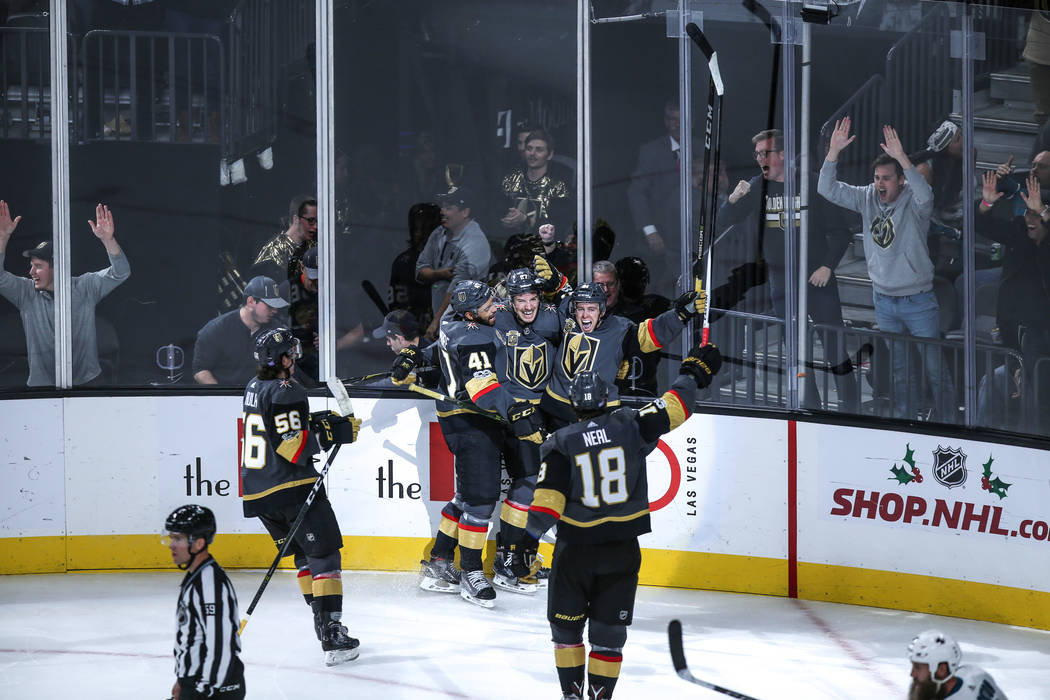 It usually goes like this: About an hour before each game, Golden Knights coach Gerard Gallant meets with media to preview the opposing team.
He is asked about how his side will deal with and contain those leading players sure to be a handful on the ice, how it will combat, on a given night, names such as Connor McDavid or Jack Eichel or John Tavares or Patrick Kane or Joe Thornton or whoever the superstar of the moment happens to be for the other guys.
The opposing coach also talks to the media.
I can only imagine his answer when questioned about who worries him most on the Knights.
Um, everyone?
"We are a group of misfits who all came to this organization hungry," said center Pierre-Edouard Bellemare. "What is happening is bigger than hockey right now. It's all about the town, and it has been like this since the beginning.
"It doesn't matter who is going to score the goal, make the pass, block the shot. We don't care about any of that. The only thing that matters, at the end of the day, is getting those two points."
They did so again Friday on an afternoon when the Knights were anything but their best, losing all of a three-goal lead before making San Jose their latest T-Mobile Arena victim in a 5-4 overtime win.
The Knights, first place in the Pacific Division, are 9-1 at home.
Who is most responsible?
Um, everyone?
It actually makes sense in a season during which nobody can comprehend how an expansion team has become one of the great stories in sports. The theory is when you collect a group of players that, for various reasons, other teams were willing to lose, things such as character and a craving to prove others wrong can create success.
Here's an even better part: It's not as if the Knights are stealing wins or relying on some sort of hockey voodoo to win.
There's no witchcraft involved.
They led San Jose 4-1 and weren't even playing well, tired legs and being on the wrong side of the puck more than not, far from the near flawless effort in a victory Wednesday at Anaheim.
The Knights played well in overtime, but were hardly great in the preceding three periods.
But good teams — and it's fairly evident this is one — discover ways to overcome shoddy stretches.
Good teams respond.
"It's always different guys jumping in and helping, everyone playing hard for the guy sitting next to him on the bench," Bellemare said. "This is a different situation. The organizations we were all with, whether it was a good or bad situation, decided not to protect us.
"The (Knights) went through a hell of a lot to create a team and take the best 23 guys. It wasn't about who was going to be the best player. It was about connecting us all together, and with that comes loyalty from us and the desire to fight for the organization every night. This doesn't feel like a start. It feels like we have been here a long time."
How else can you explain the Knights having already played five goalies and yet having 29 points through 21 games?
Or five players having 18 or more points and eight others at least 10?
Or a guy such as center William Karlsson, whom his teammates insist isn't the fastest skater and doesn't have the most powerful of shots, having already scored three more goals (12) than his career high?
Most people don't realize the misfit toys were never saved in the original "Rudolph the Red-Nosed Reindeer" television movie. But then people across the country went nuts and inundated NBC with nasty letters, and the network shot a different ending to the classic Christmas tale.
As for the misfit Knights, well, Santa Claus himself was in the stands Friday.
His magic wasn't needed.
Saint Nick was relegated to just another amazed spectator to the Knights' winning at home.
"We're one of those blue-collar teams that works hard and different guys are scoring," Gallant said. "Everybody chips in, and that's the only way we'll be successful. For us to get those two points was big for the guys. They could have given up, but they didn't. The guys are battling, and we're playing together as a team.
"When we picked our team in the expansion draft, we got a lot of character people and hard-working guys. They're a meat-and-potatoes type of crew. I hope it continues, because I really like our team. We compete and find ways to win."
There's a reason for that.
Um, yeah, pretty much everyone.
Contact columnist Ed Graney at egraney@reviewjournal.com or 702-383-4618. He can be heard on "The Press Box," ESPN Radio 100.9 FM and 1100 AM, from 11 a.m. to 2 p.m. Monday through Friday. Follow @edgraney on Twitter.
Game day
Who: Golden Knights vs. Coyotes
When: 5 p.m. Saturday
Where: Gila River Arena, Glendale, Ariz.
TV/Radio: AT&T SportsNet; KRLV (98.9 FM, 1340 AM)