Mother of Ali takes over Rebels volleyball program
December 28, 2010 - 12:00 am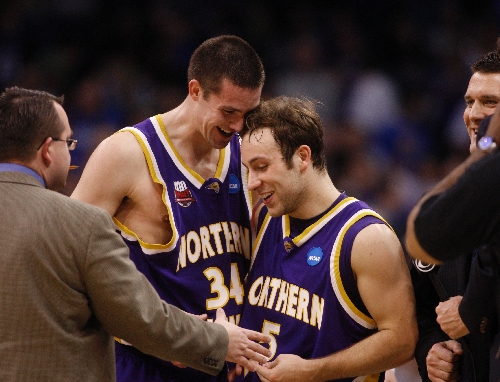 Cindy Fredrick is the new volleyball coach at UNLV. This newspaper's editorial policy is decided at a much higher level than a lowly sports columnist, but my opinion would match that of fellow lowly sports columnist, Ron Kantowski. He believes Fredrick should henceforth be known as The Mother of Ali Farokhmanesh.
It could be this way. It should be this way.
It must be this way.
If you prefer something shorter, we will settle for The Mother of Ali.
She spent 24 years at the Division I level, coaching Weber State, Washington State and Iowa. Her teams made 10 NCAA Tournaments, reaching two Elite Eights.
The majority of her success came in Pullman, Wash., where she earned more wins (278) than any women's coach in school history. There were reports near the end of her time there of several players transferring or quitting. In four seasons at Iowa, the Mother of Ali went 48-82 overall and 9-71 in the Big Ten before resigning.
She then took time off from coaching to watch her son play basketball at Northern Iowa before spending the last year at Division III Luther College in Decorah, Iowa.
She is here because UNLV athletic director Jim Livengood hired her at Washington State and thinks she can improve a program that went 10-20 last season and is 108-96 the last seven. That's all fine and dandy. Let's get to the important part:
Do you think when passing The Mother of Ali's office, basketball coach Lon Kruger will do so wearing a black robe and hood while holding a cross in one hand and garlic cloves in the other?
You remember Ali, no? The kid from NIU who became a March Madness cult hero to basketball junkies everywhere upon hitting huge 3-pointers in eliminating UNLV and Kansas in Oklahoma City, the one against the Rebels coming with 4.9 seconds left and from-neighboring-Edmond.
Maybe it was because he looked like a guy who strolls into the local recreation center hoping not to be picked last when sides are chosen and then proceeds to kill it on the court, but rare has a 3-pointer launched during weekly pickup games since March when we haven't screamed, "FAROKHMANESH!"
Maybe it was because his name is one Pat and Vanna would struggle spelling or that he is listed at 6 foot but looks 5-10. Maybe it was because when you think of college basketball in March, stories like the one Northern Iowa wrote and shots like the ones Farokhmanesh made are what define the greatest sporting event we know.
And now, The Mother of Ali will wear scarlet and gray. So will The Father of Ali, because Dr. Mashallah Farokhmanesh has assisted his wife throughout her coaching career and will do so with the Rebels.
Imagine if Mike Krzyzewski's wife became athletic director at North Carolina, or if a lead designer at Armani took a job with Dolce & Gabbana, or if the CEO of Coca-Cola was seen sipping a Pepsi Max.
"When I was making travel arrangements to come (to UNLV), the person at the school asked my husband's name," The Mother of Ali said. "I hadn't got through spelling half of the last name when she said, 'Is your son the one who made the shot against us?' I laughed and told her yes. She said, 'Oh, my God, and we hired you!'
"At the time of that (NCAA) game, I didn't even know (Livengood) was at UNLV. But when I wrote to him and asked why he didn't come to say hello, he wrote back and said thanks to Ali, they weren't there long enough.
"I can't wait to get started. Coaching is what gets me going. It gets me excited. It's my lifeblood."
It might also be that of her son. Ali now plays professionally in Switzerland but would like to one day draw up plays for game-winning 3-pointers, rather than taking them. He follows programs and coaches closely. He soaks up every X and O.
Get this: One of those he admires most is one he sent packing in March.
"Coach Kruger does an amazing job, and UNLV has a great program and tradition," Ali said. "He is one of the coaches I really look up to — the way he handles himself and his team. It's very respectable."
Ali would even like to work out and play pickup games with UNLV players in the summer. That is, if the kid is allowed within 10 miles of the campus.
Imagine: The Mother of Ali coaching at UNLV and Rebel players running up and down the court screaming "FAROKHMANESH!" when shooting 3s.
What's next, Lee and Sarah Cummard being announced as main benefactors to Kruger's program?
Las Vegas Review-Journal sports columnist Ed Graney can be reached at egraney@reviewjournal.com or 702-383-4618. He can also be heard from 2 to 4 p.m. Monday and Thursday on "Monsters of the Midday," FOX Sports Radio 920 AM.