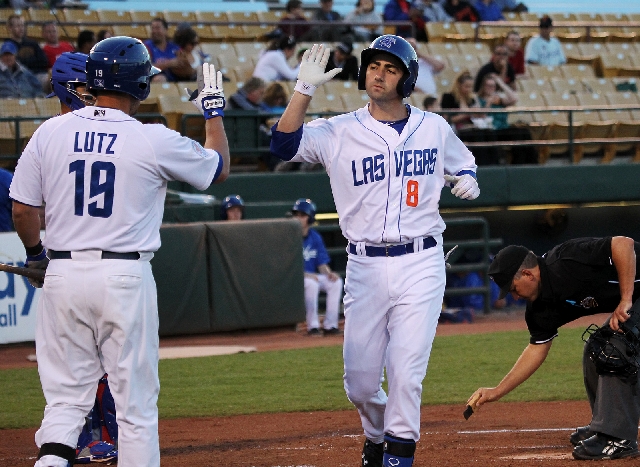 Things are different for Wally Backman in Las Vegas. He still fills out those daily Triple-A evaluations, still informs the New York Mets organization about the progress of its top prospects, still hands out grades as to how guys are performing at this level.
The wording, however, likely has changed a bit.
What a typical report from Buffalo might have read after a game last year: Player A went 3-for-4 with a double and home run, drove in three runs and handled off-speed stuff well.
What an evaluation from here might read this season: Player A went 4-for-4 with two home runs, neither of which would have cleared the fence at Summerlin North Little League field.
"It's a tough league to pitch in, no doubt," said Backman, manager of the 51s.
It's night and day, bus and plane, pitch to contact and pitch with the fear the next popup is going to travel 400 feet. So goes the differences between the International League of Triple-A baseball and the Pacific Coast League, to where Backman and several of his players worked in 2012 to where they are now.
The map of Triple-A teams tells a big story. On one side sits 14 from the International, crunched together across the East Coast and most accessible by your average Greyhound-type coach.
On the other are 16 from the PCL, stretching from Tacoma to New Orleans, a league whose players are more than familiar with the jokes of flight attendants from Southwest Airlines.
Travel makes a difference, and it has been an adjustment for those 51s players and coaches who got used to arriving in a city by bus at 4 a.m. and sleeping most of the day before heading to the ballpark.
Now, even all those direct flights to and from Las Vegas often include 5 a.m. wake-up calls.
Statistics tell a bigger tale. The PCL is about hitting, about places like Reno and Colorado Springs and Albuquerque and Salt Lake City and here at Cashman Field, where things like hot summer air and altitude can distort offensive numbers.
A small but telling sample to consider: In the past three seasons, 15 PCL pitchers have posted ERAs under 4.00 as compared to 51 in the International League. In contrast, 93 PCL players have hit better than .300 while 29 from the IL managed such a mark.
Even in a time when humidors are the trendy option to help deaden baseballs in altitude-defined cities, squaring up pitches in the PCL usually gets you far more extra-base hits than it would in Syracuse or Pawtucket.
Which can drive those on the mound, well, wacky.
"They start trying to throw the perfect pitch instead of just attacking the zone," said Backman, whose team has put up at least 10 hits in 17 of its 30 games. "What's going to happen is going to happen. We know popups are going to go for home runs from time to time in this league. Our last home stand, there were seven balls hit out that weren't home runs.
"Our pitchers just need to trust us. It's about strike percentages more than anything. When a guy is throwing 47 percent strikes because he doesn't want to (pitch to contact), that's not good, especially when you know the guy can throw 70 percent strikes. When they start pitching away from contact, we remind them that a walk in this league generally means two runs."
So you continue to massage the egos of pitchers and hope those of hitters don't spin out of control.
They're human. They get caught up in the moment like anyone. When things are going well with the bat, they rarely ask questions or wonder why.
But even the strongest mind wavers at times.
"I hit four home runs our first six games this season and then went into a funk because I was trying to recapture it," 51s first baseman Josh Satin said. "It's a double-edged sword because while some of the (ballparks) in this league can help you, you start trying to hit (home runs), and it doesn't happen. You just have to maintain your approach and be who you are. Stay with your plan."
Satin did so in his first at-bat Tuesday, when the 51s opened a four-game series against Round Rock. He drove a pitch over the right-field wall for his first home run since April 13, since he went into that funk trying to recapture some early power.
It was a nice shot.
It easily would have cleared the fence at Summerlin North Little League.
Las Vegas Review-Journal sports columnist Ed Graney can be reached at egraney@reviewjournal.com or 702-383-4618.