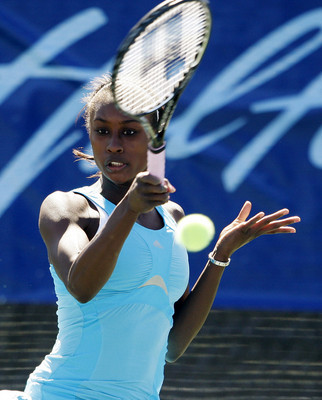 Asia Muhammad is an ideal case study for how difficult it is to make it in professional tennis, of how good genes and proficient skill and excellent coaching and vast financial support from one of the greatest players in history ensures you nothing more than an opportunity.
It's a brutal road to travel, filled with thousands of comparable players sharing a similar dream. Muhammad is the kind of engaging person you hope will be one of the few who realize theirs, one who can successfully hit enough winners to overcome such a cutthroat world and achieve at an immense level. So few do. The odds are unbelievably long.
"I want it so bad," she said.
The Las Vegas home-schooled resident is a month from turning 17 and committed today to pursuing a pro career and bypassing college, a decision that could change in a year should her results suggest enrolling at a university would be a more intelligent choice. It certainly wouldn't be the worst one for her.
People have no idea how competitive pro tennis is, how many good players there are, how residing within the top 100 is an impracticable goal for most. Muhammad on Wednesday had one of her best wins since beginning this journey last year, beating Melinda Czink 6-4, 6-0 in an opening-round match of the Hilton Cup at the Darling Tennis Center.
Czink is ranked No. 143 in the world, 477 spots higher than Muhammad. It was a match dictated in high winds by Muhammad's power and creativity, and the fact Czink played the last three games like she would rather have been enduring water torture than standing on a court.
But you can't dictate an opponent's effort level any more than you can predict where Muhammad's ceiling as a player might ultimately prove. She is an incredibly conditioned athlete whose father played basketball at Southern California and whose mother also played basketball and ran track in college.
She has benefited from the coaching of local Tim Blenkiron and continues to have the financial backing of the Andre Agassi Foundation, which covers her travel expenses. She has hit the practice courts with and received counsel from Agassi's wife, former tennis great Steffi Graf.
It's not as if a few doors have been opened for Muhammad, but rather an entire apartment building's worth.
"There is a ton of pressure on her, being sponsored by Andre and being (in Las Vegas)," said Blenkiron, a former UNLV standout who won the NCAA doubles title in 1997. "Some might say it's a reason to fail. I say it's a reason to succeed. I want her to embrace the pressure, because at the end of the day, all big matches come with it. If you can't deal with it, you falter.
"She has gone through the gauntlet already and played some nervous matches and had some poor performances, which has all led up to her playing as she did (Wednesday). At 16, that's pretty encouraging. She has all the tools. She has everything she needs other than the mental part of the game every single day."
Which means she is like most everyone. Many hit hard and serve big and run others breathless at this level. Before Wednesday, Muhammad won a Futures event in Houston last year and managed a victory against a top-125 player in Bethanie Mattek. They are notable achievements and yet Muhammad right now swims in a pool full of hopefuls trying to be the select few capable of mastering that mental edge. She is a very good player. There are lots of them.
With this being her path of choice, there is no room for doubt. You can't expect to compete and win in such a competitive arena and not be completely satisfied it's the best decision. "She has to be committed 100 percent to being a pro for now," said Blenkiron, "and I don't think there is any reason not to be."
Muhammad has been smart not to accept prize money, leaving her the option of attending college, which she says would be Southern California. It's not that she despises the idea of continuing her education; she simply wants more than anything to live a professional's life. But she has time to make that decision, and would be wise to think long and hard about it.
"I have been given every opportunity someone could ask for," said Muhammad, who next plays seventh-seeded Tatjana Malek today at 11:30 a.m. "I am so grateful to the (Agassi Foundation) being there for me. I wouldn't consider it a failure going to college after next year, but I'd rather just go pro and travel. I want to keep this going."
Here's hoping rational minds offer her the most sincere and sound guidance. In such cases, a second option is never a terrible thing to own.
Ed Graney's column is published Sunday, Wednesday, Thursday and Saturday. He can be reached at 383-4618 or egraney@reviewjournal.com.