Nogueira raising awareness for injured team roping partner Barnes
December 3, 2015 - 11:51 pm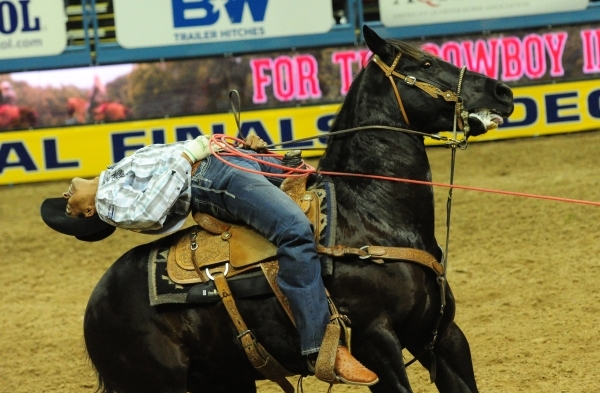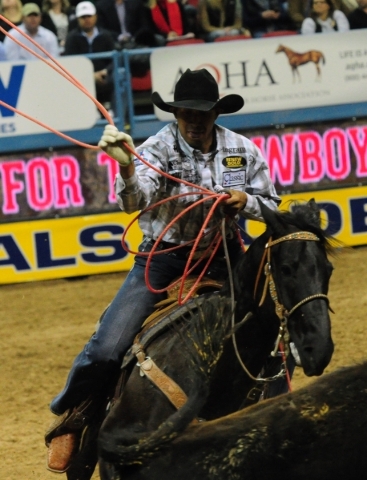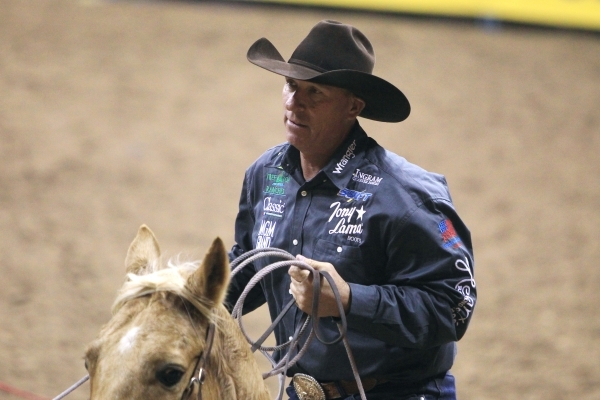 He knelt beside a hero to many and began to pray:
"I asked God not to let this happen, that I loved him for all he had done for me and it shouldn't end this way. Please, don't let this happen. He wasn't breathing. He was turning different colors. Finally, after a minute or so, he came back. He didn't recognize me at first. Didn't know what happened. Said he wanted to get back on the horse and rope more. I told him he couldn't. He got mad at me. I told him I wouldn't rope, that he had been hurt very badly. But he wouldn't listen. He got back on the horse and roped a few more steers. Then the ambulance came, and we convinced him to go to the hospital. He didn't know the day, the date, nothing. He couldn't remember. He was very hurt. If he didn't go right then, he dies."
Jake Barnes was bleeding in three places within his brain, his ankle broken and a hand badly injured. His horse had fallen during a training run and stepped on Barnes, leaving the 56-year-old and seven-time world champion team roper in a dangerous and traumatic place.
So he woke up, stood up and got back on his horse.
I guess Barnes really takes seriously that Code of the West stuff about living each day with courage and always finishing what you start.
Cowboy tough or cowboy crazy?
It's a fine line.
Junior Nogueira's voice cracks when recounting the story of what happened at Barnes' practice arena in Scottsdale, Ariz., a day after Thanksgiving, when his teacher and friend and mentor lay motionless on the ground and there was no one in or around the house to help. He imagined the worse.
The National Finals Rodeo began Thursday at the Thomas & Mack Center, and Nogueira was without his teammate of almost two years, without his surrogate father, Barnes having been replaced by JoJo LeMond.
In the first of 10 go-rounds, Nogueira and LeMond cashed for $5,500 by finishing tied for fifth in 4.6 seconds.
This is how relationships are sometimes forged in rodeo: Nogueira had a dream when he arrived from Brazil in 2013, a rodeo star in his native land whose parents were both accomplished ropers. He had grown up watching DVD tapes of Barnes winning his world titles, and wanted more than anything else to meet him.
So he showed up in Phoenix, made enough contacts to land on the Barnes ranch one day, roped 15 or so steers during a clinic and impressed the boss enough to secure a place to live and compete with the king himself.
Barnes was that taken with the young roping heeler.
"Jake and his wife and family have taken me in, done everything for me," Nogueira said. "I am trying to stay positive because this is the finals, but it's very emotional knowing what happened. He is the reason I am here …"
Nogueira is 25 and LeMond 33, and within both is a deep, profound respect for Barnes and all he has meant to rodeo. It seems many hold him in such reverence.
Toni Barnes set up a fundraising account to help offset her husband's medical bills, and within the first 72 hours of the efforts beginning, 332 people had contributed more than $60,000. On Thursday, the total was more than $83,000.
It's a long way back for Barnes, who was alert and talking once at the hospital and has begun the recovery process. He is a Hall of Famer who holds the finals record for most go-round wins by a team roping header at 31 and in 1994 set the team roping average of 59.1 seconds on 10 steers with then-partner Clay O'Brien Cooper. Jake Barnes is all that is good about rodeo, and this would have been his 27th finals appearance.
Instead, the telephone rang out on the middle of Texas, and LeMond went from tending to first-calf heifers to making plans for Las Vegas and for a friend to transport his horse from Colorado.
It all sounds sort of chaotic, especially the part about the heifers.
I suppose that's calving for you.
I have a tough enough time tying my shoes.
"Jake Barnes has been my hero since childhood," LeMond said. "He's a legend and will be the rest of his life. It's a blessing watching that guy compete. I don't want to be here under these circumstances. It's heartbreaking. I'd give anything for Jake to be here and me watching him on television.
"We all know the risks and that horses have brains of their own. The horse wasn't trying to hurt Jake. But he stepped on him and hurt him bad. It was a freak thing. I know people who walk across the same street for 30 years, same steps, same everything, and nothing happens. And then one day, they get run over.
"You just can't prepare for some things."
Ed Graney can be reached at egraney@reviewjournal.com or 702-383-4618. He can be a heard on "Seat and Ed" on Fox Sports 1340 from 2 p.m. to 4 p.m. Monday through Friday. On Twitter: @edgraney