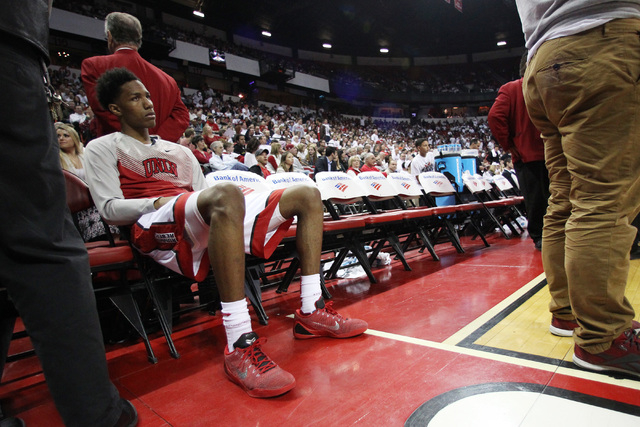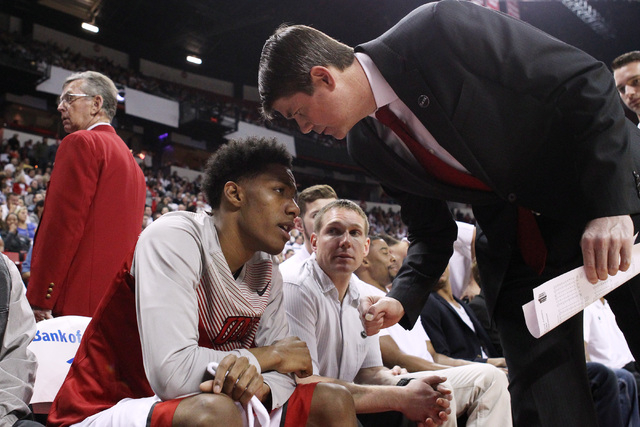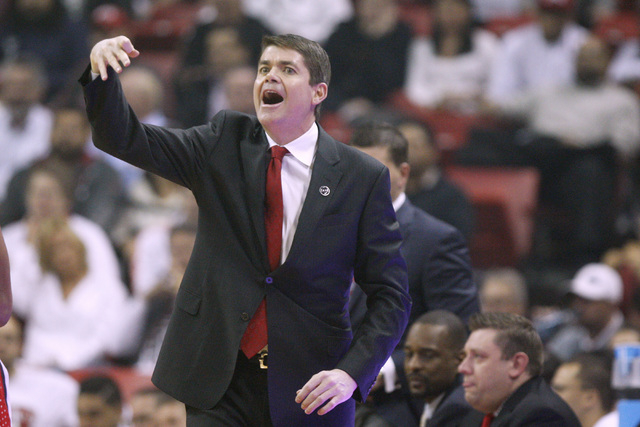 When the ship continues to take on water, when large holes continue to appear one after the other, it matters not how much you splash your arms and try to stay afloat.
Eventually, you sink.
That might have been the eventual outcome for UNLV's basketball team Wednesday night, but it didn't occur before the Rebels fought their tails off to remain on the surface.
In defeat, UNLV just might have defined its season-long mantra better than any of its previous 29 games.
All In, All Together.
And a few players short.
San Diego State beat the Rebels 60-58 before 13,454 at the Thomas & Mack Center, guaranteeing for UNLV what had been decided earlier in the evening with Fresno State's victory against Air Force.
The Rebels will open the Mountain West Tournament in a play-in game on Wednesday, with seeds 7-10 still to be decided.
Should it land in the 7-10 game and win, UNLV would likely get a quarterfinal match with the Aztecs.
It's tough enough to beat San Diego State with a full complement of healthy bodies, having to deal with the nation's third-ranked defense and all sorts of pressing action.
But if you are without your leading scorer and then lose the player who has been your best offensive weapon since that leading scorer went down, well, that UNLV was in this until the end speaks of its effort.
"We have been doing that all year," UNLV coach Dave Rice said. "We've been through a lot of challenges and adversity, but haven't once talked about that. Whoever we have out there plays hard.
"We have a tremendous amount of respect for San Diego State. We knew how hard they would come in here and play still fighting for a conference championship. We knew they would bring it, especially after losing on their home floor to Boise State (on Saturday). San Diego State is a winning team. They have a wonderful program.
"But we have been able to bounce back all season, and no matter who we have available at San Jose State on Saturday, we'll continue to stay together."
UNLV is much easier to defend without freshman Rashad Vaughn, who has missed the past six games following knee surgery and likely is done for a season in which he averaged 17.8 points.
The Rebels are really easy to defend without Vaughn and freshman Patrick McCaw, who had averaged 16.2 points the previous five games and went down early in the second half after being unintentionally head-butted by teammate Chris Wood.
McCaw was diagnosed with concussion-like symptoms and will be re-evaluated today. He played 24 minutes.
"You have to give (UNLV) credit," San Diego State coach Steve Fisher said. "With six guys playing most of the second half, they competed. They competed like crazy."
The bench just keeps getting thinner, which means any sort of foul trouble, especially in a game such as this, won't produce positive results. Dwayne Morgan is playing the best ball of his freshman season — he had 13 points and two rebounds Wednesday — but foul trouble limited him to 14 minutes.
He sat longer in the second half than Rice would have preferred, but UNLV's coach wanted a better defensive matchup on San Diego State senior JJ O'Brien than the Rebels offered over the first 20 minutes.
O'Brien might be college basketball's most cerebral player, one who scored a career-high 22 on Wednesday, with 16 coming in the first half. Seemingly every time the Aztecs needed a key basket, O'Brien delivered.
"I personally think Derrick Marks (of Boise State) and JJ are the two candidates for conference Player of the Year," Rice said. "JJ's stats don't tell the entire story. He's a leader. He scores more on the road than he does at home. He does what winning players do. He makes winning plays. It's a credit to (San Diego State coaches) for what they have done with him and a credit to JJ's character."
So here is reality: UNLV is 16-14 overall, 7-10 in conference and ends the regular-season at San Jose State, one of the worst programs nationally. Then, the Rebels face a challenge of having to win four league tournament games in four days to make the NCAAs.
There is no chance they will be at full strength for such a task.
But as the boat took on water against one of the country's best defensive teams Wednesday, the Rebels never stopped splashing their arms.
That says something.
"I think we played a good game," senior guard Cody Doolin said. "Obviously, San Diego State is a really good team. But to be down to six scholarship players against a former Top 25 team that is tied for first in our league and play them to a two-point game, I don't think we have anything to hang out heads about.
"We gave ourselves a chance to win. But playing against their pressure and the depth they bring off their bench, we just ran out of gas."
And never stopped splashing.
Las Vegas Review-Journal sports columnist Ed Graney can be reached at egraney@reviewjournal.com or 702-383-4618. He can be heard from 11 a.m. to 2 p.m. Monday through Friday on "Gridlock," ESPN 1100 and 100.9 FM. Follow him on Twitter: @edgraney.