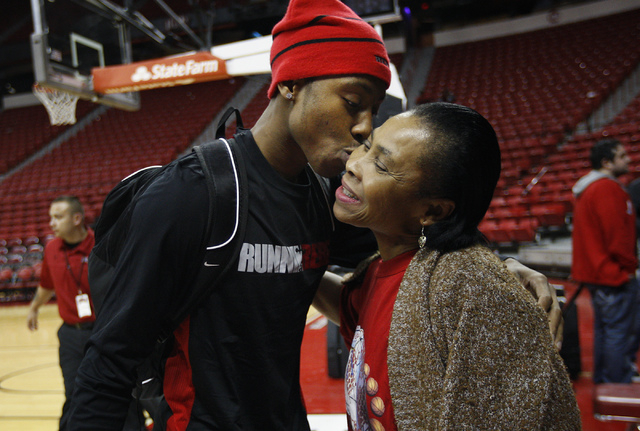 Senior Night stories are often vast and elaborate and emotional. You can pack a lot of memories into four or five seasons.
You can also make an incredible impact in just one.
Kevin Olekaibe was drawn home to family, for the chance to help his mother and siblings, tugged back to the reality that his father in all likelihood wasn't coming back from the two strokes he had suffered since 2008. His was an NCAA transfer waiver defined by love.
UNLV's basketball team hosts No. 10 San Diego State tonight in a Thomas &Mack Center that is sure to be rockin' and rollin' and all amped up for a visit from the Rebels' chief Mountain West rival.
Beforehand, seniors Olekaibe and Carlos Lopez-Sosa will be honored.
Never define one's significance on length of stay.
Olekaibe played just this one season at UNLV, a former Cimarron-Memorial High standout who transferred from Fresno State and has had the sort of positive impact even coach Dave Rice and his staff couldn't have imagined.
On the court, he has been a consistent long-range source on a team of pedestrian shooters. He is shooting 36 percent on 3-pointers and has attempted a team-high 185. The Rebels shoot 32 percent as a team on 3s.
Off it, Olekaibe has been the leader perhaps no one expected, a young man whose personal struggle with watching his father exist in such a dire state has allowed him a sense of perspective often lost on someone so young.
"I think Kevin wakes up each day appreciating life a little more than most," Rice said. "What he has gone through with his father has definitely matured him. He has obviously been incredibly important to our team statistically, as coachable and positive a kid as we've had. But while he is only here a year, his impact on our program will be felt for a very long time.
"Kevin is a quality individual, and his leadership and attitude have really made an impact on our young players, who have learned from him what it means to be a player at this level. You will see that as our freshmen become sophomores and sophomores become juniors and so on next year. Kevin brought 100 percent effort every single day, no matter what might have been happening off the court with his father."
It couldn't have been easy.
Benson Olekaibe suffered his first stroke in 2008 and a second one two years later, leaving him paralyzed from the waist down and unable to speak. He is in hospice care, where his wife, Esther, sits by his side daily and where their children can help her tend to their father's needs.
Upon transferring from Fresno State, Olekaibe came to an agreement with Rice that went like this: If his father's condition worsened to the point that he was needed, practice or games or anything basketball related would not stand in the way of him immediately leaving the team to be with his family.
The first such time came during preseason practice, when Olekaibe telephoned his coach one Friday evening and said his father was being moved from hospice to the hospital.
The second also came on a Friday, when the Rebels were in Logan, Utah, preparing for a game against Utah State the following day.
Olekaibe's father had taken a significant turn for the worse, and his mother was on the other end of a telephone line telling her son that it was important he stay with his team and play a game the Rebels would dedicate to their teammate and his father.
Olekaibe would miss his first three 3-point attempts against the Aggies.
He then would score 16 of his season-high 21 points in the second half, and the Rebels prevailed 73-62.
"Kevin has made a major difference for this program in a very short time," Rice said.
"I knew him a little bit when I was coaching (at Brigham Young) and he was at Cimarron-Memorial, but to see now all he has gone through and the young man he has become … I'll miss most the relationship we have been able to develop. It got to the point where we might have even took him for granted a bit this season. He was that reliable for us in every way," Rice said.
He has been something special beyond the 10.6 scoring average and 30.2 minutes per game and all the big shots he has made.
UNLV isn't 19-10 without him this season. It's just not.
Senior Night stories are different in every way each year.
Kevin Olekaibe came home for his family.
As an aside, he managed one heck of a season.
Las Vegas Review-Journal sports columnist Ed Graney can be reached at egraney@reviewjournal.com or 702-383-4618. He can be heard from 11 a.m. to 2 p.m. Monday through Friday on "Gridlock," ESPN 1100 and 98.9 FM. Follow him on Twitter: @edgraney.