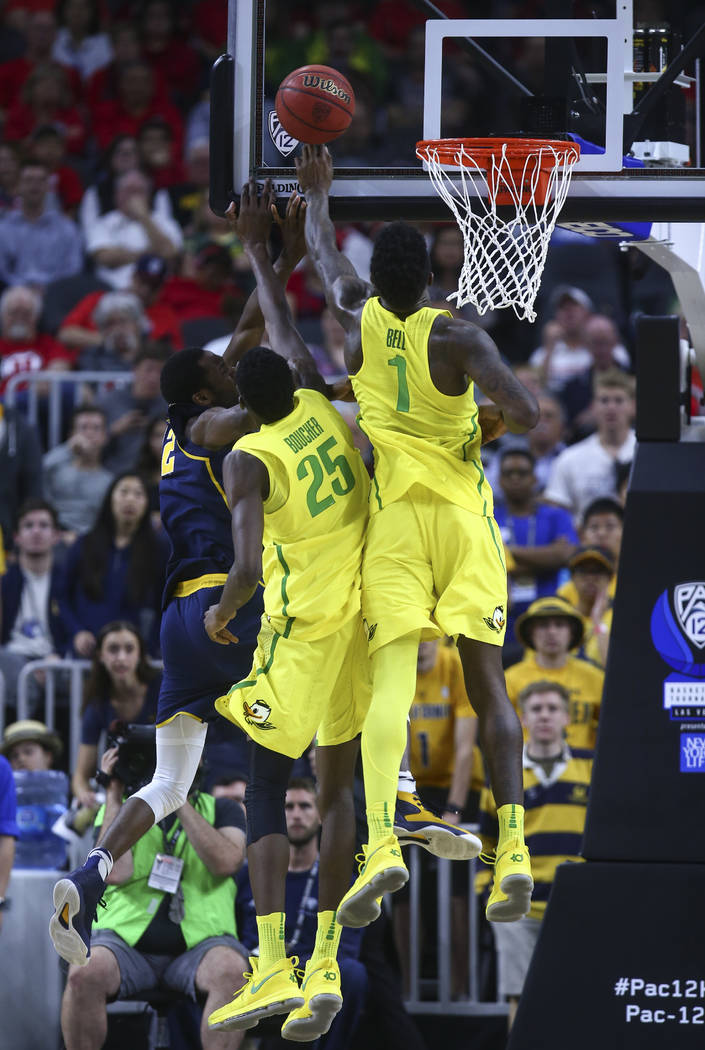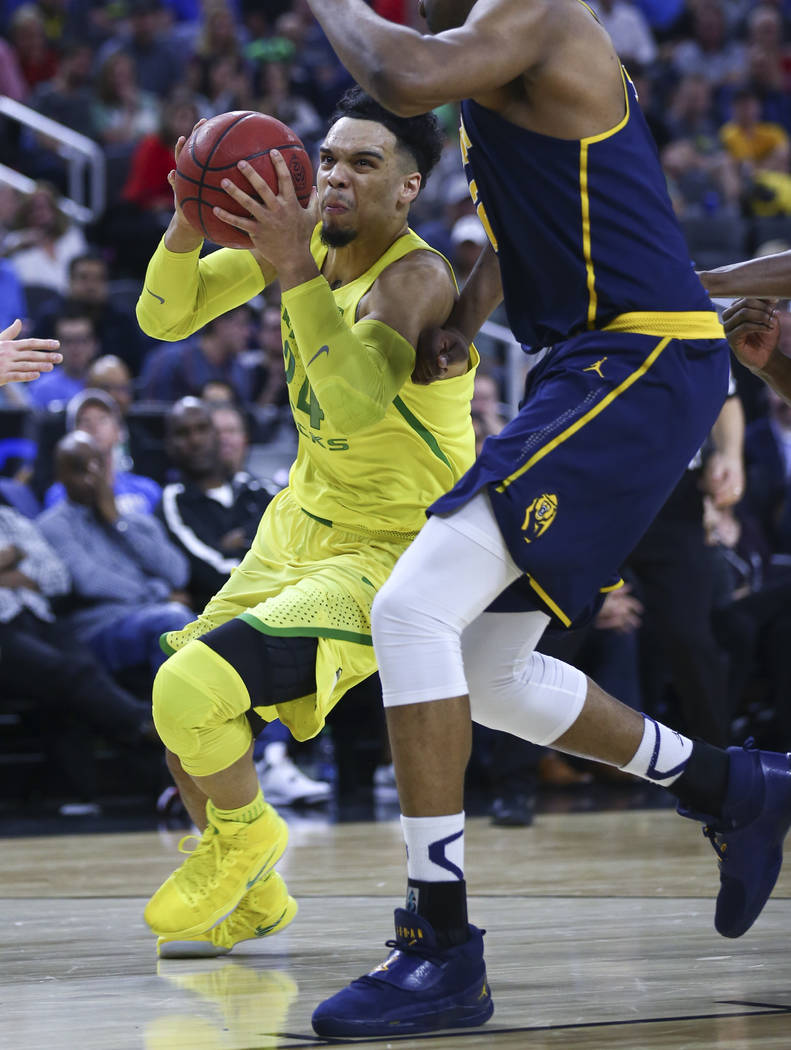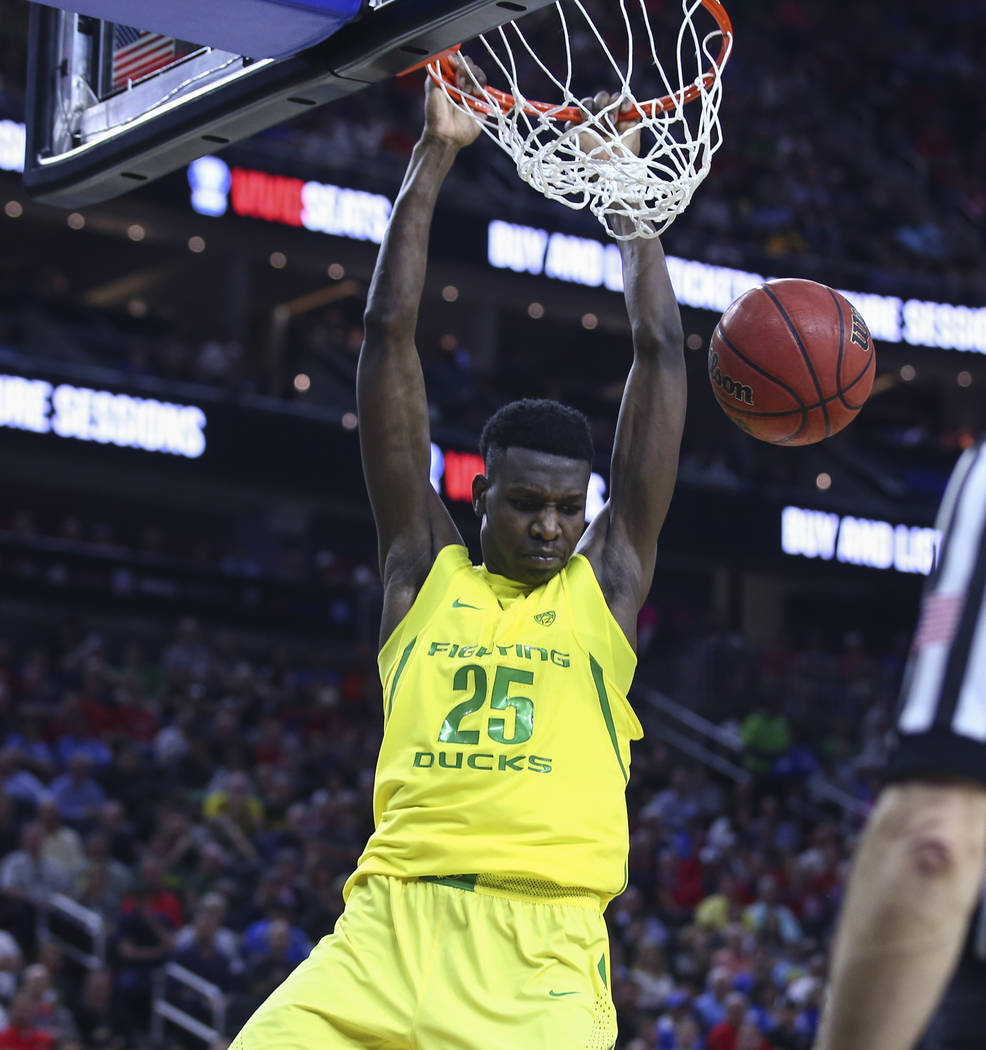 So, obviously, not much has changed.
Oregon basketball is still a nightmare to play. It still has guys who defend laterally until you get past them, and then others who are just as quick and long and bouncy who go horizontal.
Try to simulate that in practice.
Try to work that part into your preparation.
The Ducks are still all kinds of athletic and versatile and interchangeable. They're still hard to score against in the half court and terrific in transition.
But until Selection Sunday passes and the NCAA Tournament bracket is unveiled and we know the path Oregon must travel to reach a Final Four, how losing in last year's Elite Eight could influence such a journey won't be known.
What we know is that Oregon will play in a third straight Pac-12 Tournament championship, the result of beating Cal 73-65 in one semifinal on Friday evening at T-Mobile Arena.
The Ducks meet Arizona on Saturday night, and an Oregon victory will undoubtedly push forward what is a growing national narrative that any team winning both a co-regular-season and then tournament titles of the Pac-12 deserves a No. 1 seed in the NCAAs.
Oregon was one last year, but if location is important — and it unquestionably is — it might instead prefer a No. 2 in the West Region this time and begin its NCAA trip in Sacramento.
Gonzaga would be the No. 1 in such a scenario, and what a regional final that would make for in San Jose.
Most coaches despise the notion that we learn most from our failures and not successes, unless it eventually translates into something wonderful. Dana Altman has a team good enough to realize the latter, a group that returns a majority of the side that lost to Oklahoma in the Elite Eight.
Oregon has for a while now existed at the doorstep of national prominence, and there is a good chance a 12-point loss to the Sooners (it wasn't that close) will afford it over the coming weeks the experience needed to walk inside and exist among the college game's true elites.
"You know, I'm not sure," said Altman, in his seventh season as Oregon's head coach. "I think every group, every team is different. Moving to the (NCAAs), that experience, I hope pays dividends. It's a learning experience with every game. I hope last year's tournament taught us something.
"We faced a good team in Oklahoma who beat us pretty good. So, yeah, I think we've learned some things. Now we've got to apply those lessons. That's something only the guys can answer."
The guys are really, really good.
Oregon can win a conference tournament semifinal on a night its best player (Dillon Brooks) shoots just 3-of-12 and is limited to 21 minutes with foul trouble because of all the other guys. It wins because it can take a 6-10 senior forward in Chris Boucher and instead of running him to the rim, run him to a wing or corner and make a traditional big defend him in space.
And if it's a night where Boucher is making shots on a team with Brooks and a guard like Tyler Dorsey (23 points on 9-of-13 shooting against Cal) and all the other long, thick, skilled guys playing multiple positions, forget it.
"You give up something against those guys," Cal coach Cuonzo Martin said. "And that's what talented teams do — they have multiple guys that can make plays. We don't go into the game saying there's one guy we have to stop. They have good players. They have guys that can make shots. They can score at the rim. They stretch you out with the 3-point shooting. They're good."
The offense can get stagnant at times, as it did Friday, and that can hurt Oregon. You could see a team with a dominant post presence (however many even still exist) giving the Ducks problems. There are things that could definitely present major issues in close NCAA games.
But for the most part, Oregon of now is better than Oregon of the Elite Eight against Oklahoma, superior athletes playing together as a collection of interchangeable parts.
What it all means once Selection Sunday passes is anyone's guess.
"You've got to go play the game, whoever you get matched up with, you've got to figure out a way," Altman said. "We would like to win the conference tournament. This is the fifth year it has been in Vegas. We've been in the finals now four times. We've won a couple of them, so we'd like to win three out of five."
After that, they'll see how much a difference losing one step from the Final Four might make this time around.
Contact columnist Ed Graney at egraney@reviewjournal.com or 702-383-4618. He can be heard on "Seat and Ed" on Fox Sports 1340 from 2 to 4 p.m. Monday through Friday. Follow @edgraney on Twitter.