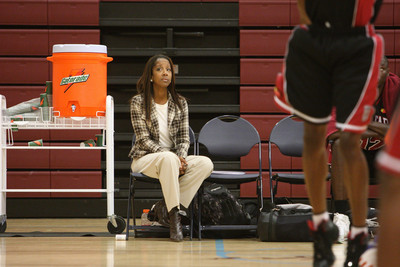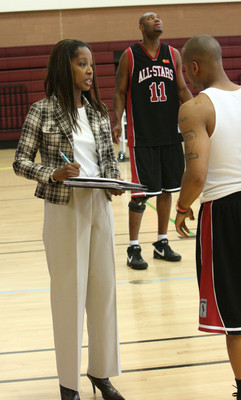 The schedule listed an opponent called USA All-Stars, but the name across the jersey read Chicago Heights. Wrong on both counts. There wasn't a player with anywhere near extraordinary talent, and there are countless guys playing pickup basketball on the South Side this minute who execute at a frighteningly higher level than any wearing orange the other night.
There also might have been some in an adjacent gymnasium at the Centennial Hills YMCA, but the 5-year-olds would have had to first seek permission from their parents to play.
Alexis Levi understood the competition, understood the team she owns could have not run one play all evening and still won comfortably, which is a good thing because it seemed to only run one.
But this is the stage on which she intends to build something lasting where others have failed. These are the depths — think halfway to the floor of the Pacific Ocean — from which she is willing to begin a pursuit that deservedly elicits more than its share of smirks.
Raise your hand if you've never heard of the Las Vegas Stars, a second-year team in the International Basketball League. Keep it raised if you can't name another franchise or until a few seconds ago assumed the letters IBL stood for image-based lighting. Lots of arms are growing weary.
"Of course, I realize it's a (difficult sell)," Levi said. "I've heard all about the past failures of such teams here. But patience is one thing I'm willing to invest. I'm not the person who made those mistakes in the past. I'm thick-skinned. If it's the last thing I do, I'm going to make this a success."
You can count on one hand the number of black women to hold majority ownership in sports history. Levi is 43 and owns 80 percent of the Stars while also playing the role of general manager, a former nurse from Northern California who turned sports agent as a way to protect the future interests of her sons (one is 23 and played for the Stars last season, and the other is 16 and ranked among the top California preps) and later took to the idea of running her own team.
She has invested a little more than $1 million with the Stars and originally pledged to commit five years and $3 million to raise the team's stature locally far beyond its current modest state. She remains an agent for Sports Management Worldwide, a woman wearing more hats than Johnny Depp.
Good owners set goals and have a feel for smart business, a superior sense for managing and operating and discovering the right people to aid a team's success. Levi has all those traits, including a masters in business from Cal State Hayward. But she isn't climbing any ordinary mountain. The summit of Mount Charleston is a casual stroll compared to making an IBL team work here.
IBL players compete to be noticed, mostly to begin their post-college careers hoping a league of higher stature calls. They make between $50 and $150 per game, living the dream on the poorest of terms and playing in a YMCA that on Wednesday had no more than 40 bodies watching at any given minute, depending on when some finished their workouts and wandered past.
"It's a way to build your resume," said Corey Bailey, now wearing a Stars' uniform less than two months removed from his final game at UNLV. "You get to stay in shape before (overseas) tryouts in June. It's a start."
Say this for Levi: Ebony magazine didn't name her one of the nation's most 150 influential blacks because she gives up easily.
She recently pitched a reality series about the IBL to Fox, struck a deal to have Las Vegas One show four home games in June on tape-delay, has had several sit-downs with major casino groups about sponsorship and speaks of the league in far more glowing terms than warranted.
That's at least the sense you get when the shorts- and T-shirt-wearing coach of the Chicago Heights team leaves his players lounging and laughing on their bench while down 26 points at halftime to purchase chips and a Gatorade from the snack table.
The Stars eventually won 173-140 and moved into first place in the Southwest Division. Raise your hand if you knew that.
"Challenges don't scare me," said Levi, who also owns a franchise in the Blue Chip women's pro league that she plans on debuting in Las Vegas next year. "I'm not going anywhere. As an African American woman, I want to open the door for others. I want to be the first woman owner of an NBA team. I want it to be here."
Its name?
"The Las Vegas Stars," she said, smiling.
I'm guessing the 5-foot-6-inch, 230-pound point guard for USA All-Stars/Chicago Heights won't get a look.
Ed Graney's column is published Sunday, Wednesday, Thursday and Saturday. He can be reached at 383-4618 or egraney@reviewjournal.com.