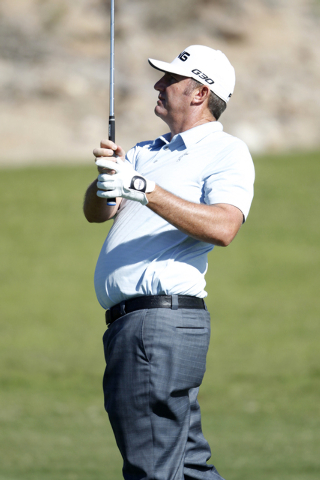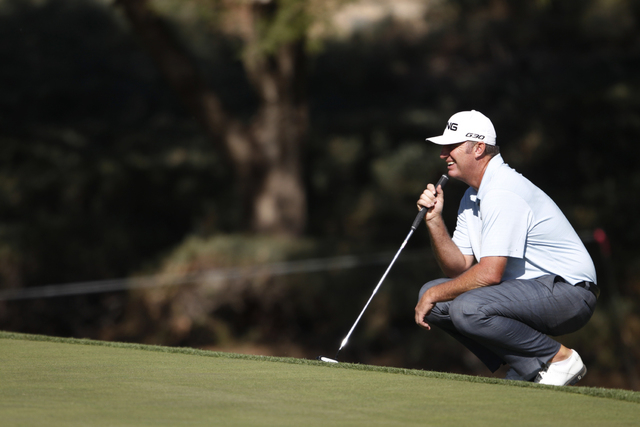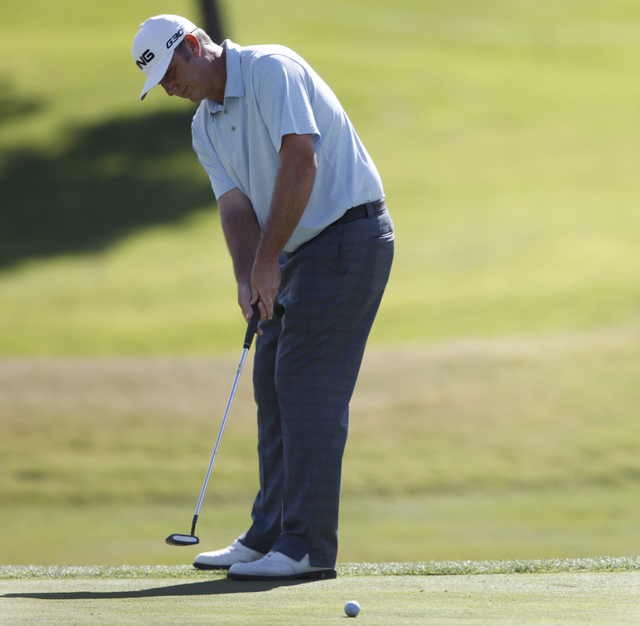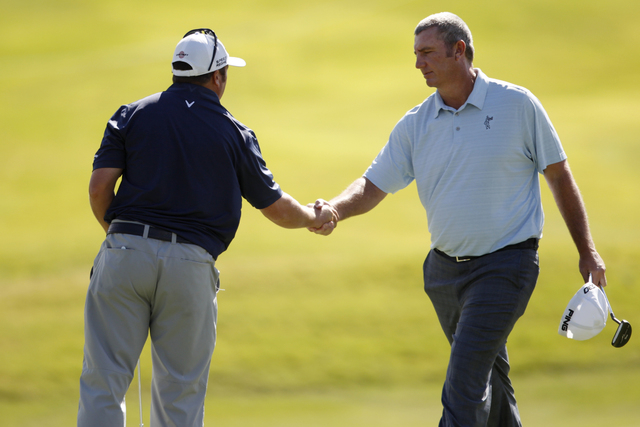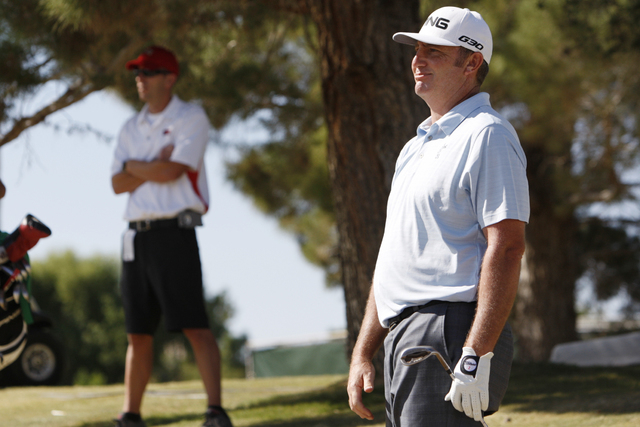 Bill Lunde studied economics at UNLV. He's pretty good with numbers. He's also a professional golfer whose lifeline to the PGA Tour annually depends on rewarding players through a priority ranking system that incorporates all sorts of data. He's not even certain what it all means.
I'm not sure Isaac Newton could figure it out.
"You don't really understand until you're on the wrong end of it," Lunde said. "That's when you start to learn more."
He will become a father for the first time in early December, when Lunde and wife Dana are due to welcome a son. It's yet another level of motivation for Lunde to seek consistency in what has been an unpredictable career, another push in the direction of hard work and improvement and sustainability.
"I definitely don't want to be sitting around and have him ask, 'Hey Dad, what do you do?' " Lunde said. "I'd love for him to be able to see me play out here and not just look at a trophy on the mantel and say, 'Yeah, OK, sure it's yours.' "
Lunde is playing this week's Shriners Hospitals for Children Open on a sponsor's exemption and has more than made the most of it over two rounds. On Friday, he shot a second straight 68 and is 6 under for the tournament. This is good news in many ways for him, beginning with the fact he is guaranteed a paycheck on the weekend.
A bigger picture: There are countless ways to earn PGA Tour status each year, far too many for anyone without a degree in advanced calculus to decipher. But one such avenue is to rank among the Top 50 on the Web.com Tour, which Lunde has in 2014.
It's a bit confusing and always depends on how many golfers a specific field includes, but the fact Lunde ranks 44th means a strong beginning this fall is his foremost concern for gaining entry into more PGA events.
He could have played in three earlier this year and declined. He turns 39 next month and knows the reality of his professional status. If this is the way he must travel back — by playing in such Web.com events as the Midwest Classic and Albertsons Boise Open and Hotel Fitness Championship — so be it.
He has seen the other side of a fairway, of an office job with a desk and chair and telephone.
It is where two disappointing seasons on the Nationwide Tour landed him in 2005, working for the Las Vegas Founders and the tournament he will now try to win over the next two days. Then a call came from his former UNLV teammate, Chad Campbell. Then he decided to give the game another try.
Lunde was a PGA Tour rookie three years later and won the Turning Stone Resort Championship in 2010. He estimates that he has attended Qualifying school seven times, and has walked the courses of several mini tours. He played in 108 PGA Tour events from 2009 to 2012 but just 10 in 2013.
It's a grind.
"When I first made the PGA Tour, I got a little complacent," Lunde said. "You don't realize how much effort and work you put in to get that spot and all of a sudden, it's like, 'Oh, God, I don't have a job.' So you start the whole process over of working and trying to improve.
"The tour keeps getting younger with bigger, stronger kids who hit it forever. They are so much further along than my generation. When I was 22, I wasn't ready for the tour. If I had made it then and earned $2 million, I'd probably be dead by now. But college and amateur golf has changed so much. They practice and play like professionals. They're ready for success when they get here."
The Web.com rankings are reshuffled six times a year, meaning Lunde's priority status and the number of PGA Tour opportunities for him would change dramatically if he continues to play well.
He can take notice that the player ranked 44th the previous year — Jim Renner — played in 25 PGA Tour events in 2014, finished second at Pebble Beach and made about $764,000. He also missed the cut 18 times, meaning it only takes one good week to propel a guy to a comfortable status.
Bill Lunde is having a good week in Las Vegas, his home for the past 20 years, the place where he captained UNLV to a national championship in 1998, the town where he will soon welcome a son.
"I've learned that the only way to progress is to keep playing," Lunde said. "You can't just sit on a range and beat balls and putt for hours. You have to play and compete. You either get better or move on. It has been an interesting ride. My entire career, if you can call it that, has been up and down. I have some good runs and then fall back and then move forward. But I wouldn't change it for anything.
"It's not over yet. Who knows what might happen?"
One day, he might even be able to figure out the whole priority ranking system.
Las Vegas Review-Journal sports columnist Ed Graney can be reached at egraney@reviewjournal.com or 702-383-4618. He can be heard from 11 a.m. to 2 p.m. Monday through Friday on "Gridlock," ESPN 1100 and 98.9 FM. Follow him on Twitter: @edgraney.