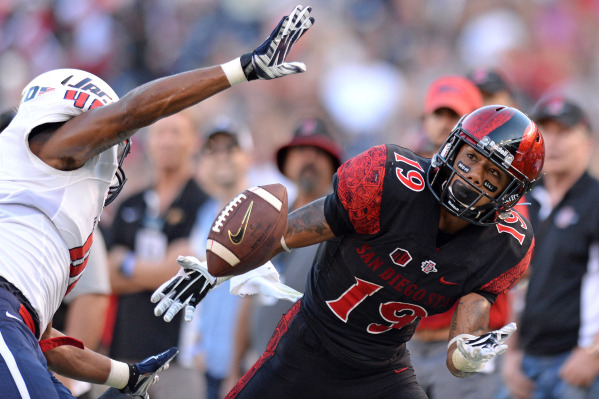 Do you know that saying about being a symptom of something much worse?
Yeah. That's what 2-16 is. That's what being outscored by an average of 39-18 in those football games is. That's the reality facing Mountain West teams and all others existing within the insignificant and dismal reality of a non-Power 5 conference today.
It's not some anomaly by which to explain away one season as a temporary disappointment until things return to a standard level next year.
This is the new normal, and there is a great chance things will only grow more dire over time.
If the first three weeks of the college season has told us anything, it's that Nick Saban still can't stomach crediting opponents who take down Alabama, ESPN is in bed with the Southeastern Conference more than ever and the Mountain West might be at its lowest point in league history.
I mean, it's really bad.
It was easy to see coming, as straightforward as dollar signs. The financial gap between Power 5s and those begging for scraps has grown to ridiculously massive lengths, given the groundwork for forming a super conference of 65 teams has been in the works for years, something that became more evident with separating the major schools into their own class and creating a four-team playoff.
You don't really believe there would ever come a time when an unbeaten non-Power 5 school gets a playoff berth over an elite one-loss team from a major conference, do you?
That a Boise State in a given year would trump, say, Saban's squad?
"I think there is a huge disconnect right now and I don't think it's just a phase," said Jim Livengood, the former UNLV athletic director who works as a consultant for both Power 5 and non-Power 5 leagues. "It's not just on the financial and facility end. The advances the Power 5s have made over the others are scary. People don't want to hear this, and I would love to believe this is just one of those years. But this isn't just about a snapshot three weeks into a season. This is the future. I hate saying that. I really do."
You have to see it to believe it, to walk the campus of somewhere like Michigan in order to understand the depth of those advantages owned by Power 5 teams. Funny thing is, what UNLV players and coaches and staff viewed last week in and around a 28-7 loss to the Wolverines isn't by any means near the best facilities within major programs. Those bells and whistles in Ann Arbor are not close to the nation's finest, which says a lot given most non-Powers 5s are by comparison mere smudges on the pristine bank vault that is Michigan.
It's impossible for the Mountain West to explain away 14 losses in 16 games to Power 5 opponents this season, to offer reasonable explanations for why 10 of its 12 non-conference wins have come against Football Championship Subdivisions teams.
Other than the fact the league isn't any good.
But it's more than that, and it's the same ills that have infested Conference USA and the American Athletic Conference and the Mid-American and the Sun Belt. Livengood is correct in saying the Group of Five need to take a serious look at their respective model and collaborate on different ways they might better compete.
It might be a losing battle. It probably is.
But you have to try and be creative until the end, which is definitely coming.
You generate revenue in football through television fees, fundraising and gate receipts, components the majority of non-Power 5s can't come close to matching when you consider the money major programs generate.
UNLV has an annual football budget in the $5.5 million range.
Michigan makes over $8 million on each home game.
Smudge.
Vault.
When the break happens, odds of a super conference including more than 65 teams are modest at best. It remains a mystery what will happen to those left out. These are frightening times for many.
It's a process that could also be accelerated with growing whispers of Power 5s wanting to increase scholarship limits in football from 85 to the 95 that once existed. It seems major programs are growing tired of the various injuries that continue to hit their teams, as if players from the Group of 5 never get hurt.
"I don't think there is a necessity for going to 95," said UNLV coach Tony Sanchez, unofficially speaking for all non-Power 5 programs. "Do I want to see Southern California get 10 more opportunities, along with the the rest of the Pac-12? No. But if it provides more opportunities for young men to access a college education, then I'm all for it. I think college sports, in general, have had more impact on social change in America than anything, so there are pros and cons to it."
The leading con is obvious: Power 5 teams would become richer in talent and the gap would grow even wider.
Think about it: In the last two seasons, those from the Group of Five have played 100 regular-season games against Power 5 opponents.
And won 10.
This is the new normal now, a symptom of something much worse.
The beginning of the end is no longer an indistinguishable truth hidden from our sight.
It's plain as day.
Ed Graney can be reached at egraney@reviewjournal.com or 702-383-4618. He can be a heard on "Seat and Ed" on Fox Sports 1340 from 2 p.m. to 4 p.m. Monday through Friday. Follow him: @edgraney