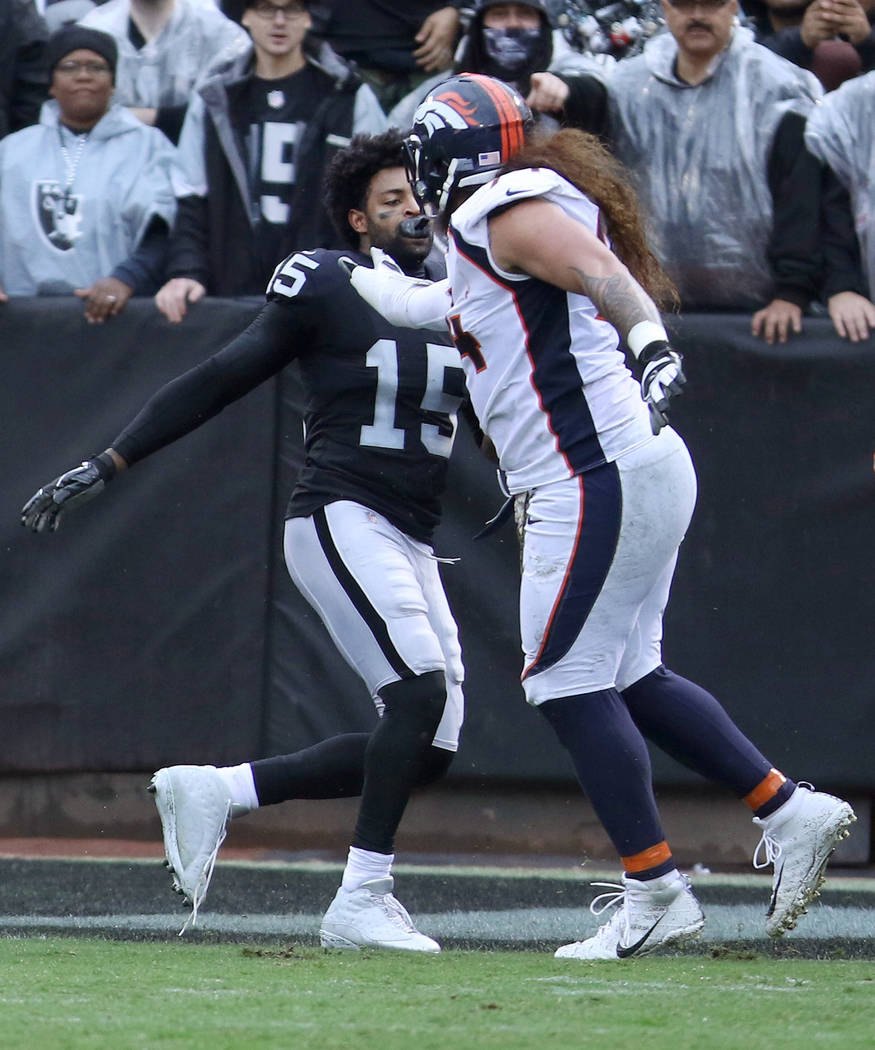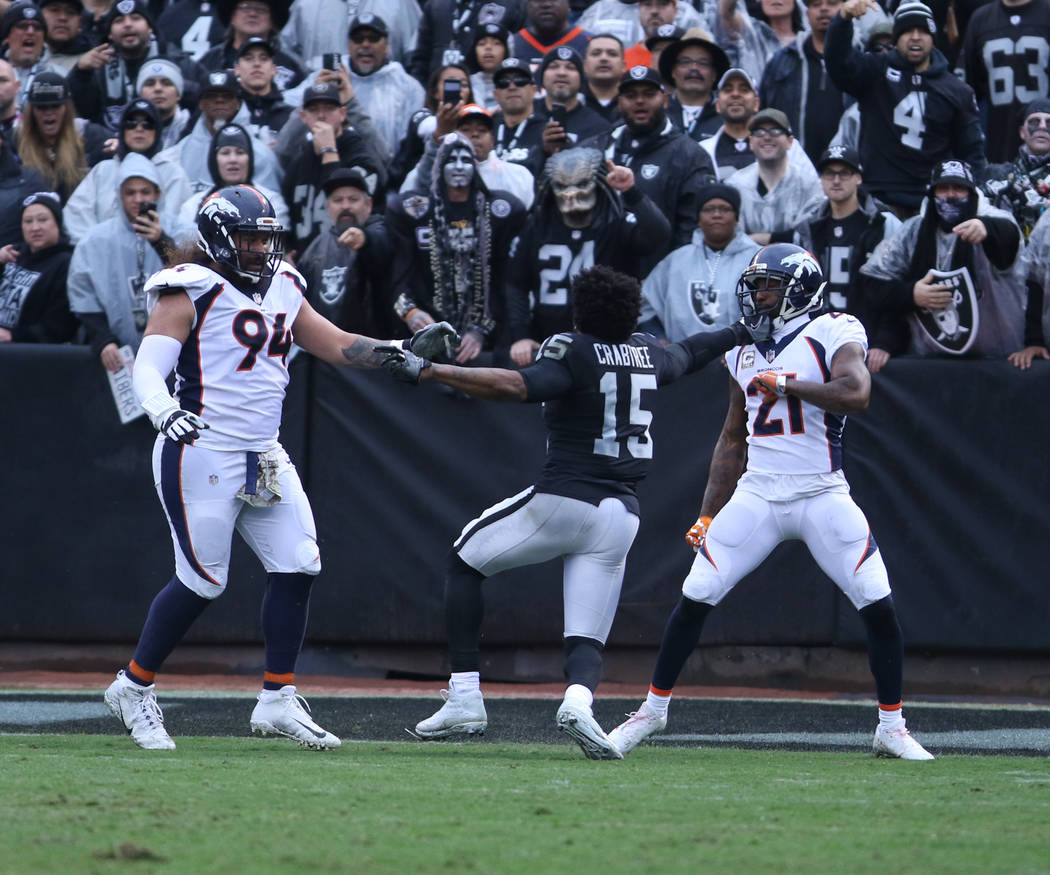 OAKLAND, Calif. — Man, those must be some pretty sweet chains.
We've seen this act before, Broncos cornerback Aqib Talib ripping a necklace from Raiders wide receiver Michael Crabtree in a fit of anger, bitter individual competitors in a contentious AFC West rivalry.
Things got chippy real fast Sunday.
The result: There is still some serious fight in the Raiders, both when defending their teammate and trying to remain in the hunt for a division title.
The Raiders returned to Oakland-Alameda County Coliseum for the first time in five weeks and won a game they absolutely needed, beating Denver 21-14 before 53,930 and in the process embracing a reality of controlling their own destiny when it comes to making a second consecutive trip to the NFL playoffs.
It won't be easy.
One rally around a broken chain does not make a division champion.
But while tied for second place with the Chargers — one game behind the suddenly inept Chiefs — the Raiders at least own a visible path to the postseason after the first 11 games were often defined by inconsistent and underwhelming play.
They're 5-6 and still very much in things.
"We knew this was a must win for us," said quarterback Derek Carr. "After the game, we find things out, what happened around the league … It doesn't mean anything if we don't take care of business. We know where we stand."
In a week where defensive coordinator Ken Norton Jr. was fired, where several players on that side of the ball vehemently disagreed with the move, where reports surfaced that offensive coordinator Todd Downing could also be soon shown the door, the Raiders responded with one of their best all-around efforts of the season.
It began with a near-brawl, and had nothing to do with the Black Hole.
Crabtree and Talib — both ejected along with Raiders right guard Gabe Jackson, who made contact with an official during the skirmish — have tussled before. It was during a regular-season finale on Jan. 1 when Talib also helped himself to Crabtree's jewelry, later telling reporters that it annoyed him.
I wonder what he thinks of that Flava Flav clock chain.
I'm not so sure this time was as unexpected as many assume, given Crabtree got things going by throwing a punch at Chris Harris Jr. the previous play.
Harris didn't hide his displeasure, and Talib had no problem with a little retaliation, which spilled into a potentially dangerous situation of several players becoming involved.
How crazy was it?
As he walked toward the tunnel to depart the field, Talib went right through the Raiders sideline and past Crabtree.
The one walking with him to make sure nothing else occurred?
Marshawn Lynch … your silver and black peacemaker.
"We all knew it was going to happen," said Raiders wide receiver Cordarrelle Patterson. "It was just a matter of time. Everybody was ready, prepared for it."
Which means while it might be a leap the distance between Oakland and Los Angeles to suggest Crabtree entered Sunday and his matchup with Talib with the intent of rekindling their feud, it might not be.
"I guess (Crabtree's) initiative was to come out and fight today," Harris said. "I guess it wasn't to play football. He just punched me in the stomach."
'We need to get hot'
It's not the way Raiders coach Jack Del Rio wants his players to compete — "I like my guys to do the right thing and keep their composure and not get tossed," he said — but if there was ever a moment this particular team needed to exhibit some expansive level of mental and physical toughness, this was it.
It was a difficult week in what has been an incredibly challenging season.
Expectations, fair or not, have not been met on the scoreboard.
So when one of your top two wide receivers is ejected early and the other, Amari Cooper, is lost to a concussion in the second quarter, and a starting guard is also sent to the showers for running into one of those guys wearing a striped shirt, and you respond by leading 21-0 en route to victory, that shows fight and spirit and resolve.
The path to a playoff berth for the Raiders is far more reasonable as a division champion than wild-card team given many potential tiebreaker situations likely wouldn't fall in their favor, meaning games at Kansas City (Dec. 10) and the Chargers (Dec. 31) should be major factors when deciding which of the three claims a crown.
And while fighting the way Crabtree did Sunday won't get the Raiders there, doing so in the manner his teammates responded just might.
"Obviously, we need to get hot," said Del Rio, whose team next hosts the 2-9 Giants. "We need to play good football. Winning is hard in this league."
It will continue to be so.
But the Raiders have a visible path, and all it took was one yank of a sweet necklace to create it.
Contact columnist Ed Graney at egraney@reviewjournal.com or 702-383-4618. He can be heard on "The Press Box," ESPN Radio 100.9 FM and 1100 AM, from 11 a.m. to 2 p.m. Monday through Friday. Follow @edgraney on Twitter.