Raiders GM thinks team will sustain winning ways in Las Vegas
Updated April 2, 2017 - 12:12 am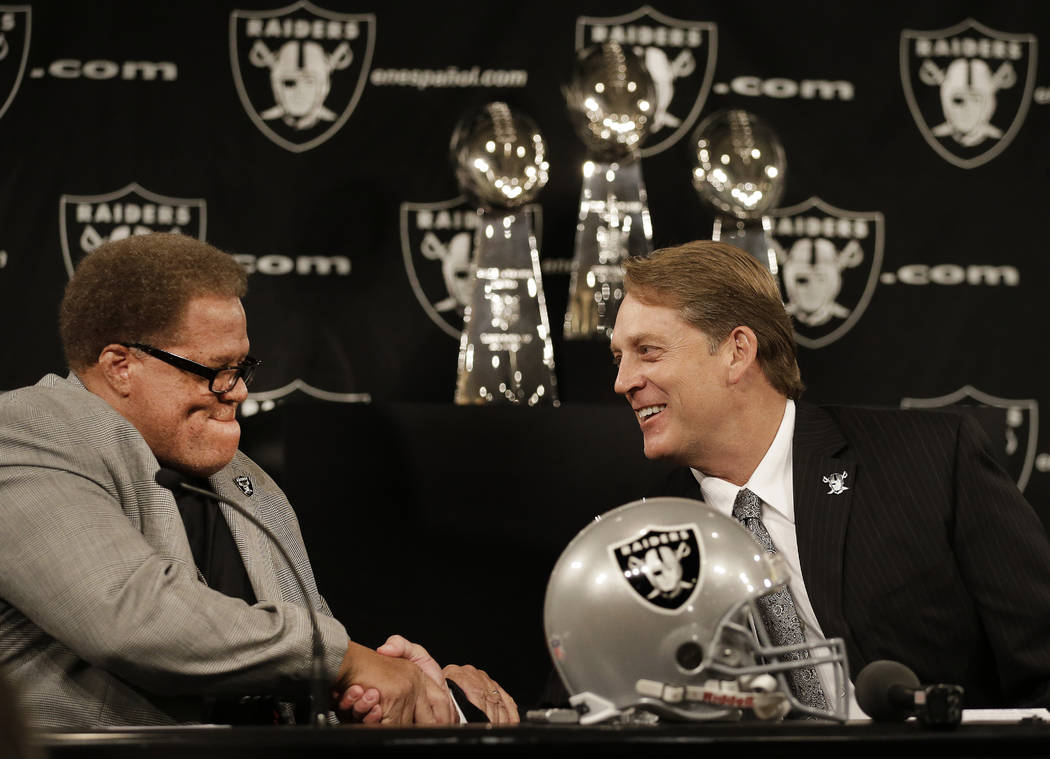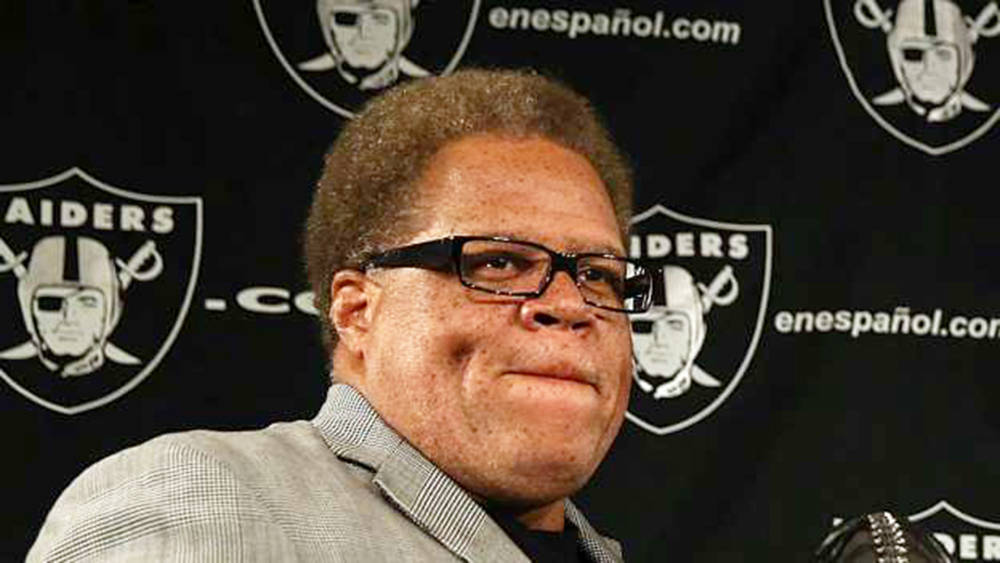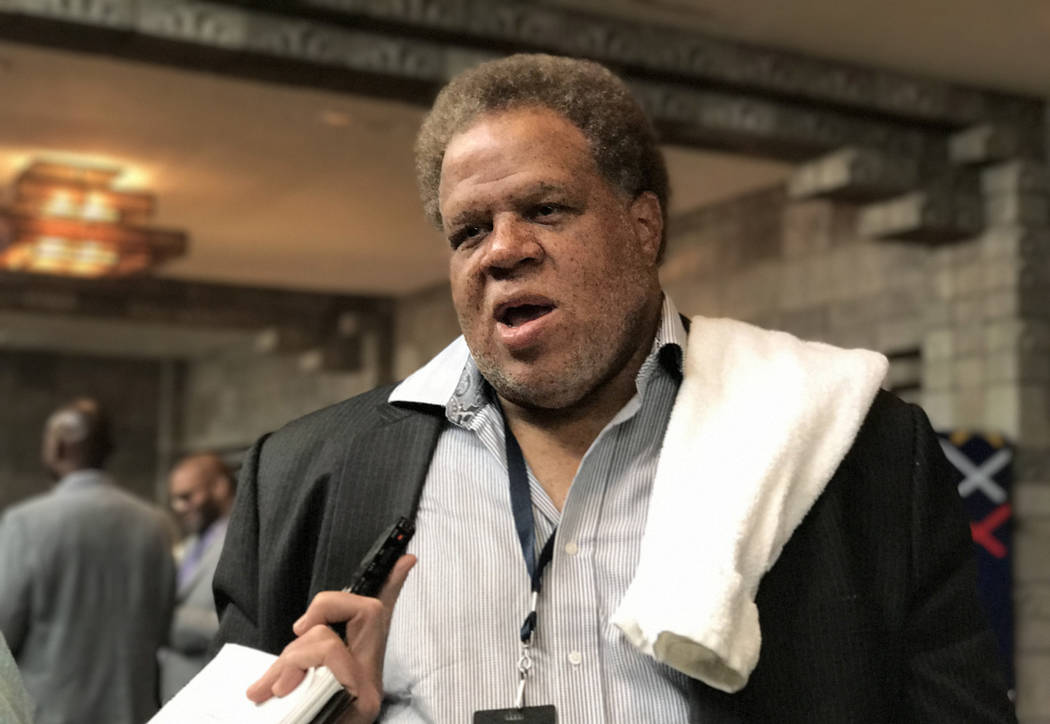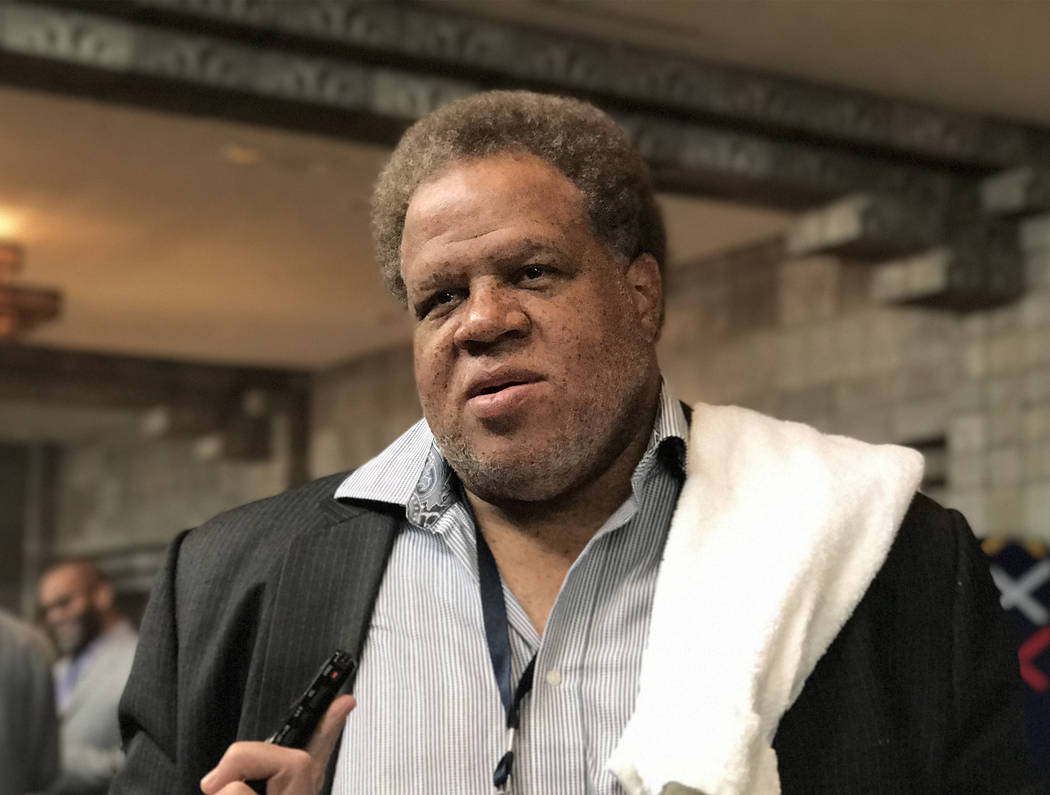 Reggie McKenzie is one of those guys who understands the idea that what you learn after you already know is all that counts in life.
You can learn a lot from 11-37, because you know how tough it is to endure.
That was the record of the Oakland Raiders during McKenzie's first three years as general manager, an NFL franchise drowning in players who were paid too much and performed too little, an organization in salary cap hell that had traded away high draft picks and was in the midst of 13 straight nonwinning seasons.
"We needed a transformation," McKenzie said. "So some guys had to go and some guys had to come in."
The story of how McKenzie went from burning on a hot seat as the Raiders began the 2014 season by losing their first 10 games to building an AFC playoff team and him recently being named the league's Executive of the Year is mixed within a stew of draft picks and free-agent signings.
It's as much about those he sent packing as ones he welcomed, a philosophy created on the premise that the team will be competitive for years. Maybe even win the whole darn thing.
This includes, in McKenzie's mind, when the Raiders relocate to Las Vegas, made official this week when owners voted 31-1 in approval of the move at the league's spring meetings in Arizona. The team is scheduled to begin playing in a 65,000-seat domed stadium in 2020, but could possibly arrive sooner to a temporary venue.
Whenever things kick off for real in Southern Nevada, McKenzie is confident the Raiders will win.
"That's the plan," he said. "The only thing we can do between now and then is keep getting better and better. When (building the team), I wanted to make sure I had the right kind of guys, the right kind of workers, team players. Guys who love the game.
"Some people call it grit. Whatever you call it, you can tell when a player, with his effort and physicality and attitude, loves the game, loves the whole process. You look for guys like that."
He was tutored for 18 years in Green Bay under the likes of Hall of Famer Ron Wolf and then Ted Thompson, each previous Executives of the Year.
So when Oakland went in search of who would be the only general manager in team history other than its late owner, Al Davis, McKenzie was the choice to revive the franchise that drafted him in the 10th round out of the University of Tennessee in 1985.
The moving parts were plentiful.
McKenzie eventually released players like Richard Seymour and Philip Wheeler and Michael Huff and Desmond Bryant and Tommy Kelly and Darrius Heyward-Bey and Rolando McClain, opting for tens of millions of dollars in dead money on the books and the immediate overhaul that goes with it over keeping those he didn't think could win.
He fired head coach Hue Jackson upon arriving, hired Dennis Allen, fired him four games into his third season and then hired Jack Del Rio two years ago.
But it was the 2014 draft that helped deliver last year's 12-4 record and playoff appearance, beginning with the one piece any franchise owning championship aspirations covets.
Derek Carr was the fourth pick of the second round, and it's expected contract extension talks for the quarterback will become ultra-serious following next month's draft.
His importance to the Raiders was magnified when Carr went down in Week 16 last season with a broken fibula and the team lost its final regular-season game at Denver (costing it the AFC West title) and then fell at Houston in the wild-card round.
The team's first pick (fifth overall) in 2014 was linebacker Khalil Mack, who earned Defensive Player of the Year honors last season after compiling the longest streak of consecutive games with a sack of any NFL player in over 20 years.
Carr. Mack. Amari Cooper. Mario Edwards Jr. Gabe Jackson. All have been drafted over the last three years and helped set the Raiders, who now boast one of the NFL's best offensive lines, up for years of successful results.
It's not easy. NFL rosters have an annual turnover rate between 25 percent and 35 percent and just a handful of players in Oakland are signed through 2020. Championship windows, or the appearance of one, can close quickly.
"We needed to make sure we had the quarterback, guys to protect the quarterback and guys to get after the quarterback," McKenzie said. "Good, smart, physical players who can move a little bit and move some people.
"We want to sustain this. It's hard. You're going to lose some good players because you can't pay them all. As long as you manage to keep the core. If we stay healthy and keep our contracts healthy, we should be able to sustain."
And arrive to Las Vegas a winner capable of much of the same.
Contact columnist Ed Graney at egraney@reviewjournal.com or 702-383-4618. He can be heard on "Seat and Ed" on Fox Sports 1340 from 2 to 4 p.m. Monday through Friday. Follow @edgraney on Twitter.